We are very proud of the feedback that we get from our trips and are pleased to share reviews from past travellers. These are kept as up to date as possible. Please have a read through to get a real sense of the kind of experience that you might have on a family trip to Morocco.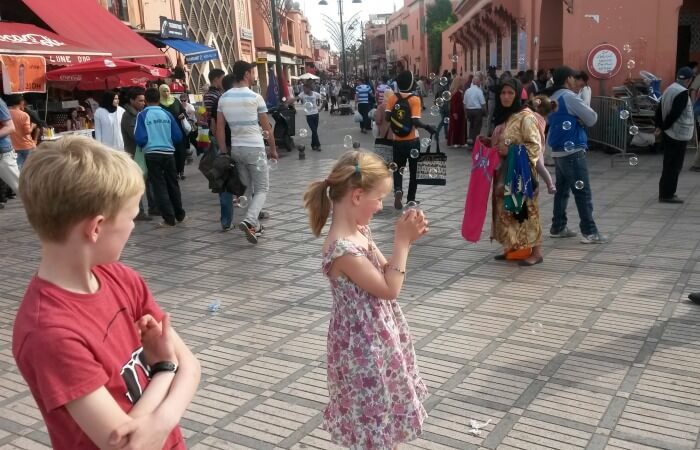 Joffe Family (with children aged 9 and 14)
Travelled Easter 2019
Hi Liddy. Great to hear from you! It was fantastic. We had a super time. Thank you so much for everything! Everyone we encountered in Morocco was warm, welcoming and eager to ensure we had a lovely holiday. Everyone at your Morocco partner was super. Karima got in touch with us exactly when and as often as we needed to feel well cared for. We were expected everywhere when we turned up, all the moving parts (and there were many) flowed very smoothly.
It turned out the original plan for the trekking expedition was too ambitious for us. The guide immediately recognised that, and as we hiked, he talked with us about alternatives without making us feel forced into anything. Once we chose an alternative, Karima worked out all the changed details seamlessly for us. All 4 of us really loved having the guide, the mules, the cook. Eating meals outside on the mountain beside brooks and beautiful vistas was fantastic. The scenery was super. As a family we spent a lot of time "unplugged" playing card games, word games, 20 questions, etc. (even though technically there was a signal about 99% of the time!). For the bonding value alone, I would highly recommend that trekking concept to lots of families, scaling the intensity of the hiking up or down by age and ability.
For the Berber Camp! WOW! That was an awesome experience. Totally Glamp. So aesthetically pleasing with all the genuine rustic chic, yet a really luxurious experience w lux sheets and duvets, cozy fireplace, lovely candlelight. We would have loved to spend another night there. Everyone who works there was absolutely fantastic and utterly committed to providing guests with a wonderful experience and great memories. They take care of so many lovely details: while some staff are serving drinks and nibbles around the campfire, others are draping blankets and robes over your shoulders as cool of the evening descends on the desert, still others are lighting the fireplaces in each tent so when you return from dinner your tent is toasty warm and smells divine! At night there are 1000 candles and lanterns creating a beautiful ambience and lighting all the paths. The food was wonderful. The tent was fantastic.
I would only suggest you emphasise to families that there are limited structured activities, so there will be a lot of unstructured, down time with no wifi. Our clan really enjoyed reading, playing card games we took with us, we went on a family hike. If families plan ahead and pack wisely, it can be a superb "unplugged" time together.
Comparatively, the camel ride in Essaouira was far superior to the camel ride at Inara Camp. (This was a half day camel ride along the beach, followed by a picnic lunch). If families only have access to Inara, then it's worthwhile to do it, but if they have another option, we would not recommend camels at Inara. We did ride 4x4s at Inara and that was lots of fun, too!
Riad Catalina was fantastic. The Dar was a lower standard than we would have liked – darker, more closed off, pared down. Just rougher, overall. Especially because comparatively at the Riad we had the penthouse suite with a semi-private rooftop garden shared with only 1 other room. Our room was open, airy, flooded with natural light, finer finishes and soft goods, etc. The staff is same for both and all the employees were great, welcoming, helpful, eager to please. The breakfast was lovely. I know we were late to contact you and you did as much shuffling and canvassing as you could to get us lodging in Marrakech. Just so you can be aware of that Dar's standard.
Chez Momo was just OK. Our room was spacious and well-appointed and we had a lovely semi-secluded garden. The pool was great to have but unfortunately the weather was not cooperative so we couldn't really use it. The food was the least good there and the service was considerably more blase than anywhere else we went.
Riad Chbanate also fantastic. There was an initial confusion about our booking but they were exceedingly gracious in correcting it. The staff there was friendly, helpful, eager to please. They went above and beyond by preparing a breakfast for us to take along at 6:00am – 2.5 hours before the morning service normally begins – including fresh squeezed juice and pastries even though I don't think "take out" is actually a thing in Morocco! As well, we ate dinner there one evening and when my younger son didn't care for the pudding offered, the concierge went out and bought him an ice lollie!
Carby Family (with child aged 10)
Travelled February half term 2019
We had a great trip thanks. Marrakesh is pretty full on for young kids and the best thing we did was escape into a restaurant called Dar Essalam that had entertainment after dinner. Magic. N'fis valley was nice but was basically being driven up and down, having some time to explore would have been good.
Baker Family (with children aged 5 and 9)
Travelled Christmas/New Year 2018/19
Dear Emily – Thank you for your email and a happy new year to you too! We did indeed have a fantastic trip and thank you so much for helping us coordinate such a memorable holiday. The itinerary worked just about perfectly. The children, the best judge of such things, coped extremely well with the lengths of each stay and even the travel. The accommodation was lovely. The last day home involved around 8 hours of car or plane travel but there's not much way around that and even then we were home in plenty of time to unpack and get ready for school the next day.
My highlight was the High Atlas and I would've loved to have spent longer and done more climbing. The kids also loved it although the limited menu options (and lack of chips in my 9 year old's case) didn't please them, but they are a bit fussy. The trek was awesome and we might try something more adventurous next time with the support of mules.
The desert was fantastic, we all loved this experience and if the excursion prices weren't so extortionate (£300 for two quad bikes for an hour-hour and a half!) we would have happily stayed longer.
Everyone felt that Marrakesh was worth doing but no one was sorry to see the back of it…. The Riad was an oasis in the hectic city and we did head over to the new town which was a little less frantic. I think both children got a lot from the experience – seeing real poverty, pressure selling, exploitation and different cultures – but a day and a half was enough.
Then to finish off in Essaouira was perfect. In contrast to Marrakesh it was positively laid back, clean, safe and the Riad secure and comfortable. If we'd not experienced Marrakesh then the Medina might have felt busy but not relative to where we had come from.
I think it's worth pointing out the currency issues and having some small change would have been handy for tipping. We had to be very generous as we'd only just managed to get some cash out of the machine at the airport. We also saved some to use in the airport but found that Euros/cards would have been more use and ended up bringing more cash back than we'd have wanted – once you're in the departure lounge there's no where to change money.
The climate was hard to pack for. It ranged form a lovely mid-twenties during the day, to around freezing at night in the hills and desert. We were very lucky on the coast as the wind was almost non-existent.
We were overjoyed with your organisation of the trip and the regular phone contact with Karima. The transfers were brilliant and the accommodation choices ideal.
Jerome Family (with children aged 11 and 14)
Travelled Summer 2018
Hi Helene. Our trip was amazing and we did manage to reach the Toubkal summit. Morocco has so much to offer that there was something for all the members of the family. Everything ran smoothly and Karima checked on us almost daily. The organisation of the trek was very professional and our guide Ibrahim prioritised our safety (especially the children) over the itinerary that was set for us: he changed it slightly to make it easier for L and to make sure that we reached the summit. We followed his advise (as he gave us the choice) and it was a total success. The 4 days rest – Chez Momo – after the trek was definitely a good call. We even had the visit of the "goat man" from the village as part of the Eid celebrations.
I also want to mention the glamping night in the Agarfe Desert: it was absolutely magical. The tents with the private bathroom, the view from the tents, the dinner in the garden, the swimming pool and also the very warm welcome. A true oasis.
Finally, we were very impressed by the camel trip in Essaouira and especially the camel owner: he was so gentle with his animals. Not one stick was used and it showed in the animals' behaviour. It changed our view on camels…
We would not change anything to our itinerary but the trip to Ait Benaddou took 6 hours drive rather than 4. Saying that it included the visit in a wonderful Kasbash that I am really glad to have seen. Also, it says in the itinerary that in Ouarzazate we would join a group tour. That did not happen so we did our own visit. Those 2 days of the trip felt as if they had not been as organised as the rest of the holiday.
Again, I would like to thank Karima, Ibrahim (our trekking guide), Ahmed and Mohammed (our cooks) and Hassan (our driver) for having made this trip special. And I would also like to thank you for, as always, your good advise.
Rosedale Family (with children aged 2 and 4)
Travelled April 2018
We had an amazing time in Morocco. I could not fault it. The girls had a ball and it was exciting yet relaxing! The Moroccans were so welcoming of the children and they couldn't help us enough. Everywhere we went they were cuddled and kissed! The food was delicious and accommodation lovely. We both said that we felt as though it was pretty close to a holiday we might of had if it was just us and no kids! So thank you so much for organising it all and recommending such wonderful places. We are talking about a return trip to do a longer trek – so will be in touch.
Giles Family (with children aged 11 & 14)
Travelled Easter 2018
Liddy, Helene – we are all back safe and sound and refreshed after a fantastic holiday – thank you so much – everything ran pretty well like clockwork so we were really pleased.
I have given feedback about Imlil Lodge (which, on reflection, may have been exacerbated by Ramadan and the staff all being young males who seemed a bit lethargic!) and La Terre des Etoiles which we loved.
EcoLodge was great – as I said also: the food was really special.
Finally, Riad Zhara was perfect – the owners particularly – and all the staff – couldn't have been more helpful and friendly.  Very comfortable, good location (as long as the 15 minute walk into town didn't bother you – it didn't us) and good food.
As an added bit of info, we spent a fantastic 2 hours with Palma Quad bikes – so would recommend that as an activity in Essaouira.
Plus Karima was great – she called us most days to check all was OK so we felt in good hands.
Hope that's helpful – thanks again for everything – hugely successful holiday.
Young Family (with children aged 6 & 8)
Travelled Easter 2018
Hi Helene – I just wanted to send a quick note to say that we had the most fabulous time in Morocco. Thank you so much to you and Karima for making it such a relaxing, exciting, varied and easy trip.  We didn't have to think about any of the logistics, everything was just done for us, cars arrived on time, guides were there when needed, the hotels and lodges were perfect and Karima went that bit extra by organizing a cake and present for B on his birthday!
We really felt we got to see and do so much in a relatively short period, without being rushed from one place to the next. Morocco had it all, cities, deserts, mountains, valleys, beaches – it was all beautiful! We never had a "I want to go home" from the boys and they genuinely loved every part of it (except the rather spectacular car sickness on the mountain roads!)  
Thanks again, we are already talking about the next trip….!
Moore Family (with kids aged 9 & 11)
Travelled February half term 2018
Thank you again for being so responsive we had an amazing time and Karima arranged a fantastic lunch in the desert for us. We can't fault anything accommodation, driver, guides and trips all great. We were definitely lucky with the weather. Photos to follow. Memories for a lifetime and happy to speak to you this week if you want more detailed feedback.
Newland Family – father & son (aged 13)
Travelled Summer 2017 – Climbed Toubkal
Hi Liddy – The trip went really well. The Riad in Marrakesh was in a great location and O really enjoyed the market. Walking was tough as I thought it would be but O rose to the challenge and did really well. He climbed up Toubkal much faster than his sisters so he was chuffed. Joued the guide was great and all went very well without a hitch.
I also met the lady in Imlil who runs the tourist side and she was nice and helpful as last time. And my injuries held firm so I was in good shape which helped. So that's all three children that has passed the initiation and I'll be in touch with the next adventure in a few years no doubt. Thanks for doing a good job as always.
Buxton Family
Travelled Easter 2017
I meant to email straight away and go on Tripadvisor etc, which I will still do. We had the most wonderful holiday! Thanks so so much for putting up with my awful prevarication! I think almost our favourite bit was Imlil but it was all awesome and the children loved it – we have the bug now I think!. Karima was also brilliant – we did change the plan but she could not have been more helpful and understanding and the guides she provided were all really perfect. So thank you thank you SXX
Sturt Family (with children aged 1, 4 and 6)
Travelled Easter 2017

Hi Liddy…We had a great time and appreciate you checking in with us. I think we all expected Dunes d'Or to be just what it was – nothing terribly special, but a good location on the beach for the kids to enjoy the pool. La Pause was just phenomenal. Very classy and very special, we enjoyed that a lot!
The Riad Chergui was very peaceful and beautiful. It would have been just perfect for an adults only trip. We have taken the kids on a lot of holidays and the Riad was hands down the hardest place we have ever stayed. It was lovely and open and airy – which made it hard for the other residents not to hear us. The proprietor apparently had many complaints about the "kid noise" and she certainly passed the feedback on. We felt rather unwelcome. But the setting itself I would recommend highly. Beautiful, lovely, great food, wonderful Moroccan staff.
Panagakis Family (with children aged 8, 8 and 9)
Travelled Christmas 2016/7
Hello Liddy. Thank you again for your help with Morocco. We had a lovely time. My kids loved riding on a camel (as did I) and it was wonderful that they got to ride on their own mule for 2 ½ hours for two days! You don't get that opportunity in other countries. My kids also really enjoyed shopping in the Medina (especially since I gave them money as a Christmas gift that they could spend! I never did that before). I think that if they did not have money to spend they would have been bored so it was the smartest decision I made!
Random thoughts of my trip are below. Positives and negatives – to help you address questions with other future travellers.
1)  Casablanca – There is absolutely nothing to do there! The mosque is beautiful by the ocean; however that is it! The hotel we stayed at was comfortable.
2) The drivers that were provided to us were lovely. All of them were on time. They were kind and interesting to talk to. We got some interesting information regarding Morocco from them. I found them to be respectful and helpful. I felt that I was in good hands when we were in their care.
3) The only negative about the drivers was the one who drove us to Casablanca. I hate to even tell you about it because he was also a lovely, friendly and kind man. My only complaint is that when we asked him how long it will take us to get to Casablanca he said 4 hours but it took us 6 hours!
4)  El Fenn was lovely! We really enjoyed staying at that hotel. The hotel and the staff were amazing! This was our favourite hotel.
5) It was fun getting lost in the Medina in Marrakesh I would highly recommend to everyone to do that on the first day. On our third day we got a tour guide, which was a great idea because he showed us places in the Medina we did not go to on our own. Specifically I asked him to take us to where they hand make the items they sell in the Medina. It was really amazing to see the craftsmanship of so many different items and materials. I really enjoyed seeing how things were made as did my kids! It was really interesting and educational! This was the best part of the Medina – Where the small one-man factories are!
6) The camp facilities that we stayed at was lovely in the Agafay Desert. It was beautiful. The Agafay Desert was beautiful also. It is amazing how secluded it is being so close to Marrakesh. You felt like you were a million miles away from civilization. Also the dinner at the camp was lovely!
7) However the people that worked at Scarabeo Camp were not very friendly or helpful at all.
8) Imlil was lovely. We really enjoyed hiking and riding mules for two days. The Berber people were lovely. Lunch on both days at a Berber house was really lovely! Both guides from both days were lovely! The men who owned the mules were lovely! They really were friendly and kind. They took really good care of us. They took really good care of our kids (They even hand helmets for my kids). I really appreciated them. On the second day the guide and the three men who owned the mules had a snowball fight with our kids! Our kids loved it!!!! We also learned a lot about Morocco and the Berber community on these two days, which was great. It was a great experience in Imlil. Berber people are lovely!
9) The people who worked at Dar Imlil were lovely and helpful as well.
10) I am glad we went to Fez as it was more rustic and authentic. (However I preferred the Medina in Marrakesh). Fez was interesting because it was as if you were going back in time. It was an experience I am glad my family got to see; however I think one day in Fez is enough.
My only regret is that I did not go to Chefchaouen. A part of me wishes we made that extra journey. However we already had traveled on road a lot so maybe it would have been too much. Maybe if we visit Spain one day I can hop over to Morocco and visit Chefchaouen.
The people who worked at Riad Layalina were lovely and helpful! They were really kind and made us a delicious dinner on New Year's Eve, which was nice and easy as we got in late that night and were tired from the journey.
Over all it was a lovely trip. We enjoyed our family time together. We enjoyed Morocco. Thank you again for your help! Also I want to point out that for the whole trip we felt safe. Our drivers, the hotel/riad staff, the Moroccan people made it so easy to feel safe. I never once worried about being in Morocco! Even at the camp we stayed at – I felt totally safe. I hope these comments will help you in your work in the future.  It was a very positive experience for us all! Thank you again.
Botwood Family (with two children aged 8 and 11)
Travelled October 2015
I realised that I have not given you any feedback about Morocco. Anyway it was fab and we were really lucky with the weather. There was quite a bit of driving but the boys quite liked that because it allowed them to have a lot of screen time, which is a bit of a treat. All the accommodation was great – I think my favourites were Dar Imllil and the Riad in Essaouria. Actually that was my favourite place – it was lovely.
The only comment to make is that for future reference it might be worth advising people to have some lunch before the long camel ride and to make sure that they take water. It is also necessary to pack overnight stuff in bags that can go on camels – ie backpacks. The tent was great fun. The toilet tent had blown down the night before so ablutions were al fresco – we didn't mind but I wonder if other people might. The guide with the camels (Mustafa) was great and controlled them using hand signals rather than whips etc – something that W particularly appreciated.
Doyle Family (with two children aged 6 and 9)
Travelled Summer 2015
We had a lovely time, thank you so much for arranging it all so well! The organisation was impeccable. Our driver, Abdul, was brilliant, even with arguing kids in the back, at times. We did decide to change from the Palais des Dunes as it was a little too "authentic" for us. When the kids got in the pool we couldn't see their bodies below the surface and the general maintenance was very poor. Anyway, it was very smoothly dealt with and it didn't detract from a generally fabulous experiential holiday (in fact it added to it).
We think we should have maybe spent a bit more on the whole, as the last hotel we loved. Although I loved villa midelt too, it was great to see a traditional hotel. The food was superb at Chez Pierre. The Riad Dar Vedra was lovely and friendly, in fact everywhere we went the people were super. We just felt we should have pushed the boat out a little more.
Anyway that was down to us setting the right budget and having never done a holiday like this before, it's a bit of a learning curve for us.
Thank you so so much, it really was so fascinating and we saw so many wonderful sites. We absolutely loved Fez. The Riad, similar to Dar Vedra was very hospitable and beautiful and in a great location.
We look forward to the next one!

Sykes Family (with three children aged 2, 5 and 7)
Travelled Summer 2015
Liddy, just a quick thank you. We got home in the early hours this morning. Great holiday and we particularly appreciated the thought that went in to tailoring things for kids the age of ours. It got a double thumbs up from everyone.
Baker Family (with three children aged 2, 4 and 6)
Travelled Easter 2015
Just a quick note to thank you so much for organising our trip to Morocco – we arrived home in the early hours of this morning after the most amazing 10 days. The itinerary ran like clockwork, the riads that we stayed in were delightful and the guides were brilliant. The children enjoyed every minute of it – we are a family that has caught the adventurous travel bug! Where next?!
Lusty Family (with three children aged 4, 8 and 12)
Travelled Easter 2015
Hello, we had an incredible time and loved it all. (We got a bit sick towards the end, but this was not anyone's fault). The one slight blip was that there was something strange about the riad in Fes – Al Alkhawaine. It was beautiful, well located etc etc, and the staff were initially very helpful and accommodating but then later behaved strangely. Not sure if we offended them somehow but they became a bit 'off' with us.
We adored the Ksar Shama, which was fabulous. We arranged a day hike through one of the waiters and this was one of the highlights of the trip as we walked/ rode mules up into the hills and had lunch with a local family.
The train was brilliant but we were not given a ticket for our youngest child. Apparently he didn't need a ticket, but this also meant that he didn't get a seat, and he is too big to sit on our lap. This was not a problem as we moved to other seats, but perhaps in the future you might want to purchase a ticket for each child that is over 2 (or thereabouts)?
Riad Africa was our favourite – this was amazing and we adored it.
Many thanks for all of your help.

Rose Family (with two children aged 7 and 9)
Travelled Christmas 2014
Thank you and a very happy New Year to you an your family. I had meant to email you as soon as we got back to say we had a great time – so sorry for the delay. Where to start? For me to have the experience of snow/ mountains/ meadows/ orchards/ camels/ city/beach etc in a week was quite unique. The transfers from airport/hotels checking in were seamless and entirely stress free.
Weather – by all accounts we were very lucky. Every single day was a totally blue sky and not a cloud in sight. 19-20 C.
Guide at Imlil and Ouirgane was a very nice man – very helpful, knowledgeable, kind and perhaps most importantly very patient and good with our children who at times were difficult, acting 'spoilt' and unappreciative. He was the same one that had taken your family too!
Drivers were fine…maybe not so great was the one who took us from Ouigane to Marrakesh, but nothing to complain about.
Accommodation – Imlil Lodge was ok, if a little basic, but they were very friendly there and it was a good place to start. You had warned us about the lighting! Probably more of a trekkers place to stay but again, no complaints.
Hotel in Ouirgane was obviously the smartest. The kids managed to get into the freezing pool and stay there for about 30 seconds (to me they might as well have done the ice bucket challenge!) It must be a lovely place in spring/autumn.
The kids liked the Riad Africa in Marrakesh as they were allowed to go into the heated pool there (I did try and explain to them it was supposed to be more of a plunge pool). Being on the ground floor it was slightly noisy in the morning, but again no complaints.
Essaouira turned out to be a great way to end the holiday. There was no wind, the beach was beautiful, so sandy and the kids even had a brief dip in the sea. Riad Zhara was a nice place the owner? manager Xavier was a real sweetie and very helpful. The old town area has grown so much since I recall from many years back and was much more pleasant to walk around for us than the souks of Marrakesh.
So, many thanks Liddy for putting together a great package that gave us a taste of many different things… Children are so unpredictable …they really enjoyed the mule ride, which was perfect as it enabled L and myself to enjoy walking. My son was bored with the camel ride after 5 minutes. Previously they haven't been that keen on the beach and yet at Essaouira they wanted to stay there for hours.
Do let me know if you want any more feedback. Best wishes


Call us and we will be happy to provide you with a free-of-charge no obligation itinerary and quotation designed for you.

Talk with our friendly team about your family travel needs.