We are very proud of the feedback that we get from our trips and are pleased to share reviews from past travellers. These are kept as up to date as possible. Please have a read through to get a real sense of the kind of experience that you might have on a family trip to Oman.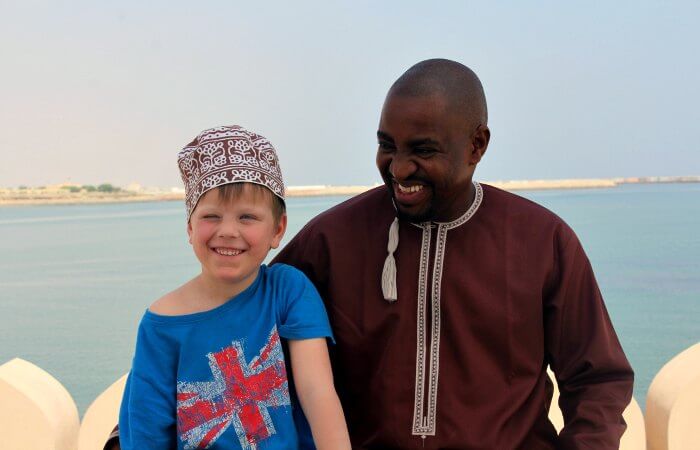 Habib Family (with children aged 8, 9, 11 & 13)
Travelled Christmas/New Year 2018/19
Hi Caroline – We loved our trip to Oman. We love Oman. Thank you for all the great planning. Your local contacts were all great. All the staff we met were lovely. And the (birthday) cake was as beautiful as it was delicious. We were surprised by how good the food was at even the most unsuspecting places. We came home rested and full of stories of our adventure.
We loved our desert experience. It was quiet for the most part. My husband heard some folks in the distance celebrating New Years by driving up and down dunes from midnight for an hour. The kids and I slept through it. We played charades by the fire until we were falling asleep.
The beach was also lovely – we were all excited by the unexpected phosphorescent waters that glowed at night.
We were surprised by how accommodating Omanis are and how easy it was to get around by car.
We got a little confused about our last hotel's location. It was correctly listed on the paperwork we received from the local guide, but we didn't look at that too closely. Earlier S had followed the link from our itinerary (online) and it brought him to the Millennium Hotel Apartments. So we had to get back in the car and keep going for another hour. The Millennium Resort was great for the kids. Initially I feared having to pay over 10 euros for zip lining per child and another 10e for the water fun park, but the hotel was generous with the free passes they gave us. The kids had a blast with all of it.
Wolleswinkel Family (with children aged 11 & 12)
Travelled Christmas/New Year 2018/19
Hi Lee. We had a wonderful time in Oman! It's a beautiful country, friendly people, one feels safe everywhere and the climate in winter is brilliant… We were very happy and will certainly think about Stubborn Mule again in future – we are considering traveling to Brazil early July to visit friends and I will get back on that one.
Regarding the hotels, we appreciated the Milennium Musannah. Although indeed somewhat lacking in atmosphere, it is a good hotel
Sleeping in a tent and having a fully serviced BBQ on the beach was brilliant.
The accommodation in the desert was great too – more comfort than we expected and wonderful fresh food.
The hotel in Nizwa was very good and Muscat hotel an average mid-range hotel and convenient for 1 short night but not much more.
Other things that might be useful to know:
– It is not possible to visit any mosque on Fridays (so we only saw the outside of the Sultan Qaboos)
– As you said, it is very easy to drive yourself although the desert is tricky. Still we appreciated having a driver. His English was very good and we learned a lot about Oman, the relationships between countries on the peninsula and those surrounding it including Iran, all the changes that were initiated to develop the country in the last years etc.
– We thought about the Balcony Walk, but had no clue where to start. Our driver had not heard about it too… so we just drove up and enjoyed the ride and marvellous view.
Kakani Family (with a child aged 4)
Travelled Christmas/New Year 2018/19
Hi Caroline – the trip overall was very enjoyable. We liked the itinerary and the places we stayed as well as the activities suggested. My son could do the distances involved, and he could also do the balcony walk hike as well as the Wadi Shab hike easily.
The only thing that we really didn't enjoy was staying in the hotel in the Jebel Shams… we just felt that staying in a tent elsewhere would have been more comfortable and pleasant.
The wild camping was a lot of fun, and we would easily have done another night. We really liked the set up with the food that night, it was very impressive and rather like a 1000 Arabian nights feeling!
Overall we are super pleased with our holiday, and we would appreciate it if you could send us suggestions for family itineraries to other destinations, as we want to repeat the experience in a sunny place for December 2019. Many thanks
Quartley Family (with children aged 12 & 14)
Travelled October Half Term 2018
Hi there. Our trip was amazing – our best holiday to date! I will give you a call next week and find some photos as well. We do plan to post something on your Facebook page but we haven't stopped since coming back!
Hall Family (with two children aged 14)
Travelled October Half term 2018
Hi Liddy – We had a great trip thank you, it was such a surprise how much Oman has to offer – we would certainly consider a return visit.
In terms of positives and negatives:
Our flight was delayed by a couple of hours by fog. This meant that by the time we had arrived and got ourselves settled and had a bite to eat it was quite late. The local company didn't let us know what time our guide was going to meet us so we had a bit of a late start only to find him chomping at the bit waiting to leave.  This meant that the first two days felt a bit rushed.
We were slightly underwhelmed by Misfah Village and Jadrin Fort (younger children and boys in particular may be different) although the views were spectacular from the turrets. We also weren't quite prepared for the driving distances – it did feel like we spent the first two days in the car rather than exploring sites properly and while we enjoyed our stay in Jebel Shams, we had to make a decision to either do the balcony walk or visit Nizwa Market – I was out-voted, but we all enjoyed the market! Obviously we were time constrained, but slightly fewer attractions and more time to enjoy the mountains and canyons would have been better, particularly in the first few days.
From this point forwards everything was fantastic. The trip to the desert was great and probably the highlight of the trip for most of us. We enjoyed the Wadi swim and were very well looked after during our "wild" camping on the beach!  We enjoyed a swim in the Bimmah sink-hole (despite the negativity of the guidebooks!) and found the hotel a great place to relax at the end of our trip (we think we might have inadvertently been upgraded to suites which was a nice bonus!). From here we did a half-day dolphin and snorkelling trip, which was also excellent. We saw lots of spinner dolphins and swam with turtles in a small bay on the way home…
I hope this is helpful and doesn't sound too negative; we had a great time and are very grateful to you for making it all happen!
McGimpsey Family (with child aged 2)
Travelled February 2018
Hi Liddy – Sorry for my delay in replying – have been in a bit of denial that our holiday is over! It was amazing. We fitted quite a lot in but I wouldn't have had it any other way. C is at the age where he still naps so it was quite easy travelling around with him in the car. The roads are good and the people were so welcoming of us (which isn't always the case with a baby in tow). In fact, the chef at Desert Nights Camp even came over to us to ask if there was anything he could make specifically for C.
In terms of the Stubborn Mule service, it was seamless. No issues at all on airport and hire car pick ups and drop offs. The local rep also gave us a call mid-way through the week to see if we were ok, which was nice…. I'd happily visit Oman again (although I'm now starting to think about Jordan for next April…).
Milward Family (with granny and children aged 4 and 7)
Travelled February Half Term 2018
We are back safe and sound, and readjusting to the arctic weather here… We had an amazing time – it's a really beautiful country and we all want to go back! February was a great time to go – we had amazing weather for the whole 9 days, with barely a cloud in the sky.
In retrospect, I would have paid the extra for the direct Oman Air flights. Gulf Air were fine, we had no issues, but the flight back with a 1am change in Bahrain was a bit gruelling. I would still have taken an overnight flight back in order to have the full day in Oman, but the direct one that left at more or less exactly the same time…
Hotels/Route
Golden Tulip Seeb: Near the airport, functional, fine for one night, especially if you have an early or late flight.
The View: Loved, loved, loved it. Definitely our favourite of all the places we stayed. We could have stayed a week there and not got bored. In hindsight I wish we'd had three nights here, sacrificing one of the nights by the beach at the end. It's also worth paying the premium for the rooms at the front of the hotel I would say. Staff were helpful, food was good, and it was small so didn't feel too resort-like at all. Drive up there in the 4-wheel drive was bumpy but easy enough.
1000 Nights Camp: Also really liked this place, and we're glad we took your advice and spent two nights here. The drive there is fun, and easy enough once you have done it once. You do have to look out quite carefully for the signs though, as they are fairly easy to miss. By the time we'd done it 4 times though, Dan was just pointing the car down any old sand dune and having the time of his life driving! I'd also say the Sheikh tents are worth it over the basic tents, which looked pretty hot and stuffy.
Re the trip notes here. Although you are right that it is absolutely possible to do Wadi bani Khalid from the camp in a day trip, I'm not convinced it makes total sense. Better to do it on the way to Sur/Ras al Jinz. It's about 1hr 15 drive there, and the same back, and as we also wanted to spend some time in the camp that day, we didn't have as much time as we'd liked at Wadi Bani Khalid. I actually think we could easily have whiled away a day at the camp – the pool is lovely and has plenty of shade, the kids enjoyed clambering up the dunes and sandboarding down.
Ras al Jinz: Sur was nice enough, but there is not much to do there. I would recommend people drive from the desert early after breakfast, stop at Wadi Bani Khalid for the mornin and have lunch there, then head to Ras al Jinz via Sur in the afternoon. The dhow shipyard is nice to see, but it's quickly done. No need to get to Ras al Jinz much before sunset as there is nothing to do before dinner, and you can't access the beach after 1pm. the hotel itself is fine. The Ecotents were very nice, although quite close together. Not completely sure they are worth the premium to be honest, as you spend so little time in them. The turtle tour – we did both the night time and morning one. Not sure you need to do both, really, and the morning one was much, much nicer. The night time one was very busy and involved lots of hanging around in the dark. There were far fewer people on the 5 am morning tour (maybe 15-20 compared with over 50), and of course you see the sun rise over the beautiful beach and cliffs, and, crucially, it is light, so you can see the turtles much better. I would definitely advise people with young kids to skip the evening tour, go to bed early and go on the morning tour instead. we saw a turtle both times – perhaps we were lucky, but I got the feeling it's pretty common.
Road from Ras al Jinz to Muscat: I felt your trip notes were a bit lacking here, as there is so much to see. We had a guidebook, so we were fine, but even so I wish we'd known how great the beaches are along here (Finz beach, for example, was just beautful). In retrospect it would have been nice to camp there – one of your suggestions, which we decided against. It might also be worth mentioning the Bimmah sinkhole, which is well worth a visit and a swim in.
Shangri-la: In some ways this was our least favourite hotel (although the kids would probably disagree!). It was very resort-like, and we felt we could have been anywhere. The restaurants were also eye-wateringly expensive (18 Omani rial per person for the .buffet in the cheapest of the restaurants, not including even soft drinks, taxes or service!). We ended up eating in the cafe most nights but even that was expensive. I'm loathe to criticise it too much – the service was great, they gave us a late check out until 7pm on our last day, which was really good of them. The dolphin-watching tour we went on with them was also great (and very easy – the boat leaves from the marina by the hotel. It also wasn't too crowded – I think we were 10). The beach was nice enough, and the free kayaks are a nice touch. the kids obviously loved the multiple pools and the lazy river. It's a great hotel, if that's your thing – it probably isn't ours, but that's not your fault! It was  a bit too far out of Muscat for our taste, and we (I?) felt  a bit trapped. Not sure we'd stay there again. One tip – it's worth requesting a room on the upper floors if you are booking for guests. Ours was on the first floor and therefore not that private.
Muscat: Really liked it. Wish we'd stayed closer to town. We ended up taking a taxi into Muscat from the Shangri-La, and then taking the free shuttle bus back to the hotel (the free shuttle only works in the afternoon – I think to ferry guests to the souk). That worked well enough. We had to take a taxi from the hotel to the Grand Mosque, and then from the Grand Mosque to Muscat old town. After that we walked along the corniche to the souk.
Generally – we loved Oman, and feel there is plenty left to see to warrant a return visit one day! The car hire worked well – it's absolutely worth hiring a 4 wheel drive, and the trip would not have been anywhere as good without it. A driver definitely isn't necessary – although it would have been nice to have more direct contact with Omanis, and I think a driver would have helped, along with the local knowledge they have. I can see that there are pluses and minuses to this one, but if we went back we would probably drive ourselves again.
…. Anyway, I hope this helps. I am absolutely recommending Oman to everyone, and it was great to get back into the swing of exciting holidays again!
Doyle Family (with children aged 8 and 10)
Travelled February Half Term 2018
Wow loved Oman. Faradh our driver was such a bonus. Proud, polite, knowledgeable and a great driver to boot…normally I'm a terrible passenger but having a driver has made the trip…. we've gone places we'd never dared to tread…
We have had such a good holiday thanks to your well thought out itinerary and have realised resort holidays are a thing of the past for us now!
Highlights – so many but the two days in the desert and the Anantara hotel in the mountains has to come top… Shangri-La curiously (as was the part I was most looking forward to) coming bottom! Too many people, over inflated pricing. That said enjoying our last day by the beach and already thinking ahead to future holidays!
Wrigley Family (with one child aged 19 months)
Travelled February 2018
We had a great trip, thank you, we really enjoyed it. The driver was great and made the whole trip very relaxing.  We especially loved the hotel in the mountains so really glad we added that to the agenda – you were right though, it was a bit chilly up there.
Fletcher Family (with children aged 7 and 9)
Travelled October Half Term 2017
Dear Kelly. We had a fabulous trip – a huge success so thanks so much. Some highlights of the trip included tour of Green Mountain, Grand Canyon of Oman together with driving through the floor in a 4×4, a visit to our tour guide's own farm and family camel ranch (including camel ride!), a Bedouin meal (eaten with the hands – a particular highlight for the kids who never want to use cutlery again), snorkelling with turtles, visit to Grand Mosque in Muscat, relaxing at Grand Hyatt in Muscat including the most fabulous "Friday feast". Our guide was fab – he really went above and beyond to show us the sights and teach us about the country.
Vaughan Family (with children aged 5 and 7)
Travelled Easter 2017
Hello Liddy! Thank you for your email. I have actually been meaning to contact you to say thank you so much! We had an amazing holiday and really loved it! The kids say their favourite part was the Al Waha – the pool and lazy river were big hits, as were the chicken and cheese sausages in the buffet! We thought the hotel was perfect for families. Lots for the kids to do and the kids club was very relaxed, which we liked.
With hindsight it might have been helpful for us to consider a half board option as we found the food quite expensive, though everything was very good, and we had thought we might venture into Muscat more than we did but there didn't seem to be many restaurants around the souk so we only ate out of the hotel once.
The View was in a stunning location.  The deck lounge chair had a thin green mattress that we used on the floor with a spare duvet and pillow to make an extra bed for our little one so that worked out. We walked the Jebel Shams balcony which was stunning though we were unlucky to have a rock slide scare when there (all fine, just nearby)! We visited the fort and the cattle market in Nizwa which were great.
The desert was my favourite part! The sunset over the expanse of those endless dunes is an amazing experience. The tent was very smart and the food was great. I would say that it would have been handy to know the camel riding details before arriving – the morning slots were all prebooked for the proper rides and so we just did the 5min photo op one at the camp, which perhaps was enough for the kids.
We drove back through Sur and stopped at the Wadi Shab – we only went to the first pool but it was beautiful.
The driving was fine – N had a ball with the 4WD on the mountain track and the sand – though I would recommend the Sat Nav – we didn't get it but ended up using N's phone as one and found that really helpful as I found it tricky to navigate with the map we had and the directions we got from Tour Oman were a bit vague (though they were lovely and helpful with tips).
All in all a great holiday so thank you again!  I hope you had a lovely time in South Africa. On my bucket list for the future so would love to hear about it.
Viegelahn Family (with children aged 2 and 5)
Travelled Christmas/New Year 2016/17
Just a quick message to say that we had an awesome time in Oman. We had two different drivers – the first was very pleasant but had to go home after the first day because of some problem at home. He was replaced by Mustafa who was a complete star. Such a nice man and a very careful driver. In fact we teased him because he went so much slower than other drivers but we were very glad of it in the mountains. I usually get quite sick on mountain roads but didn't at all in his hands. So there's a lesson there!
One thing I would recommend to remember when organizing any future trips – the people working in the Turtle Reserve mentioned that it is these days very unlikely to find turtles in the early morning and that evening is the better time. Our driver was able to get us in so we saw the turtles but I thought it would be helpful to know this so you can request evening viewings
Otherwise, we felt very supported by your local partners – Jeevaka called us in the hotel upon our arrival and also towards the end of our journey, which was very nice.
So, a great trip all in all. Loved the turtles but were sad not to have been able to stay actually on turtle beach. The hotel we had in Sur was fine but a little functional but that's our fault for booking at the last minute!!!
Thanks for arranging it all. We've recommended you to some friends so I hope that they will be in touch soon. We've told them to try to book a bit further in advance so that they don't have the same problems finding availability so hopefully they'll listen.
Wrangham Family (parents, two grandparents, children aged 9, 7 & 4)
Travelled October 2016
We're back, after a WONDERFUL holiday! Thanks v much for all your help and efforts organising it. Do you want feedback on different bits, and on all the extra stuff we did (lots and lots more swimming in different places, and some shuffling of days)? Almost everything positive, though a couple of minor hotel gripes.
Peters Family (with two children aged 8 and 11)
Travelled October 2016
We had a marvellous time in Oman. We all loved the Al Waha – what luxury and we were very spoilt. The family room was perfect so thank you for securing that for us. The staff here were outstanding and although our restaurant bill was eye watering (we splurged!) it was well worth it. Highly recommended. We also loved the desert camp and arranged a dawn camel ride on my birthday which was very special. Beach camping also great fun – we passed a stretch of beach where there were lots of other people and were very glad when Omar kept driving and we got to our lovely deserted stretch of beach! Thanks for everything.
Paterson Family (with two children aged 11 and 13)
Travelled February 2016
The trip was wonderful. We had an outstanding time and would return to Oman in a heartbeat. Thank you!

Call us and we will be happy to provide you with a free-of-charge no obligation itinerary and quotation designed for you.

Talk with our friendly team about your family travel needs.