South Africa Customer Reviews
We are very proud of the feedback that we get from our trips and are pleased to share reviews from past travellers. These are kept as up to date as possible. Please have a read through to get a real sense of the kind of experience that you might have on a family trip to South Africa.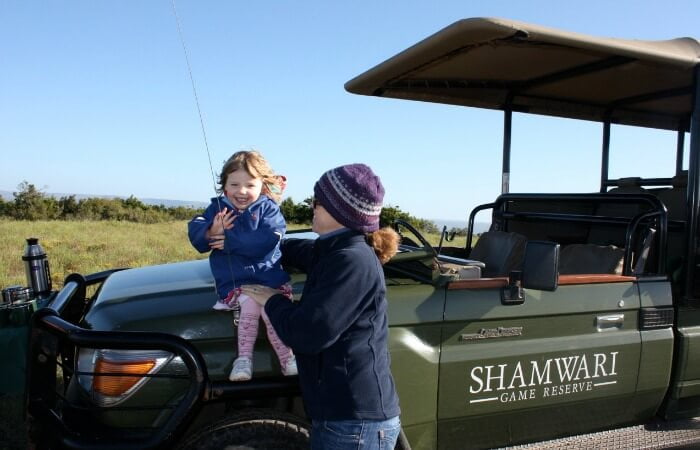 Beth Family (with children aged 10 & 12)
Travelled October 2018
Hi Claire… Everything was great!! Things went so smoothly! I would be happy to hop on a phone call to discuss any specifics that would be helpful. Thank you so much for all your efforts to make it all go so smoothly and to visit such amazing places… an awesome trip.
The only two things that varied from the itinerary (and they were so minor!) were:
1) the drive from Thornybush to Nelspruit was not a game drive, it was a lovely drive through much of the farming/agricultural area which was better than another game drive, in my view! We saw and learned about banana farming, macadamia nuts, timber, etc. We had a very good and interesting driver who made that informative.
And 2) one road to the Cathedral Peak Hotel was labelled differently than the signs in the town. The directions said turn left on R180 and the sign in town called the road R600. We only went about 3 minutes out of our way, figured it out and looked back around on our merry way.
Hope to talk soon while details are still very fresh in my mind!
Bach Family (with children aged 10 and 13)
Travelled Summer 2018
Dear Lee – We are trying hard to adjust to normal life after our amazing trip but we left our hearts in Africa so it is hard! Thank you very much for your help in putting our itinerary together. The South Africa part of our trip worked incredibly well and we were delighted with all of it. Your SA agents did a good job in selecting our accommodation and the quality and variety was very good. We met other holidaymakers who were not so lucky with their travel arrangements/agents so we counted ourselves very lucky. Your pre-travel info was very helpful.
Vaughan Family (with children aged 3, 7 and 10)
Travelled Februry Half term 2018
Back yesterday after a long but easy flight. Already back in the office but wanted thank say a big thank you for all you did for us. Our trip was just amazing. We did everything and had a fabulous time and can't wait to start planning the next one!
Anderson Family (with children aged 9 & 10)
Travelled Christmas 2017
We had an absolutely wonderful time on our trip to South Africa.  We found the country to be very warm, welcoming and absolutely breathtaking.  We enjoyed all of the accommodations and the length of driving on our transfer days wasn't overwhelming.  The highlights for the kids would be biking through the vineyards at Vrede en Lust, zip-lining in Tsitsikamma National Park and the Safari and activities at Ivory Tree Game Lodge…. Again, thanks for all your help in organizing such a memorable trip!
Maruf/Backhouse Family (with children aged 12,12 and 15)
Travelled Summer 2017
Hi Kelly – I don't know if you saw my Facebook pics but we all loved SA. We had a fab time despite the delay at the beginning of the trip which was a bit disappointing but I'm glad we contacted Simon and Liddy to sort out an airport hotel. That made a big difference. Overall we had an exciting and hassle free trip and I'll outline some comments on each place
CAR
– The car was a very tight squeeze for the 5 of us. We should have realised this at the outset when getting in 4 bags in the boot was a bit of a jigsaw puzzle. Luckily we didn't take a 5th bag.
SABI – Porcupine Ridge. Our stay with John and Jan was fab. The house was beautiful and we walked up the mountain behind it to get a great view of the waterfall on their suggestion. They were great hosts, lots of suggestions for dinner, trips etc very friendly and full of stories. Breakfasts were hearty. We were made to feel right at home. We booked some zip wiring at Hazy View which was very scary but amazing — I was terrified but the 2 guides with our group – about 10 people were brilliant. We managed to make up for the missed day and went to see a few local waterfalls plus the Sabi canyon/Three Rondavels and had a great meal at an African kitchen ( basic but very atmospheric – sat on logs to eat off tin plates etc ) on the way back from the 3 Rondavels. This was Jan's suggestion.
KRUGER – Fantastic 3 days in Kruger. Tented adventures were brilliant. Tents were comfy and not too basic and the guides were just fab. So knowledgeable, enthusiastic. The 5.15 am wake up call was a bit difficult but so worth it to see the sunrises. I have left a good review on Trip Adviser for them
SWAZILAND – the journey was long. The border crossing both in and out added an hour to the driving, plus we had to stop a few times to stretch legs as it was pretty cramped in the car. I think your estimates were a bit optimistic. Also It would also have been good to know that  the distance to the house from the tarred road was about 20 km. We did worry that we were in the wrong place.
But once we got to Wide Horizons the drive there was worth it. So utterly beautiful. John who was standing in for Rose was wonderful. We hit it off with him. Very kind and entertaining. The dogs were  also gorgeous. Truly a retreat, a total get away from it all.  We only left once to visit a local restaurant for lunch on the second day.
The evening we got there there was a fire on the hillside behind the house – apparently lit by some locals to grow stuff they wanted to hide from the authorities. Apparently this is common. The fire was a bit worrying as it did spread but John and Sibonile (who helped manage the land)  kept an eye on it through the night.  The next day John, Nyle and I went to try to inspect it- a bumpy ride in a pick up truck. Later that day John and Sibonile did a controlled burn to stop any future fires reaching the house. All this was totally fascinating. A real slice of life. The kids loved every minute of their stay at Wide Horizons.
Sodwana Bay — very spacious lodge and good food in the restaurant. We had some confusion about whether we had dinner bed and breakfast but Simon sorted that fairly promptly by phone.  Very beautiful beach with lovely dunes – on a very warm sunny day.
Hluhluwe River Lodge — absolutely beautiful place. So glad we stayed there. Unfortunately the weather had turned and we witnessed some very windy storms for the 2 days there. It was still good to get a range of life and weather – luckily we were prepared. We did go to the game park as well and saw lots of Rhinos – which a special feature there and got to St Lucia to see hippos and had sushi. No river cruise as it was too wet and windy.
All in all the trip was exhilarating and we loved it. Thank you for organising it. Hana took some lovely pictures. I will try to email a few to you.
Davies Family (with two children aged 7 and 10)
Travelled Easter 2016

Dear Liddy, thank you so much for everything you and your company did to make our family trip to South Africa such a wonderful success. This was our first time in Africa so S and I really appreciated the time you took (all the phone calls as well as emails!!) to go through every last detail, to answer all our questions, make sure the trip was perfect for the kids etc.  The holiday really couldn't have gone better.
Everyone we met was so welcoming and friendly – this was without exception – the guides in Kruger were so knowledgeable and really took the time with the kids to make the whole safari experience exciting and fun. We saw the big 5 but the kids also loved seeing hyena, baboons, hippos, everything really. And what can I say about Cape Town…… There is so much to do here we had to rush at the end to fit it all in. You were right we didn't have to have a car and found the taxis good value… actually in general everything felt very reasonable priced and both S and I agreed that we had some of the best wine we'd ever tasted!
Your organisation skills were superb and there was always someone there to help us to get from one place to the next. We've all got the safari bug and will be coming back to talk to you about Namibia next for sure. Really thank you so much.
Thompson Family (with two children aged 11 and 14)
Travelled Easter 2016
What an incredible trip. We loved it all and were so pleased that you persuaded us to try self-drive. It was very easy to get around with the GPS system and we didn't feel nervous at all. The B and Bs that you selected for us were spot on and made the children very welcome.
A particular favourite was the Morningside in Cape Town which we were very sorry to leave. The variety was brilliant and we loved how you had something in there for the adults and also for the kids. The highlight for the children was probably all the activities around Tsitsikamma but my favourite bit was the Winelands. I can now bore for Britain about the various different South African wines! Thank you for everything.

Call us and we will be happy to provide you with a free-of-charge no obligation itinerary and quotation designed for you.

Talk with our friendly team about your family travel needs.