Best of Mexico's Yucatan Peninsula & Belize
Combine two of Central America's most exhilarating locations for that perfect family holiday. The Yucatan Peninsula in Mexico offers glorious sandy beaches, incredible Mayan ruins, gorgeous colonial cities and lots of fabulous opportunities to enjoy water-based activities.
A short hop across the border into Belize and you are deep in the rainforest. Here you can watch the canopy come alive on a dawn walk and take a night cruise hoping to spot the elusive jaguar. You will discover mysterious jungle-clad ruins and take part in exciting activities such as river floats, cave-tubing and waterfall abseils.
Finish on an idyllic private island where the motto is 'hammock testing is an activity'! Snorkel on the barrier reef, dive with shoals of brightly coloured fish, and experience coral by torchlight…the perfect end to a family holiday in Mexico and Belize.
Highlights
  See Chichen Itza, Tulum & Lamanai
  Cool off in underground cenotes
  Snorkel at Lagoon of Seven Colours
  Discover Mayan culture at Uxmal
  Actun Tunichil Muknal Cave
  River tubing near San Ignacio
  Relax on an idyllic Caribbean island
17 days from £2740 pp
Plus international flights from £645
A two-week guided Yucatan and Belize holiday for a family of four costs from £10,970, depending on type of accommodation plus international flights. A similar self-drive holiday for a family of four would cost from £9980 plus flights, with entrance fees payable locally.
Best of Mexico's Yucatan Peninsula & Belize day-to-day itinerary
Day 1 Cancun

Bienvenido a Mexico! Alight from your flight straight into the colour, buzz and sun of Mexico's most famous beach resort. This afternoon, take a dip in the Caribbean Sea – the perfect start to your holiday (and the perfect antidote to jetlag).
---
Day 2 Tulum
Travel down the coast to the famous cliff-top ruins of Tulum (1.5hrs). Tulum was one of the last cities inhabited and built by the Mayans. It stands on a bluff facing east towards the Caribbean Sea in a majestic and unforgettable spot. After visiting the ruins you can have a swim in the azure waters below the site – a magical spot for a dip.  Return for a relaxing afternoon at the beach in Cancun where you can soak up the local vibe of fun and fiesta.
---
Day 3 Chichen Itza
Chichen Itza is the most famous site on the Yucatan and possibly the whole of Mexico. It is home to the largest Mayan ruins in the region and even the most reluctant of young sightseers will be awed by the vast structures. Dominating the centre of the city is the Temple of Kukulkan, an impressive step pyramid often referred to as El Castillo (the castle). Young listeners will stare open-mouthed at the Skull Wall whilst guides relate stories of human sacrifice and gore.
After a morning sightseeing, you can cool off with a refreshing swim in the aquamarine waters of the nearby Yokdzonot cenote. From here, continue to the tranquil Yucateka village of Sotuta de Peon. Your accommodation is in thatched cabanas at a beautiful hacienda, part of a fascinating restoration project and a truly unique spot for the next three nights.
---
Day 4 Sotuta de Peon and Merida
Travel back in time on a tour of the traditional village of Sotuta de Peón. Located in the heart of the ancient henequén zone (a kind of sisal plant), the visit gives an insight into the traditions of Mayan life from the last century. Children will have fun being transported on wooden platforms called 'trucks' which are pulled by 'mules' over Cauville rails. You can also take a refreshing swim in the cool waters of the cenote with its beautiful underground rivers.
Later you will continue to the 'White City of Merida', capital of the Yucatan. Here you will enjoy some city sightseeing with a difference….with a horse carriage on Paseo de Montejo, Merida's Champs-Elysées. The route passes many impressive neoclassical mansions, the grand main plaza, the Governor's Palace and Mexico's oldest cathedral. Continue to the lively market with its huge variety of goods and craftwork, live bands playing salsa and folk dancers entertaining families on the streets. There is also the option to take a cookery class here so you can tell your enchiladas from your quesadillas from your tortillas…
---
Day 5 Celestun and Uxmal
After breakfast you will continue to Celestun, a quiet fishing village on the Gulf of Mexico. Hundreds of pink flamingos are the main draw here, a fascinating sight that you can enjoy while on a boat tour on the lagoon. Many other water birds join this fantastic spectacle, including cormorants, pelicans, ducks and the wonderfully puffed up frigate birds.
Afterwards transfer to Uxmal with its towering Pyramid of the Magician. The structure is over 35 metres high and according to the legend was built overnight and by a dwarf! Children will love running through the Botanical Gardens and watching the ancient Mayan ceremony in honour of the rain god Chaac. Try the traditional drink, prepared using fresh organic cocoa and spices. Chocolate never tasted so good!
Return to Sotuta de Peon for a final night. Why not try the house specialty – Cochinita Pibil (slow roasted pork), traditionally cooked underground?
Read MoreRead Less
---
Days 6 and 7 Ticul – Loltun – Bacalar
Transfer to Ticul, nicknamed La Perla del Sur ('The Pearl of the South'), and known for its fine leather shoes and pottery. Here you will be able to explore the mysterious cave system of Loltun, one of the most extensive in Mexico and home to numerous pre-hispanic rock paintings and sculptures.
From here you will cross the peninsular to Bacalar where you will stay on the shores of the Lagoon of Seven Colours. You will have ample time to enjoy the pristine waters of the lake. Perhaps take a boat trip through the mangroves, home to many species of birds, orchids and bromeliads. You can also snorkel through 'Pirate's Channel' and enjoy a swim in the deep blue waters of the Azul cenote.
For more active families, we recommend a kayak tour to a hidden lagoon, passing through the mangroves and stopping for a picnic lunch on a deserted beach. Keep your eyes peeled for snakes, tapirs and shy morelet's crocodiles. You should also make time to visit the pirate museum, situated in a small fort with beautiful views over the lake.
---
Day 8 Belize border and Lamanai
Cross the border into Belize and pass through picturesque countryside of rural villages and sugarcane plantations. Your destination is the jungles of Lamanai, which were once home to a vast Mayan civilisation. Children will love exploring the mysterious jungle-shrouded temples of this once powerful 3,000-year old city, where nature and ancient history coexist.
You will spend two nights in thatched cabanas in a jungle lodge, totally surrounded by nature. This evening perhaps take a night safari cruise along the river in search of crocodiles and manatees or a nocturnal torchlight jungle walk spotting owls, bats and tarantulas – yikes!
---
Day 9 Lamanai
From this magical place there are a variety of activities families can enjoy.  How about waking at dawn to watch the mist rise through the canopy on an early morning jungle walk? Alternatively, perhaps take the Maya Medicinal Trail and discover how the indigenous people us a wide variety of local plants for their powerful medicinal properties.
Later, enjoy a sunset cocktail cruise (virgin pina coladas for the little ones). There can be no finer way to end the day than on the New River Lagoon, surrounded by tropical forest and wildlife with a well-stocked cooler. The children will enjoy local snacks as you watch the sun disappear below the treetops from a 30-foot pontoon boat. Cheers!
---
Day 10 Belize City and San Ignacio
Rise early for a sunrise canoe expedition across the Crab-catcher Lagoon. Keep an eye out for otters and endemic parrots before returning to the lodge for a leisurely breakfast.
Later transfer back to Belize City and visit the popular Belize Zoo. This is home to more than 48 species all native to the country. Considerable effort has been made to leave Belize's natural environment intact here, and the animals are dispersed amongst the dense, natural vegetation, separated only by gravel trails.
Later you will continue to the Cayo district and the fabulous lodge at Chaa Creek. This is located in lush rainforest overlooking Macal River and has the added attraction of an infinity swimming pool!
---
Day 11 San Ignacio
There are lots of options to choose from today.
Families with older children will love the thrilling trip to the Actun Tunichil Muknal Cave. This starts with a 45-minute jungle hike into the Tapir Mountain Nature Reserve, crossing streams and then swimming across a short section of river to enter the cave itself. You then hike across a maze of rocks and wade through a tunnel with waist high water as you head deeper into the cave system. Here you will find the remains of a Maya Princess laid to rest centuries ago. Not suitable for under 8s – or those of a nervous disposition.
If this does not appeal you can take an adventurous canoe trip on the slow moving Macal River, passing by Mayan villages and tropical rainforest. Watch out for giant iguanas sunbathing high above in the branches and take a refreshing swim in the clear waters of the jungle river.
Alternatively you can visit the fabulous ruins of Xunantunich, go tubing on the Macal River or enjoy a horse ride through the rainforest.
---
Days 12 and 13 St Hermanns Cave & Mayflower Bocawina National Park
After breakfast travel south to St. Hermans Cave National Park for an exciting cave tubing adventure. This begins with a short jungle trek where the guide will entertain the children with fun facts about Belize's rich forest ecosystem, wildlife and plants. Once you arrive at the entrance of the caves, it is time to delve into the Maya underground. A shivery jump in your tube will wake you up and get that adrenalin going! Float through mysterious limestone archways and into centuries-old caves and learn about the ancient rituals and ceremonies that took place here.
Later continue to Mayflower Bocawina National Park. This contains over 7,100 acres of lush jungle, the longest zipline in Belize, 5 waterfalls – all are perfect for that outdoor shower – and unexcavated Mayan ruins. The park is also an excellent location for bird watching, with more than 200 species of birds.
You will stay in a rainforest lodge where you can experience jungle hiking, night safaris, waterfalls and abseiling – or even waterfall abseiling!
---
Day 14   Dangriga & South Water Caye
Time to head to the coast for some beach R&R. Transfer to Belize's biggest Garifuna settlement, Dangriga Town and take a boat ride to paradise, South Water Caye.
The island is located in South Water Caye Marine Reserve, the largest marine reserve in the region, covering 117,870 acres of mangrove and coastal ecosystems. This idyllic island is one of the few off the coast of Belize that sits right atop a barrier reef. Take an exciting snorkel trip to the reef to discover colourful tropical fish, coral and sea turtles. Alternatively you can laze on the beach like the local Magnificent Frigate bird, jump the waves of the Caribbean Sea and relax in a hammock dreaming away the day.
---
Days 15-16 South Water Caye
Enjoy another day in paradise… or make that two (or three, or four…).
---
Day 17 Belize City
Return by boat to Dangriga and take a local flight to Belize City to connect with your international flight home.

Call us and we will be happy to provide you with a free-of-charge no obligation itinerary and quotation designed for you.
Unparalleled family travel experience
Specialist knowledge across three continents
Hand-picked local partners
Every holiday is tailor-made for you
100% financial protection
24hr emergency contact number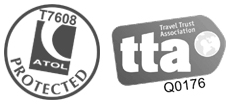 100% Financial
Protection
We are members of the Travel Trust Association, a trade association of Travel Agents, Tour Operators and Travel Organisers that operate trust accounts in order to provide financial protection for the consumer. Membership number Q0176.