Best of Mexico's Yucatan Peninsula
The Yucatan Peninsula offers absolutely everything you could want from a family holiday. There are glorious sandy beaches, incredible Mayan ruins and gorgeous colonial cities. Enjoy fabulous feasts whilst listening to mariachi bands strolling cobbled streets. Hear gory tales of human sacrifice and learn how to tell a taco from an enchilada from a tortilla. This two week tour encapsulates all of our favourite highlights. Viva la Vida!
Highlights
  Chichen Itza, Tulum & Uxmal
  Kayak & trek at Punta Laguna
  Swim in underground cenotes
  Visit artisan shops & lively markets
  Snorkel in the lagoon at Bacalar
  Spot rainforest wildlife & birds
  Relax on idyllic Caribbean beach
14 days from £1,560 pp
Plus international flights from £395
A two-week guided holiday in Mexico for a family of four usually costs from £6,245 plus flights, depending on type of accommodation. A similar self-drive holiday would cost from £3,980 plus flights, with entrance fees payable locally.
Best of Mexico's Yucatan Peninsula day-to-day-itinerary
Day 1 Cancun

Bienvenido a Mexico! Alight from your flight straight into the colour, buzz and sun of Mexico's most famous beach resort. Here you can kickstart your family holiday to Mexico with a dip in the Caribbean Sea (the perfect antidote to jetlag).
---
Day 2 Punta Laguna
Escape the glamour and glitz of Cancun to a world of nature and Mayan mysteries. Transfer to Punta Laguna (1.5hrs), part of a 5000 hectare nature reserve known as Ma'ax Yetel Kooh. This is home to numerous tropical birds, reptiles and spider monkeys. You are welcomed by a Mayan shaman, who holds a brief ceremony requesting permission from the gods to enter their land.
There are lots of activities here that are perfect for children. One of the most popular is abseiling into a cenote, an underground cavern filled with crystal clear turquoise water. You can also take an exhilarating zipwire ride through the jungle and kayak across a lagoon, all to the screeching calls of spider monkeys.
Later, continue to the colonial city of Valladolid.
---
Day 3 Chichen Itza
Chichen Itza is the most famous site on the Yucatan and possibly the whole of Mexico. The vast ruins here will stun even the most reluctant of young sightseers. Dominating the centre of the ancient city is the vast Temple of Kukulkan, often referred to as El Castillo (the castle). This step pyramid is the most renowned of the many picture postcard structures. Children will also love the incredible Great Ball Court and the guides will enjoy regaling stories of human sacrifice and gore as young listeners stare open-mouthed at the Skull Wall.
Knowing how important it is to mix culture with fun in the water, later you can cool off with a refreshing swim in the aquamarine waters of the nearby Yokdzonot cenote. From here continue to Izamal where you will stay in hotel with huge tropical gardens and that all-important pool.
---
Day 4 Izamal
You have a full day exploring the town of Izamal, with its characteristic yellow buildings. Older children will enjoy a bike ride around the quiet streets of downtown, whereas families with younger children will prefer a relaxing horse carriage ride. You can browse for souvenirs in local artisan shops and perhaps visit Esteban Montejo's house.
Esteban is a renowned local jeweller, making wonderful creations out of henequen thorns and cocoyol seeds. When you visit, his whole family will get involved, with the children singing a traditional Mayan welcome song. His wife will show the intricate traditional dresses that she learned to embroider from her grandmother and Don Feliciano Patron Canul, a proud heir of the Mayan botanical tradition, will guide you round his herbal garden.
---
Day 5 Merida
From yellow to white – transfer 120kms to the 'White City of Merida', capital of the Yucatan. Here you can take a horse carriage along Paseo de Montejo, Merida's Champs-Elysées. You will pass many impressive neoclassical mansions, the grand main plaza and Mexico's oldest cathedral. From here you can continue to the lively market with its huge variety of goods and craftwork, live bands playing salsa and folk dances entertaining families in the streets.
This afternoon you will discover the delights of Mexican cooking with a fun cookery class. This makes a mockery of the mass-produced nachos and tacos one usually finds outside Mexico! Enjoy gorging on the results of your 'hard' work before transferring to the tranquil Yucateka village of Sotuta de Peon.
Your accommodation this evening is in thatched cabanas at a beautiful hacienda. This forms part of a fascinating restoration project and you will be surrounded by nature for the next three nights.
Read MoreRead Less
---
Day 6 Sotuta de Peon and Celestun
Travel back in time on a tour of the traditional village of Sotuta de Peón. Located in the heart of the ancient henequén zone (a kind of sisal plant), the visit gives an insight into the traditions of Mayan life from the last century. Children will have fun being transported on wooden platforms called 'trucks' which are pulled by 'mules' over Cauville rails. You can also take a refreshing swim in the cool waters of the cenote with its beautiful underground rivers.
Later continue to Celestun, a quiet fishing village on the Gulf of Mexico. Renowned as the nesting spot for hundreds of pink flamingos, Celestun is also home to many other water birds. These include cormorants, pelicans and the gloriously puffed up frigate bird as well as a variety of reptiles. Enjoy this fantastic spectacle during a cruise on the lagoon before returning to Sotuta de Peon for the night.
---
Day 7 Uxmal
The Yucatan Peninsula is fortunate to be packed full of superb natural sights alongside some of the world's most important archaeological sites. Uxmal holds a number of the most complex and beautiful examples of Mayan architecture, and its magnificent pyramids and structures make it popular with all ages.
Kids will love the amazing steep Pyramid of the Magician and the freedom of running through the Botanical Gardens and cocoa tree plantations. Don't miss the ceremony in honour of the rain god Chaac where you will be invited to try a traditional Mayan drink, prepared using fresh organic cocoa and spices. Chocolate never tasted so good! Return for a final night at your gorgeous hacienda. Why not try the Cochinita Pibil (slow roasted pork), traditionally cooked underground?
---
Days 8 and 9 Ticul – Loltun – Bacalar
Transfer to Ticul, nicknamed La Perla del Sur ('The Pearl of the South'), and known for its fine leather shoes and pottery. Here you can explore the mysterious cave system of Loltun, one of the most extensive in Mexico. The caves are home to numerous pre-hispanic rock paintings and sculptures. Later drive to Bacalar where you will stay on the edge of the spectacular Lagoon of Seven Colours.
You will have ample time to enjoy the pristine waters of the lake. Perhaps take a boat trip through the mangroves, home to many species of birds, orchids and bromeliads. You can also snorkel through 'Pirate's Channel' and enjoy a swim in the deep blue waters of the Azul cenote. For more active families, we recommend a kayak tour to a hidden lagoon, passing through the mangroves and stopping for a picnic lunch on a deserted beach. Keep your eyes peeled for snakes, tapirs and shy morelet's crocodiles. You should also make time to visit the pirate museum, situated in a small fort with beautiful views over the lake.
---
Day 10 Sian Ka'an Biosphere and Tulum
Transfer to Muyil, one of the earliest and longest inhabited ancient Maya sites on the eastern coast. It is situated on the Sian Ka'an lagoon, which translates as 'where the Sky is born'. Here you take an exciting boat trip into the Sian Ka'an biosphere to look for tropical fish and birds, dolphins, turtles and crocodiles. Then it is time to get out of the boat and into the water….
Wearing a life jacket, you float along one of the man-made (and crocodile-free!) canals cut into mangroves – fun and magical at the same time. From here you will continue to the famous cliff-top ruins of Tulum. This was one of the last cities inhabited and built by the Mayans and stands on a bluff facing east towards the Caribbean Sea. It is a majestic spot and a magical place to take a dip.
From here you will travel up the coast to your beach resort at Akumal (30 minutes). Time to hit the sand and surf!
---
Days 11-13 Akumal
Enjoy three days on the glorious white sandy beach of Akumal. Perhaps take a guided snorkelling trip to the nearby coral reef to swim with colourful fish and sea turtles. Alternatively, you can simply chill out by the turquoise waters of the Caribbean Sea. This is an idyllic way to bring your holiday to an end.
---
Day 14 Cancun
Transfer back to the airport at Cancun (1hr) to fly home.

Call us and we will be happy to provide you with a free-of-charge no obligation itinerary and quotation designed for you.
Unparalleled family travel experience
Specialist knowledge across three continents
Hand-picked local partners
Every holiday is tailor-made for you
100% financial protection
24hr emergency contact number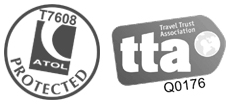 100% Financial
Protection
We are members of the Travel Trust Association, a trade association of Travel Agents, Tour Operators and Travel Organisers that operate trust accounts in order to provide financial protection for the consumer. Membership number Q0176.