Stubborn Mule in the Press
We are always delighted when travel experts in the press recommend Stubborn Mule, so please forgive us for showcasing a few of our favourite mentions. For links to the Times and Sunday Times, you'll only be able to see these sites if you already subscribe.
Sunday Times Travel Magazine
November 2018 issue
Connoisseurs Guide to Thailand
Check us out in this enjoyable glossy magazine, which showcases our suggested Highlights of Thailand itinerary.
The Daily Telegraph
October 2018
Bows and arrows in Tanzania – Best destinations for October half term
Sally Peck and Natalie Paris share their thoughts on why October half-term is the perfect time to escape Britain.
The Times 
September 2018
Where to book now for October half term
The top pick is an exotic half-term family jaunt with Stubborn Mule to Oman. Read Julia Brookes' round up here.
The Times – Travel Doctor
June 2018
Where can we go for a child-friendly holiday in Cambodia?
A reader asks the Travel Doctor if there are any companies that offer child-friendly trips to Cambodia next summer. She has children aged 8 and 11. Find the answer here.
The Telegraph
March 2018
The best Easter family holidays
The Telegraph recommends Stubborn Mule for a family-friendly Cuba holiday and highlights our Cuba Highlights itinerary, with classic car trip in Havana, zip lining through the forest in Las Terrazas, riding a bike or horse through the streets of Vinales and exploring an underground river by boat. Read more here.
The Jewish Chronicle
September 2017
An awfully big adventure
Temples, open-air trains and floating tents – the JC finds out why you should see Cambodia with kids.  Read Cathy's Winston's An awfully big adventure.
The Guardian
April 2016
Explore both well-trodden and lesser-known parts of Cuba
The Guardian recommends Stubborn Mule for a Cuban family adventure, highlighting our knowledge of child-friendly hotels and exciting programme of activities. Read more here.
The Guardian
October 2015
Cuba sees record bookings as tourists rush to see it before it changes
Liddy Pleasants, Stubborn Mule Travel's MD, is quoted in this article about the increase in interest in travel to Cuba. Read the full article here.
The Independent
April 2014
Much more than Machu Picchu: 5 ways to peruse Peru
The Independent recommends Stubborn Mule's two-week family holiday to Peru for families, including an overnight at Skylodge Adventure Suites, two transparent pods-cum-guestrooms clinging to the side of a mountain, where you can spend the night suspended above Peru's Sacred Valley. Find out more.
The Independent
May 2014
Get ready for summer
The Independent says that for "some families, holidays are about exploring the world together and firing everyone's imagination. If that's your brood, take a look at the new family tour of Borneo being offered by Stubborn Mule Travel." Read on…

Call us and we will be happy to provide you with a free-of-charge no obligation itinerary and quotation designed for you.

We are parents ourselves and can give you the very best advice on travelling with your family.
Unparalleled family travel experience
Specialist knowledge across three continents
Hand-picked local partners
Every holiday is tailor-made for you
100% financial protection & ATOL
24hr emergency contact number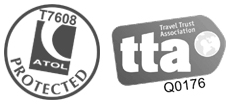 100% Financial
Protection with the TTA & ATOL
We are members of the Travel Trust Association, a trade association of Travel Agents, Tour Operators and Travel Organisers that operate trust accounts in order to provide financial protection for the consumer. Membership number Q0176.
Our ATOL number is T7608.