This exciting two-week family adventure starts on the fascinating island of Java and ends on the beaches of Bali. Enjoy dramatic sunrises at temples and crater rims, explore spice plantations and batik markets, snorkel with tropical fish and relax on the sandy beach at Sanur – plenty to keep the children amused. A wide range of different accommodation types and activities are available and we can adapt the itinerary to suit your family and travel dates.
Highlights
  Play hide and seek at Borobudur
  Take a Javanese street food tour
  Climb active Mount Bromo
  Picnic on coral island of Menjangan
  Explore the famous Monkey Forest
  Try out fun water spots at Sanur

16 days from £1,625 pp
Plus international flights from £750
A two-week holiday in Indonesia for a family of four usually costs from £6,500 to £8,000 plus flights, depending on type of accommodation and places visited. Cheaper tours may be possible if you are on a tight budget.
Active Java & Bali day-to-day itinerary
Day 1 Yogyakarta (Java)

Welcome to Yogyakarta! Upon arrival in Yogyakarta airport, you will meet your driver and transfer north to your hotel in the Borobudur area (1hr). Afterwards, enjoy some free time to relax.
---
Day 2 Borobudur
This morning in the pre-dawn hours you'll head out with your guide to be at famed Borobudur Temple at sunrise. Not only is the mist and lighting at dawn serene, it is also a special time to explore this ancient site before masses of tourists arrive later in the day. The stone relief panels offer a glimpse into Buddhist doctrine and Javanese life 1,000 years ago. You'll have plenty of time to amble around and through this fabulous monument – get younger children to play hide and seek among the extensive stairways and corridors so there is no time for boredom…
After exploring Borobudur, you can return to your hotel to relax.
In the afternoon take a fascinating cycling trip with your guide to see Javanese rural living around the villages near Borobudur. You'll have the chance to watch the making of traditional Javanese sugar and also visit the Pawon and Mendut temples, before returning to your hotel in the late afternoon. 
---
Day 3 Yogyakarta
Make your way back to Yogyakarta. This city is known as one of the main cultural centres of Indonesia being home to some of the most creative people in the country – there is music and art throughout the city.
First stop is the Palace of Yogyakarta, the heart of the old part of the city. You will also get to visit the Sono Bodoyo Museum, which has an excellent collection of Javanese masks and puppets.
We find that walking tours suit families best, allowing children to expend some of that pent up energy whilst sightseeing at the same time. Continue on foot through the Kotagede Heritage District. The market here is thriving and there are plenty of older houses to see. Children and adults alike will be interested to see the locals making batik and it is also possible to see the famous silver works in the area.
The trip ends with a traditional lunch at a local house.
In the afternoon there is the chance to take a Javanese food experience to discover popular treats and hang out with the locals. Perfect for food enthusiasts and a great way to persuade fussy eaters to try something new, you will travel on foot and by becak (pedicab). Stop at traditional and modern angkringan (foodstalls) as you sample kopi joss (coffee with a brick of burning hot charcoal), bakmi (stir fried noodles), gudeg (jackfruit curry) and more. The children can also try the local challenge of trying to walk through two waringin trees (banyan trees) while blindfolded…. your guide will explain!
---
Day 4 Bromo
It is quite a long day of travelling today so families with younger children may want to break the journey. You will start with a 4-hour train journey to Mojokerto, a great way to view the countryside and meet the locals travelling with you. From here you will drive around 4-5 hours to Bromo. 
---
Day 5 Bromo
The very early start today will be well worth it, as you witness a spectacular sunrise at Mount Bromo's crater- rim. Waking up far before dawn you'll be rewarded with a breathtaking view over the volcanic landscape during sunrise. Often there are clouds hanging in the valley underneath you and only the mountain peaks are visible, creating an otherworldly scene that will fire the imagination of the children.
Afterwards, you'll be driven back to your hotel for a leisurely breakfast and an afternoon relaxing by the pool.
Read MoreRead Less
---
Day 6 Bromo – Kalibaru
Drive around 5-6 hours through the hills to the small town of Kalibaru, in the heart of the region's coffee and spice plantations. The afternoon is free to enjoy the pool.
---
Day 7 Kalibaru
This morning visit a nearby plantation and learn about the many varieties of spices such as nutmeg, pepper, cinnamon, cocoa, coffee as well as coconuts. Children will be fascinated to see the traditional process of how palm tree liquid is turned into palm sugar, and visit the dairy farm.
Afterwards relax around the pool and drink in your beautiful surroundings.
---
Day 8 Pemutaran (Bali)
After a relaxed morning, transfer to Ketapang Harbour for your ferry transfer to Pemuteran on the island of Bali. On arrival, transfer to your beach resort, arriving late afternoon.
---
Day 9 Pemutaran
Enjoy a full free day at leisure. If you wish, we can arrange a snorkelling trip to Menjangan Island, a protected marine park offering Bali's best snorkelling and scuba diving. Spend the morning snorkelling – a great way to appreciate the diverse marine life and colourful corals – followed by a picnic on the beach.
---
Day 10 Bedugul – Ubud
This morning leave the coast behind and head into the centre of Bali to Ubud. En-route visit the town of Bedugul with the well-known temple Puru Ulun Danu in Beratan Lake. This is an important temple (even featured on the 50,000 Rupiah banknote), so expect it to be busy, but the views are fabulous. Since Bedugul is located at a higher altitude the climate is cooler here and there are plenty of stalls on the side of the road selling strawberries; they are delicious and cheap – a great treat when crossing this area and good incentive for any flagging children!
You'll then continue to Jatiluwih. This World Heritage Site is a living museum showcasing the island's traditional methods of agriculture, where clever use of resources turns almost-vertical hillsides into lush, 'postcard' rice paddies.
Later this afternoon you will arrive at your resort in Ubud, in the middle of some of Bali's most picturesque landscape and the island's artistic and cultural heart.
---
Days 11-12 Ubud
Two free days to enjoy the many delights of Ubud. We find that there are so many activities on offer in Ubud it is best for each family to decide which is most suitable. You could visit the Goa Gajah Elephant Cave (sorry, no actual elephants present) just outside of town, take a leisurely stroll through the stunning Tegallalang Rice Terraces or start the bartering off in the Ubud Art Market. A surefire winner with children will be a visit to the Ubud Monkey Forest, an easy walk from town. Here a natural forest sanctuary is home to numerous long-tailed macaques as well as many ancient temples and statues.
One of our favourite trips, and one which gives families a real insight into the local culture, is 'A Day in the life of a Balinese Artist'. This is a great chance for you and the children to see behind the scenes and meet some genuinely interesting local craftspeople by visiting artists in their own homes. A treat for all the family, especially any budding artists among the children, encountering local artists who practice traditional Balinese art and seeing their workshops, opens a door to a world that is normally hidden from tourists. You will also enjoy a traditional evening meal in a genuine Balinese home.
---
Day 13 Sanur
Time to head the beach at Sanur. En route you will stop at the Taman Ayun Royal Temple, one of the most beautiful on the island as well as the famous Tanah Lot Temple, one of the most photographed temples in the world. It is perched on a barren rock outcrop, and at high tide, is completely surrounded by the ocean.
Sanur beach is quiet and good for walks; in the distance you can see Lembongan Island and on a clear morning if you look north you might spot the mighty Agung Volcano.
---
Days 14-15 Sanur
Free time to relax and make the most of your time in this staggeringly beautiful area. Sanur is a well established beach resort with tranquil calm waters, white sandy beaches and numerous water-based activities on offer. There is surfing further along the coast and fantastic diving on the nearby reef. One of our favourite options (suitable for swimmers 6yrs+) is a SUP lesson – Stand Up Paddleboarding. Alternatively you can enjoy fascinating walks through the mangrove forests and visit the Serangan Island Turtle Conservation Centre. Or how about enjoying a 'snacking tour' where a local guide will accompany you to a nearby market to sample food from small vendors – start with a Balinese pancake, taste some delicious pork soup then end on the beach where you can enjoy fish satay, grilled corn and fresh coconut.
---
Day 15 Departure
Perhaps a last-minute swim in the pool before transferring to Denpasar airport for your flight home. Selamat jalan – Have a good journey!

Call us and we will be happy to provide you with a free-of-charge no obligation itinerary and quotation designed for you.
Bali & Indonesia in pictures
Unparalleled family travel experience
Specialist knowledge across three continents
Hand-picked local partners
Every holiday is tailor-made for you
100% financial protection
24hr emergency contact number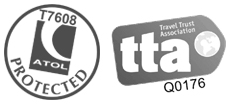 100% Financial
Protection
We are members of the Travel Trust Association, a trade association of Travel Agents, Tour Operators and Travel Organisers that operate trust accounts in order to provide financial protection for the consumer. Membership number Q0176.
Our ATOL number is T7608.