Where to stay in Costa Rica
Whether you are looking for a simple lodge in the rainforest or a luxurious beach resort on one of Costa Rica's picture perfect beaches, there is something here for everyone. Head deep into the jungle for barefoot luxury at one of the remote eco-lodges. You may not have air-conditioning but you will have a hammock, a breeze and a view of monkeys cavorting in the trees. Or perhaps take some time out to enjoy the on-site hot springs in a La Fortuna hotel and sit in the bubbling pools under a star-lit sky.
What is a typical Costa Rican hotel like?
One of our favourite hotels is the Lost Iguana Resort in La Fortuna. Set in beautiful lush grounds and wonderfully peaceful, the lodge offers superb views of Arenal Volcano. Children will enjoy the pool and we also love the private hiking trails that lead straight into the jungle from the hotel… keep your eyes peeled for exotic birds that dart through the canopy.
How do high-end and mid-range hotels compare?
When we prepare an itinerary for you in Costa Rica we will take into account your budget and will be able to suggest a range of hotels to suit. To illustrate the different levels available we can look at a high-end and mid-range hotel in Tortuguero. Teeming with wildlife, this is always a favourite destination for families, particularly from July to September when you can see turtles come ashore to lay their eggs.
If you are keen to keep an eye on cost then the Aninga Lodge will be the perfect place to stay. It's not luxurious but the rooms are very comfortable and there is a great pool that you will struggle to get the children out of! The wildlife in this area is superb and the lodge offers a particularly good range of activities including kayaking, boat rides and jungle hikes.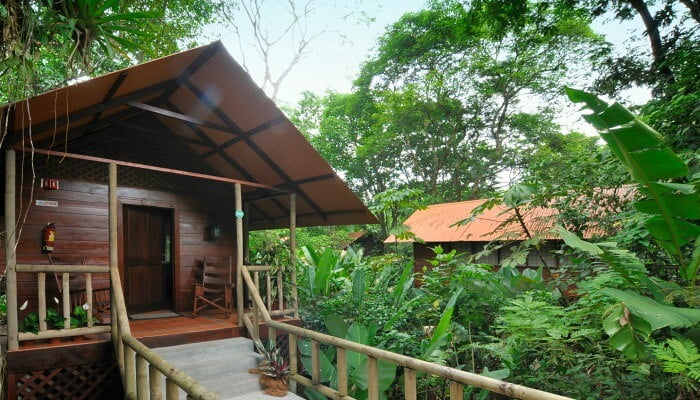 If you have a higher budget, it's hard to beat the Tortuga Lodge. Nestled on the edge of a river and surrounded by the wilderness, this exclusive lodge offers comfort but allows you to still feel immersed in the jungle. Beautifully decorated rooms open onto balconies with views of the river, and you can sit in your hammock and watch the howler monkeys parade past.
As always, we will select hotels that will suit your family and fit your budget. Do ring us, or email to find out more about where to stay in Costa Rica and we can put together an itinerary for you that is tailored to your family's needs.

Call us and we will be happy to provide you with a free-of-charge no obligation itinerary and quotation designed for you.

Talk with our friendly team about your family travel needs.