This example holiday takes in all the main highlights in China as well as some of the country's most spectacular scenery. It is ideal for active families as there is a certain amount of hiking included. However, as ever if your children are not interested in hiking or you are travelling with younger children, we can of course replace this with suggested alternative activities.
Highlights
  Hike the Great Wall of China
  See the Terracotta Warriors
  Watch a kung-fu show
  Visit the pandas in Chengdu
  Trek Tiger Leaping Gorge
  Taste dim sum in Hong Kong
21 days from £2,800 pp
Plus international flights from £650
A 3-week holiday in China for a family of four usually costs from £11,200 plus flights.
3-week China Highlights day-to-day itinerary
Day 1 Beijing

When you arrive in Beijing you will be met at the airport by a Stubborn Mule Travel representative who will take you directly to your hotel. The rest of the day is free for you to relax or explore the local area.
---
Day 2 Beijing
After breakfast head to Tiananmen Square and the Forbidden City, the traditional home of China's Emperors. The children will love Tiananmen Square – there are plenty of vendors selling kites which can be great fun on windy days. In the Forbidden City make sure you ask your guide to take you to some of the smaller side sections which are interesting to explore.
In the afternoon visit the beautiful Temple of Heaven (Tiantan) which is situated in a large shaded park that is brilliant for kids and a great place to explore. Not only is there a playground, but this is where Chinese people hang out to relax; you will find groups ballroom dancing, doing Tai Chi, singing, playing in orchestras or music groups, twirling ribbons and playing bat and ball.  
---
Day 3 Beijing – Great Wall
A full day excursion to the Great Wall. You will visit the section at Jinshanling, which is a bit of a drive from Beijing, but is absolutely spectacular and well worth the effort. It is also far less visited than the sections closer to Beijing, which are always jam-packed with people. Some parts of the wall have been restored but there are many turrets which remain untouched and the views are incredible. The children will love clambering around and exploring all the different sections. The climb onto the walk is relatively steep but there is a bubble-car style chair lift if anyone is feeling lazy.
Later return to Beijing for the night.
---
Day 4 Beijing
Take the morning bullet train to Luoyang. The train departs Beijing at 08:10 and arrives Luoyang at 12:05.
In the afternoon you will visit the Longmen Grottoes, a series of spectacular giant Buddhist carvings that were hewn out of the rock from the 4th to 10th centuries. Keep younger children occupied by seeing how many Buddhas they can count! Time permitting you will also visit the impressive White Horse Temple, the oldest Buddhist temple in China and built by a Han Dynasty Emperor to express his thanks to the two Indian monks who arrived in China on a white horse, carrying scriptures with them.
---
Day 5 Luoyang – Shaolin – Xian
Perhaps rise early to head to the main town square just near your hotel. Every morning this is filled with people doing their morning exercises, including ballroom dancing, Tai Chi, fan dancing, the tango and many more.
Later you will drive to the foothills of the Song Shan mountains (about 60-90 minutes) to visit the legendary Shaolin Monastery. This is home to the Shaolin monks, masters of Kung Fu, and was also the birthplace of Zen Buddhism. Children will love the Kung Fu show which displays the breath-taking acrobatic fighting skills of the monks; there is also a chance to visit the temple and wander through the more peaceful pagoda forest on the hillside beyond (perfect for a picnic). If you are interested we could also arrange a kung fu class?!
In the late afternoon you will return to Luoyang and take a train to Xian.
Read MoreRead Less
---
Day 6 Xian
A morning visit to the tomb of Qin Shi Huang, the first emperor of China. This includes the Terracotta Warriors, a vast underground army that was built more than 2,000 years ago to protect the emperor in the afterlife. Excavation continues to this day so you will be able to see 'archaeology in action'. Children particularly enjoy the excellent short film which tells the story of the warriors.
You will also visit the Hanyang Tombs. These date back to the Han Dynasty (around 220 AD) and are therefore a few hundred years younger than the Terracotta Warriors but are fascinating to visit not only because you can get very close to the exhibits but also because the lack of many other visitors gives the site a very serene and atmospheric ambience.
You will end the day in the lively Muslim Markets where you could stay for dinner as there are lots of local restaurants serving up a delicious array of foods; spicy kebabs, stuffed breads and even pigs trotters if you are feeling adventurous.
---
Day 7 Overnight train
A full day for you to explore Xian. Perhaps take a bike or electric bus around the thick ancient city walls or head to the national museum. Alternatively how about a calligraphy class during which you can learn to write your name in traditional Chinese characters.
In the early evening you will transfer to the train station for the overnight train to Chengdu. This departs at 19.45, arriving the following day at 11.50. You will be accommodated in soft sleeper cabins which sleep four people.
---
Day 8 Chengdu
When you arrive in Chengdu you will be transferred to your hotel where you have time to freshen up.
In the afternoon you will have a city tour, including a visit to 'Wild and Narrow Lane', the People's Park and Jinli Street. Chengdu is also famous for its teahouses and there is a great one situated in the heart of the People's Park – perhaps stop for a brew of hot green tea. Chengdu is the capital of Sichuan province and is home to some of China's most spicy (and delicious!) food. Make sure that you ask your guide to recommend some local dishes – we love fish flavoured pork which sounds revolting but is a revelation.
---
Day 9 Chengdu – Lijiang
A morning visit to the Panda research centre on the outskirts of Chengdu, when the animals will be at their most active. The centre is wonderful and the children will love watching the pandas. This is an active breeding centre and if you are lucky you may see baby pandas.
Take an afternoon flight to Lijiang. This is a gorgeous small traditional town with cobbled streets, ancient Chinese buildings, small hump-backed bridges and bubbling canals. Although popular with tourists, Lijiang is one of our favourite places in China and is extremely picturesque. However, due to the high number of tourists we often recommend that people stay in the nearby town of Baisha, which is much less developed and which we find that families particularly enjoy.
---
Day 10, Lijiang
A full free day to explore Lijiang and Baisha. Find yourselves a good local café and watch the world go by or perhaps take a cookery lesson and learn some of the secrets of China's cuisine.
---
Day 11, Lijiang
A full day visit to the Jade Dragon Mountain just outside Lijiang. This mountain actually consists of 13 different peaks, each over 4,000m high and covered in snow all year round. You will take a cable car to the Glacier National Park on top of the mountains from which there are stunning views over the surrounding landscape. The park is home to around 19 glaciers and you will follow a wooden walkway to various vantage points.
---
Day 12 Lijiang – Tiger Leaping Gorge Trek
Drive approximately 2½ hours to the start of the Tiger Leaping Gorge trek. Once you arrive you will set off on the trek, starting with a 2-hour hike to the Naxi Family Guesthouse. Here you can have a rest and also some lunch before continuing on to the 28 bends. This is the most difficult part of the hike, when you have to ascend 28 switch back bends that climb steeply up the side of the mountain. It's a bit of a slog but once you get to the top, the views over the gorge are simply magnificent. From here it is another 2-3 hours to the overnight stop (6-7 hours of hiking altogether). There are a couple of guesthouses / restaurants en route where you can stop for a hard earned drink and enjoy the view.
---
Day 13 Tiger Leaping Gorge – Lijiang
Continue your trek through the gorge, hiking past the Guanyin waterfall and down a steep cliff path to the banks of the Jinsha River in 'Middle Gorge'. From here you can drive back to Lijiang, which takes around 2½ hours. Today's hike takes 3-4 hours.
---
Day 14 Lijiang – Yangshuo
Transfer to the airport for a flight to Kunming and then on to Guilin. When you arrive you will drive (around 90 minutes) to Yangshuo where you will spend two nights in a lovely countryside hotel in a dramatic location with fabulous views over the surrounding scenery.
---
Day 15 Yangshuo
A wonderful morning spent exploring this picturesque area, taking a boat ride along one of the rivers that meander through the hills. The afternoon is free for you to either relax at the hotel or perhaps go 'tubing' in the river nearby.
---
Day 16 Yangshuo
This morning take a hike into the countryside with your guide. You will pass through small local villages and gorgeous scenery. Alternatively you could take a bike ride into the countryside if this would appeal.
In the afternoon you can relax or head into the town of Yangshuo, a treasure trove of small shops, cafes and lively markets. There are also many classes on offer in the area, including fan painting, calligraphy, tai chi, basic Chinese (and many more), so if you like the sound of any of these we could arrange this for you.
---
Day 17 Yangshuo – Dazhai
This morning drive up into the mountains to Dazhai (around four hours). Dazhai is situated in a spectacular area where the mountains have been carved into incredibly steep terraces that cascade down the mountainside. In the afternoon you will take a hike into the countryside for some amazing views over the rice terraces.
---
Day 18 Dazhai
A full day to explore the area around Dazhai, taking a hike into the hills around the village. There are many small traditional villages in the area so perhaps stop and chat to the villagers along the way.
---
Day 19 Guilin – Hong Kong
After breakfast transfer to Guilin for a flight to Hong Kong.
When you arrive in Hong Kong you will need to make your own way to the hotel. This is very straightforward as there is train to downtown Hong Kong and you can then take a taxi the short distance to your hotel.
---
Days 20-21 Hong Kong
Two full free days to explore Hong Kong. There is a huge amount to do in the city; top of our list is a ride on the picturesque Star Ferry across the harbour and the night time views of the brightly lit skyscrapers that you can enjoy from harbour park. Take the funicular railway up to the Peak for great views across the South China Sea or stop for a plate of steaming dim sum in a local restaurant. If you want to go further afield there are some great beaches where you can go body boarding or perhaps take the ferry to the bustling island of Cheung Chau.
---
Day 22 Hong Kong
Make your own way to Hong Kong airport for your international flight.

Call us and we will be happy to provide you with a free-of-charge no obligation itinerary and quotation designed for you.
Unparalleled family travel experience
Specialist knowledge across three continents
Hand-picked local partners
Every holiday is tailor-made for you
100% financial protection
24hr emergency contact number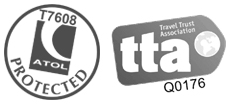 100% Financial
Protection
We are members of the Travel Trust Association, a trade association of Travel Agents, Tour Operators and Travel Organisers that operate trust accounts in order to provide financial protection for the consumer. Membership number Q0176.
Our ATOL number is T7608.