This itinerary is designed for families who want to see most of the highlights of Namibia but also keep the driving to a minimum. We have selected the main 'must-see' areas and whilst there is of course still some driving, there is also plenty of time to explore in each location. You will see big game in Etosha, superb scenery in the Erongo Mountains, meet the Himba people and have time to explore the coastal town of Swakopmund.
You can either stay in lodges or we can arrange for you to hire a camper van or camping equipment.
Highlights
  See cheetah at the AfriCat charity
  Exciting game drives in Etosha
  Wilderness camp in Erongo Mtns
  Catamaran cruise on Skeleton Coast
  Explore desert near Swakopmund
15 days from £2,000 pp
Plus international flights from £750
A self-drive 2-week holiday in Namibia for a family of four usually costs a minimum of £8,000 based on lodges, less if you camp.
Northern Namibia day-to-day itinerary
Day 1 Windhoek – Okahandja

When you arrive in Windhoek you will pick up your car and will drive about 90 minutes north to a lovely converted mission station. The lodge is tucked away in a beautiful garden with lush plants and trees that backs onto the African bush.
---
Day 2 Okahandja
You have a full day at your lodge to relax after the long flight. Once you manage to pry the children out of the pool, perhaps take a hike along some of the well-marked trails. Keep your eyes peeled for many different kinds of deer as well as giraffe, warthog, ostrich and jackal. The scenery here is lovely, with open plains backed by mountains. There is a great lookout point from the top of nearby Signal Hill so perhaps climb to the top for a magnificent sunset panorama.
There are also great game drives in the area and although you won't find any big cats, there are plenty of other animals to pique the children's interest.
---
Day 3 Okahandja – Okonjima
After breakfast head north to Okonjima, home to the AfriCat Foundation. This small charity is dedicated to the conservation of wild cats, particularly cheetah. They provide a home to previously orphaned or zoo-kept animals and help to train them to hunt before releasing them back into the wild.
This afternoon you will visit the foundation and will be able to observe the AfriCat programme at work.
---
Day 4 Okonjima – Etosha National Park
Continuing north, drive to Etosha National Park. Roughly the size of Switzerland, this vast park is the jewel in Namibia's wildlife crown and is one of Africa's largest and most diverse wilderness areas. The park is packed with large mammals including lion, elephant, leopard, rhino, giraffe and zebra and the game viewing is superb.
This afternoon perhaps take your first game drive in the park.
---
Days 5-6 Etosha National Park
Two full days of game viewing in Etosha. We will select a lodge or campsite that is near to the park gates to keep travel times to a minimum. As soon as you enter the park you will be mesmerised by the haunting saltpans (so large they can be seen from the moon), dotted with camel thorn and Mopani trees. Head to areas of thicker vegetation for elephant sightings and the chance to spot the endangered black rhino and leopard. Lions can be found anywhere whether around the watering holes, slinking through the grasslands or hiding in the thickets waiting for prey.
Read MoreRead Less
---
Day 7 Western Etosha
Today it is a relatively short drive to the western edge of Etosha National Park. Here you will stay in a lodge with beautiful views over the Dolomite Ridge and unspoilt Kaokoveld.
In the afternoon you can relax by the pool and enjoy the gorgeous views. In the early evening, once the dusk has settled, perhaps head out for a nocturnal safari. You will be hoping to see 'the shy-5', the aardvark, aardwolf, porcupine, African wildcat and the bat eared fox.
---
Day 8 Western Etosha
This morning rise early to follow an easy walking trail through the dolomite hills to spot Damara dik-dik, klipspringer and rock dassies. The scale of the landscape here is vast and it is magical to be out on foot as the sun rises over the plains.
After time to relax by the pool you may like to head out again to visit the traditional Himba Village near the lodge. The children will be fascinated to learn about the traditional lifestyle practiced by the nomadic Himba. The women wear nothing but goatskin skirts adorned with shells and jewellery and the men wear goatskin loincloths. Both cover their skin in a thick mixture of rancid butter, ash and ochre and the children will be entranced. The visit is arranged by your lodge and carefully planned in conjunction with the villagers to ensure that it is beneficial to the local community and in no way exploitative.
---
Day 9 Erongo Mountains
It's time to head south to the huge, untamed and ruggedly beautiful landscapes of the Erongo Mountains, on the edge of Damaraland.
This afternoon you will take a guided excursion to the Boulder Forest, characterised by spectacular rock formations and luscious vegetation. Hidden in the steep mountain slopes are semi-precious stones like tourmalines, aquamarines and mountain crystal. Local miners work the area, hoping for 'the big find' and you will be able to join them to see if you get lucky.
This evening stay in a lodge at the base of the Hohenstein, the highest peak of the Erongo Mountains. In the evening, spectacular sunsets above the desert plain bathe the mountain in fantastic red light and towards the west, the view over the impressive scenery extends as far as the Spitzkoppe peak, a prominent relief from the plain about 30 km away.
---
Day 10 Erongo Mountains
A full day to explore the dramatic landscape of the Erongo Mountains either on foot or by vehicle. Make sure that you visit the famous Bushmen paintings etched onto the rocks by hunter-gatherers many centuries ago.
This evening you can either return to your lodge for a second night or you can spend the night in a wilderness camp. This is in a spectacular setting amidst giant boulders and you will have a barbeque dinner around the campfire.
---
Day 11 Swakopmund
It's time to head for the coast, and the seaside town of Swakopmund. With palm-lined streets and seaside promenades, this is Namibia's most popular holiday destination. It is also its adventure capital and there are a huge range of activities from sand boarding and quad biking to skydiving and camel riding.
---
Day 12 Swakopmund & Walvis Bay
This morning we suggest that you take a catamaran cruise out into the picturesque Walvis Bay area. Along the way you will pass by a shipwreck as well a lighthouse, oyster platforms, seals and an abundance of marine and bird life. From July to November you may also see whales although do note that the majority of sightings are towards the tail end of this period.
---
Day 13 Swakopmund & Living Desert Tour
South of Swakopmund the coastline is backed by a vast series of rolling sand dunes. Although not quite on the same scale as the huge dunes further south at Sossusvlei these are nevertheless hugely impressive. The children will love climbing up one of the dunes and then racing down…challenge them to stay on their feet the whole way down! You can also take a 'living desert' tour, which reveals the surprising abundance of wildlife in the desert. If you know where to look you will see geckos, rolling spiders, scorpions, lizards, snakes, chameleons and skunks.
---
Day 14 Swakopmund – Windhoek
After a final morning in Swakopmund (perhaps with coffee and cake at one of the famous teashops?), drive back to Windhoek.
If you have time, you could head to the lively Tukondjeni Market where you can sample all kinds of traditional Namibian dishes.
---
Day 15 Windhoek
Transfer to the airport for your flight home.

Call us and we will be happy to provide you with a free-of-charge no obligation itinerary and quotation designed for you.
Unparalleled family travel experience
Specialist knowledge across three continents
Hand-picked local partners
Every holiday is tailor-made for you
100% financial protection
24hr emergency contact number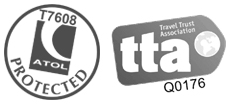 100% Financial
Protection
We are members of the Travel Trust Association, a trade association of Travel Agents, Tour Operators and Travel Organisers that operate trust accounts in order to provide financial protection for the consumer. Membership number Q0176.