Belize Adventure Highlights
This example itinerary takes in our favourite parts of Belize and offers a fantastic combination of jungle and beach with a dose of ancient ruins thrown in courtesy of a quick jaunt over the border to Tikal in Guatemala. We have included lots of activities so teenagers will be kept busy but we can of course slow the itinerary down and remove some of the adrenalin-fueled options so that this is suitable for younger families.
Highlights
  Dawn canoe in the jungle
  Nocturnal safari to find crocodile
  Climb the temple ruins at Tikal
  Venture deep into ATM cave
  Snorkel in Shark Alley
  Relax on idyllic Caribbean beaches
15 days from £1,875 pp
Plus international flights from £550
A 2-week self-drive holiday in Belize for a family of four usually costs a minimum of £7,500 based on mid-range jungle lodges and beach hotels, excluding international flights
Belize Adventure Highlights day-to-day itinerary
Day 1 Belize City – Lamanai

Arrive into Belize City. After you have passed through customs you will be met by a Stubborn Mule Travel representative and transferred to your hotel. This entails a drive of around an hour followed by a 90 minute boat ride deep into the jungle. Once you arrive at the lodge you will really feel like you have arrived in Central America, surrounded by steamy jungle rivers, wilderness and wildlife.
---
Day 2 Lamanai
This morning rise early as dawn breaks and the mist rises through the canopy and explore the jungle as it awakens. In the company of a naturalist guide you'll learn about the intricacies of a habitat that is home to creatures as diverse as the jaguar, the impressive Black Howler monkey, the jaguarundi and the vividly-colored Keel-Billed toucan.
Later you will visit the Lamanai Maya Ruins and explore the mysterious jungle-shrouded temples of this once powerful 3,000 year old civilization.
---
Day 3 Lamanai
This morning you will again rise early and strike out across the lagoon in a canoe to explore Dawson's Creek and its surrounding tributaries. Keep an eye out for manatee, otter, crocodile and endemic parrots to name but a few.
In the afternoon follow the 'Maya Medicine Trail' and walk through the jungle with a guide to learn about the local remedies that have been used for centuries by Belize's indigenous population.
This evening perhaps take a sunset cocktail cruise or climb aboard a custom built river safari boat and head out into the night on a nocturnal safari with the opportunity to encounter anything from the Morelet's crocodile to the elusive and endangered jaguar.
---
Day 4 Lamanai – Peten
After a free morning at your lodge take a short flight to Flores (in Guatemala) and transfer to Peten. This is in the heart of one of the least populated parts of Guatemala and home to lush rainforests and ancient Mayan cities. 
---
Day 5 Tikal
Today you have a guided tour of Tikal National Park, where some 3,000 ancient structures rise from the rainforest floor. As you explore the site you will surrounded by the sights and sounds of the rainforest, with howler monkeys jumping through the forest canopy and many brightly coloured birds flitting from temple to tree and back. Your guide will take you to the most impressive parts of this ancient city, including the majestic Great Plaza and its Temple of the Jaguar, the Temple of the Masks and the Acropolis. The ruins date back more than 1,000 years and the children will be spellbound by stories of human sacrifice and ancient gods.
Read MoreRead Less
---
Day 6 Tikal – Yaxha – San Ignacio
After breakfast set off for Yaxha National Park, taking a short boat ride on Lake Yaxha to the small island site of Topoxte. This is thought to be the last inhabited Mayan site in Guatemala and the densly shrouded temples and structures give the feel of traveling back in time.
From here continue to the Mayan ceremonial site of Yaxha set in a beautiful location on a hill overlooking two scenic lakes. The children will enjoy climbing up Temple 216 for a magnificent panorama over the surrounding landscape.
In the late afternoon cross back into Belize and continue to your lodge, nestled in the dense rainforest above the Macal River near San Ignacio.
---
Day 7 San Ignacio – Actun Tunichil Muknal
A fantastic day as you take the newest cave-adventure tour in Belize, deep into Actun Tunichil Muknal Cave. This starts with a 45 minute jungle hike into the Tapir Mountain Nature Reserve, crossing streams and then swimming a short section of river to enter the cave itself. From here hike across a maze of rocks and then follow a tunnel with waist deep water as you head deeper into the cave system. After half an hour or so you will reach the main chamber of the cave, home to a Mayan burial chamber with calcified remains, (including the remains of a Maya Princess laid to rest centuries ago), ceremonial vessels, and numerous artifacts used by the Maya in their ritual ceremonies.
---
Day 8 San Ignacio
Take a tubing excursion on the Macal River, enjoying the beauty of the region as you gently drift down the river through the rainforest. Along the way you will float through cascades and deep pools and the last section, near the lodge, has some rapids which will take all your effort to stay in the tube!
---
Day 9 San Ignacio – Placencia
After breakfast transfer to Placencia, a slender, 25-kilometer long peninsula that runs parallel to the Belizean mainland. Home to some of the country's most spectacular beaches, this long ribbon of land is flanked to the west by a lagoon and views of the distant Maya Mountains and to the east by mangroves and the turquoise Caribbean Sea.
Placencia Village draws the majority of the peninsula's visitors and is a relaxed, somewhat ramshackle spot with dive shops, restaurants, bars, and a colorful mix of expat and Creole locals. Just off Placencia's shores, you'll find diving, snorkeling, and sailing and you can also explore nearby mangroves and deserted cayes by kayak.
---
Day 10 Placencia
A full day snorkelling off the coast of Placencia. You will first be equipped with snorkelling gear before taking a boat ride to a small caye surrounded by Belize's world famous coral reef. When you arrive you will be able snorkel straight from the caye, immediately finding yourselves in waters that are full of brightly coloured fish and iridescent coral. You will have a barbeque on the beach before continuing to a second snorkelling spot for the afternoon.
---
Day 11 Placencia
Take a boat ride in the beautiful Placencia lagoon, passing through the lush mangrove to search for manatee and other wildlife. The afternoon is free to relax and enjoy the beach.
---
Day 12 Placencia – Caye Caulker
Take a short flight to Belize airport and transfer to your hotel on Caye Caulker where the rest of the day is free.
Just eight kilometers from end to end, Caye Caulker is an idyllic island with weathered clapboard houses, makeshift souvenir stands, small art galleries, and a 'shoes optional' policy. Streets are sandy and car-free (the locals get around by bike, golf cart, or on foot), and simple local eateries offer home-cooked lunches of spiny lobster, conch, and red snapper. The island sits on the Belize Barrier Reef and offers exceptional snorkelling and scuba diving.
---
Days 13-14 Caye Caulker
Two full days to relax or take a snorkelling or diving excursion off the coast.
---
Day 15 Caye Caulker
Transfer to Belize Airport for your flight home.

Call us and we will be happy to provide you with a free-of-charge no obligation itinerary and quotation designed for you.
Unparalleled family travel experience
Specialist knowledge across three continents
Hand-picked local partners
Every holiday is tailor-made for you
100% financial protection
24hr emergency contact number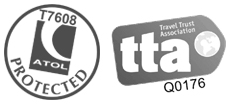 100% Financial
Protection
We are members of the Travel Trust Association, a trade association of Travel Agents, Tour Operators and Travel Organisers that operate trust accounts in order to provide financial protection for the consumer. Membership number Q0176.