Costa Rica family holidays
Your boat chugs slowly through the morning mist, trees drip onto moss lined banks, spider monkeys leap through the canopy and you can hear the distant chirping of macaws as they flit through the jungle. Welcome to Costa Rica, one of the most ecologically diverse countries on the planet.
Packed with active volcanoes that belch out smoke, thick jungle that is home to the elusive jaguar and magical cloud forests with chirruping frogs, Costa Rica family holidays are perfect if you love the outdoors. This is a small country that packs a large punch and there can be few more ideal family holiday destinations.
Top activity picks for Costa Rica family holidays include:
Zip-lining over the forest canopy
Searching for wildlife big and small in the lush rainforest
Watching turtles lay their eggs (summer)
Playing on a dazzling sandy beach
Learning how the Mayans made chocolate and tasting it
Soaking in hot volcanic springs
Taking a lazy raft trip or opting for the adrenalin version
A family holiday in Costa Rica is incredibly popular with children primarily because of the sheer range of activities. One day they can be cycling through coffee plantations stopping to make a tortilla with a local grandmother, and the next they might be white water rafting down the Sarapiqui River, whooping with excitement as they help navigate the rapids.
They can spend a morning flying through the jungle on zip wires and an afternoon lazing in a hammock watching the monkeys play in the forest canopy above. And who doesn't love ending up on a gorgeous sandy beach, taking an occasional dip in the sea with a snorkel and mask to seek out brightly coloured fish?
Check out our Costa Rica with kids blog for more ideas and photos of things to do, or see our Best Family Road Trips if your family enjoys the freedom of a self-drive holiday.
Costa Rica is also a wonderfully easy country to travel in. Distances are small so you can get around the country quickly and easily. Private road transfers or self-driving are popular and the excellent light aircraft network means you can get to almost any airstrip in under an hour. There is also a superb range of accommodation to suit all budgets.
Example Costa Rica family itineraries
All of our itineraries are bespoke which means that they are tailor-made for your own specific family, taking into account the ages of your children, your interests, your budget and so on. However, to give you an idea of what you could do on a family holiday in Costa Rica have a look at our example itineraries, Costa Rica (Summer) and Costa Rica (Easter and Christmas).
You will also want to think about whether you would like to self-drive or if you prefer to have private transfers throughout the tour. Contact us to discuss the various options and to see what will suit your family.
Also check out the other places that you might like to visit on your trip and if you need further inspiration, have a look at our Costa Rica photo gallery.
Lastly, don't forget to check what the weather will be like in Costa Rica at the time that you want to travel. Or simply give us a ring and we'll be delighted to advise you on the best Costa Rica family holidays for you.

Call us and we will be happy to provide you with a free-of-charge no obligation itinerary and quotation designed for you.

Talk with our friendly team about your family travel needs.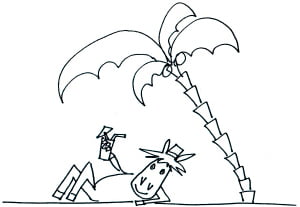 "Costa Rica was brilliant! What a great destination for families."