Family holidays to Oman are only just beginning to gain in popularity. For now it is a destination that is relatively little visited by tourists, especially compared to its glitzy big sister, Dubai. But it is all the more charming for this, with plenty of scope to get off-the-beaten-track and to catch a glimpse of traditional Arabia.
The beaches are fabulous and with guaranteed sunshine for most of the year, this is already quite a draw card. However for us the great attractions of Oman are the spectacular craggy mountains and the vast and dramatic sand dunes of the desert. There are also impressive forts, picturesque fishing villages and beautiful oases. This is also a long history of hospitality that will make you feel at home from the moment you arrive.
Some of our favourite activities on family holidays to Oman include:
Soaking up the Arab market atmosphere in old Muscat and haggling for a bargain
Swimming in the clear turquoise waters of a limestone sinkhole
Taking in the majestic Sultan Qaboos Grand Mosque
Getting up early to go turtle-watching in Ras Al Jinz
Exploring a restored Omani fort (favourites include Jabrin and Nizwa)
Hiking in the jaw-droppingly spectacular Al Hajar Mountains
Luxury wild camping on the beach near Fins
Stay at a Bedouin desert camp and learn about nomadic culture
Snorkelling from a traditional dhow in the waters of the Musandam Peninsula
Children will love a family holiday in Oman and all of the adventures that the country offers. It is an ideal destination for toddlers, tweens and teens! Younger ones will enjoy riding a camel through the empty Wahiba Sands and exploring the labyrinthine corridors of Jabrin Fort. Older ones will relish the challenge of hiking Jebel Shams (Oman's answer to the Grand Canyon). They will also love careering down sand-dunes and spending the night on a deserted beach, drinking tea freshly brewed over the camp fire.
Everyone will enjoy rounding off an Oman family holiday with a couple of days on the beach. You can choose a mid-range hotel or upgrade to one of the incredibly beautiful five-star properties.
Oman family holidays also work well because the flight isn't too long and the time difference is only four hours. This means it's an ideal destination not just for the Christmas holidays, but for October and February half term too. The weather throughout this period will be beautiful.
See our Oman with kids blog for more ideas and photos of family-friendly activities. If you and your family enjoy the freedom of the open road, check out Mike Unwin's blog about his self-drive holiday in Oman with Stubborn Mule Travel and see our Best Family Road Trips roundup.
Example Oman family itineraries
All of our itineraries are bespoke which means that they are tailor-made for your own specific family, taking into account the ages of your children, your interests, your budget and so on.
However, to give you an idea of what you could do on a family holiday in Oman, have a look at our example itineraries, Highlights of Oman and Oman Short Break.
Also check out some of the other places that you might like to visit on your trip and if you need further inspiration, have a look at our Oman photo gallery.
Lastly, don't forget to check what the weather will be like at the time that you want to travel. Or simply give us a ring and we'll be delighted to advise you on the best holiday family holidays to Oman.

Call us and we will be happy to provide you with a free-of-charge no obligation itinerary and quotation designed for you.

Talk with our friendly team about your family travel needs.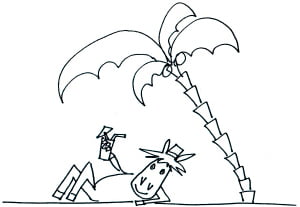 "The trip was wonderful. We had an outstanding time and would return to Oman in a heartbeat."