This is the ideal quick tour of Oman. It combines the striking beauty of Misfah oasis, a dash of lush green palm groves in the barren rocky mountains of Jebel Shams, with the rolling shifting sand-dunes of Wahiba Sands. After four days on the go it's back to the beach near Muscat for a couple of nights on the beach for some serious R and R. You will be accompanied in the desert and mountains by an English speaking chauffeur and when on the beach we will suggest a hotel to suit your budget.
Highlights
  Stay in a traditional Omani house
  Overnight in a Bedouin camp
  Race down giant sand-dunes
  Swim in emerald-hued desert lakes
  Relax in style on the beach
7 days from £750 pp
Plus international flights from £400 per person
A self-drive 7 day short break in Oman for a family of four usually costs from £3,000 based on mid range hotels (excluding international flights).
Oman Short Break day-to-day itinerary
Day 1 Muscat

When you arrive in Muscat you will be met by your guide and immediately whisked off (in the air-conditioned comfort of your vehicle) into the mountains. It takes around 2 hours to arrive in the small oasis of Misfah, a traditional Omani village nestled in a fold in the hills. The setting is stunning with the stark barren mountains rising up on either side of the village, but the oasis itself a riot of palm trees and beautiful stone houses.
You will spend the night in a simple but very atmospheric Omani house. Dinner this evening will be a homecooked feast, served up by candlelight on the roof terrace with gorgeous views over the oasis.
If you would prefer to upgrade, there is a wonderful luxury mountain lodge not too far away that you could switch to.
---
Day 2 Misfah
You have a full day to explore Misfah today. There are numerous walking routes through the village and then into the countryside beyond. These are well-marked (although we can arrange a walking guide if you prefer) and you can follow ancient paths alongside burbling irrigation channels and through groves of date and banana palms. Some of the longer routes take you into a nearby valley, along a rocky path strewn with huge boulders (perfect for a spot of impromptu scrambling). Stop for a break under a thorn tree, greet a passing shepherd and admire the superb views of the mountains.
---
Day 3 Wahiba Sands
It's time to leave the mountains behind you and head into the desert by 4WD jeep. Your destination is the Wahiba Sands, a vast sand-sea with row after row of immense sand-dunes more than 100 high. These are constantly shifting in the winds and you can climb to the top of a dune and see the wind blowing across the dune tops, slowly changing their shape.
You will spend the night in a traditional Bedouin camp and will enjoy a delicious dinner around the campfire and under a blanket of stars.
---
Day 4 Wadi Bani Khalid
Rise early to climb one of the dunes that soar above the camp for sunrise over the desert.
Later take a short drive to Wadi Bani Khalid, a lush and fertile valley in the heart of the desert. A river runs through the valley forming a chain of beautiful turquoise pools where you can swim. Follow the trails up the side of the valley as far as you can…. the further you get, the more the other visitors disperse. You will have a picnic lunch by the pools before returning to your desert camp. 
---
Day 5 Muscat
Today return to Muscat for two nights on the beach. There are a range of hotels to choose from, including the renowned Chedi hotel for a serious splurge in some oriental opulence. Another favourite is the Al Waha Shangri-La for top-notch facilities and a picture-perfect beach. Generally the less expensive beach hotels are considerably less nice so it might be worth a top-end hotel if the budget will allow.
Alternatively you could stay in Muscat and then just arrange a day pass at one of the beach hotels out of town.
Read MoreRead Less
---
Day 6 Muscat
A full day to relax, enjoy the pool and wander along the beach.
---
Day 7 Muscat
Transfer to the airport for your flight home.

Call us and we will be happy to provide you with a free-of-charge no obligation itinerary and quotation designed for you.
Unparalleled family travel experience
Specialist knowledge across three continents
Hand-picked local partners
Every holiday is tailor-made for you
100% financial protection
24hr emergency contact number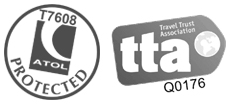 100% Financial
Protection
We are members of the Travel Trust Association, a trade association of Travel Agents, Tour Operators and Travel Organisers that operate trust accounts in order to provide financial protection for the consumer. Membership number Q0176.
Our ATOL number is T7608.