It's hard to encapsulate the allure of Greece in just a few words. Cradle of western civilisation, land of Zeus and Achilles, Homer's Odyssey – and, of course, Mamma Mia.  Home to blissfully blue seas speckled with idyllic islands. Simple beach tavernas where you can gorge on a feast of tzatziki, feta, ouzo and fresh calamari. This is a country of astonishing natural beauty, history, and culture. Dip your toes in the Aegean on a Greece family holiday with us…
The islands are perhaps the most well-known attraction with the picturesque white-washed cliff-top villages of Santorini gracing many a postcard. There are sun-drenched sandy beaches, remote rocky islets, beautiful fishing harbours, and fragrant olive groves.
Active families can spend their days jumping into azure seas, hiking to remote monasteries, and cycling through pine forests. Those after more relaxation are spoilt for choice with an endless series of ever more beautiful beaches to choose from. Whatever your interests, there is a Greece family holiday to suit you.
The mainland is just as delightful, with dramatic gorges (perfect for white-water rafting), pretty seafront towns, traditional mountain villages and the hustle and bustle of Athens.
The entire country is peppered with relics from an ancient past that will fire the children's imaginations. This is a history lesson writ large and primary school lessons about the Ancient Greeks and Romans will take on new resonance when faced with the imposing Acropolis in Athens, the vast amphitheatre at Epidaurus and the whispers of the Oracle at Delphi.
Some of our favourite activities on Greece family holidays include:
Visiting the Acropolis in Athens
Wandering the bougainvillea-filled streets of Plaka
Island hopping in the Aegean
White-water rafting in Lousios Gorge
Climbing Mt Zas, birthplace of Zeus
Boat trips to secluded coves on Naxos
Gorgeous beaches of Amorgos Island
Sea kayaking in Nafplio
A Greece family holiday includes pretty much all of a child's essential ingredients for a perfect holiday. Gorgeous beaches, delicious food, tasty ice-cream, exciting activities, relaxed and happy parents. Tick tick tick!
There is astonishing variety here; on one day you can be snorkelling into spectacular underwater caverns, the next you can be cycling through the olive groves, stopping for lunch in a peaceful village taverna. The kids will be thrilled with the adrenalin of a white water rafting trip but will also love a lazy day spent soaking up the sunshine on a yacht cruising between islands.
There is a wonderful range of accommodation in Greece, with everything from beachfront luxury to charming village retreats. The food is sensational; fussy children will love stuffed pittas and simple kebabs, more adventurous kids will be overwhelmed with choice and will be gorging on dolmades, octopus and feta. Transport is simple and easy, with good road connections across the mainland (self-drive works brilliantly here) and an extensive ferry network linking up the islands.
All in all a Greece family holiday will be easy, delightful and hugely popular with the children.
Example family itineraries to Greece
It is always difficult to come up with sample itineraries to whet the appetite and show what you can do in a country. And nowhere more so than Greece, where there are so many options! Stick to the mainland and you still have to choose between the mountainous north and the gorgeous Peloponnese. Head to the islands, but will you pick the Cyclades, Crete or the Dodecanese – there are hundreds to choose from! We can help you navigate the map and choose the right Greece family holiday for you.
All of our Greece itineraries are completely bespoke which means that we can tailor it for your own specific family. We'll take into account your budget, the ages of your children and what you are looking for out of your holiday.

Call us and we will be happy to provide you with a free-of-charge no obligation itinerary and quotation designed for you.

Talk with our friendly team about your family travel needs.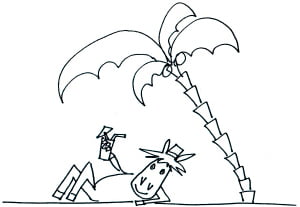 "Greece was just so amazing, the kids really loved it. Everything went smoothly. Beaches were great and the food too. Athens was fun"