Borneo is a nature lover's paradise. The island is packed with ancient rainforest and remote river systems that are home to an incredible profusion of species. The star of the show on our Borneo family holidays is of course the orangutan. When you get up close it is easy to see why they are known locally as 'the old men of the forest', with their wrinkled skin and inquisitive gaze. But you can also find pygmy elephants, turtles, macaques, gibbons and much more.
Our family holidays to Borneo focus on the Malaysian states of Sabah and Sarawak, but mainland Malaysia is also a wildlife heavyweight. On both you can take walks through the forest canopy on elevated walkways, hop on boat trips deep into the jungle, trek through primary rainforest and snorkel or dive amidst stunningly colourful shoals of exotic fish.
Mainland Malaysia and Borneo family holidays are not just about the animals though. Borneo's UNESCO World Heritage site of Mulu is home to the largest cave system in the world. Here you can wander through giant underground amphitheatres millions of years old. Stay with a family on a friendly village homestay and help your hosts with the morning rubber tapping, then take a walk to a waterfall for a swim.
On mainland Malaysia you can explore the lively streets of Kuala Lumpur by bike then gorge on delicious street food from the hawker stalls. Enjoy wandering through the colourful heritage streets of Malacca and Georgetown and then soak up the lush tea plantation scenery of the Cameron Highlands. See our example itineraries for more.
Our top activities on Borneo family holidays (and the mainland) include:
Watching orangutans play at the Sepilok sanctuary
Snorkelling in the South China Sea
Exploring the longest cave passage in the world
Staying up late to see turtles lay their eggs
Learning basic jungle survival skills
Following the world's longest tree-based canopy walk
Taking a step back in time in colonial Malacca
Painting batiks on Penang
A family holiday to Borneo or mainland Malaysia is always a hit with the children. It's not only the chance to head deep into the jungle to spot many different species that appeals, but also the sheer variety of activities on offer. One day you might be crouching quietly on the beach in the moonlight, watching a mother turtle hatch her eggs, whilst the next will see you in a small long-tail boat, following narrow channels into the rainforest to search for wild elephants, proboscis monkeys and orangutans. The day after that you might be soothing your muscles in the pools of a hot spring, helping to make spring rolls with a local family or lounging on idyllic sandy beaches. And learning how to use a blow-pipe (correctly!) has got to be top of most children's dreams.
If your family likes a serious challenge, read Stubborn Mule's very own Helene Cooper's account of climbing Mount Kinabalu with her three children, aged 5-8 years old!
For more photos and ideas on what you can do here, check out our Borneo with kids – Top 10 things to do with the family blog.
Example Borneo & Malaysia family itineraries

Call us and we will be happy to provide you with a free-of-charge no obligation itinerary and quotation designed for you.

Talk with our friendly team about your family travel needs.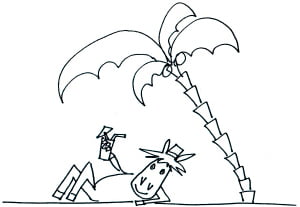 "Be prepared for the unexpected … be ready for seeing and absorbing… the best holiday we have ever been on!"