Nepal's mountain scenery is truly breath-taking and is reason enough on its own to dig out your rucksacks and take the family on an incredible adventure. Almost anywhere you go in the country, the massive range of snow-covered Himalayas provides an immense backdrop to a gorgeous landscape of carefully tended fields, small villages and lively temples. There are many wonderful options for any number of Nepal family holidays especially if you all love the outdoors.
Many families choose to include some trekking (ranging from challenging high-altitude treks to easy day hikes) but there are plenty of well-situated hilltop lodges, which offer a more relaxing way of getting a perfect view. (For more information on trekking in Nepal with your family, see our Family Trekking Holidays blog).
There is also more to Nepal than mountains. The royal cities of the Kathmandu Valley are absolutely magnificent and there are numerous intricately carved temples and grand Buddhist stupas as well as national parks where tigers lurk and rhinos have been brought back from the brink of extinction. Check out our Nepal with kids – Top 10 activities blog for ideas.
The children will love a family holiday in Nepal, from the craziness of Kathmandu with its wandering sacred cows, living goddess and dreadlocked holy men, to the exhilarating outdoor activities. Even the most reluctant naturalist will love the 'thrill of the chase' in Chitwan National Park, searching for the elusive Bengal tiger. Active children will enjoy the opportunity to hike into the mountains whilst others will hone their haggling skills in the bustling bazaars of Kathmandu and Pokhara.
Most activities can be tailored to suit your children's ages. Our top picks for Nepal family holidays include:
Watching the sunrise over the Annapurnas from Poon Hill
Wandering through the streets of a medieval city
White-water rafting in some of the world's most spectacular scenery
Sleeping in a tent on a serviced camping trek
Learning to care for rescued elephants
Spotting wildlife in Chitwan National Park
Paragliding at Pokhara
Shopping for great presents at village stalls and markets
Tourism is well established in Nepal, which makes it an easy place to travel with your family. For example there will be plenty of scope for trying the local dish of rice and daal, but if this is not popular there will always be the opportunity to nip elsewhere for a sneaky pizza or sandwich. There is a wide range of hotels and the people are always enormously welcoming and friendly, particularly towards children.
Example Nepal family itineraries
All of our itineraries are bespoke which means that they are tailor-made for your own specific family, taking into account the ages of your children, your interests, your budget and so on. However, to give you an idea of what you could do on a family holiday in Nepal, have a look at our sample itineraries, Nepal Highlights (no trek) and Active Nepal (with 3-day trek).
Also check out some of the other places that you might like to visit on your trip and if you need further inspiration, have a look at our Nepal photo gallery.
Lastly, don't forget to check what the weather will be like at the time that you want to travel. Or simply give us a ring and we'll be delighted to advise you on the best Nepal family holidays for you and your family.

Call us and we will be happy to provide you with a free-of-charge no obligation itinerary and quotation designed for you.

Talk with our friendly team about your family travel needs.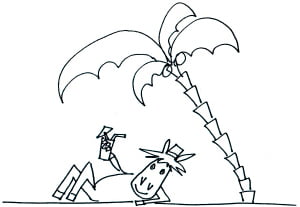 "A big thank-you for all your help in setting up our trip. We had a great time – it wasn't always easy (!) but it was often brilliant."