Tiny Slovenia may be dwarfed by its much larger neighbours but within its boundaries can be found some of Europe's most sublime mountain landscapes. Nestled between the Alps and the Adriatic, this really is a country of truly extraordinary natural beauty, with snow-capped peaks soaring above glacial valleys and emerald green lakes. The Julian Alps are the main feature here, providing a spectacular backdrop to the many activities on offer. Hiking, cycling, kayaking, SUPs and white-water rafting are all popular activities on any Slovenia family holiday.
It's not all about the mountains though. Deep beneath the ground are the magnificent Škocjan and Postojna caves, huge subterranean marvels that offer a glimpse of a vast underground world. And the tiny sliver of coastline offers access to the sparkling waters of the Adriatic and pretty boat-speckled harbours.
Slovenia is such a small country that you can travel from north to south in a day; breakfast can be eaten in the mountains enjoying magnificent alpine views, whilst dinner will be spent soaking up the last rays of the sun, enjoying a seafood platter overlooking the Mediterranean. There are beautiful towns (the medieval old quarter of Ljubljana and the narrow alleyways of Piran are particular favourites) and plenty of boutique hotels.
Some of our favourite activities on Slovenia family holidays include:
Stay in a traditional farm in the Logar Valley
Hire a SUP on Lake Bled
Cycle through the Radovna Valley
White-water rafting on the Soča River
Magnificent hiking on the Vršič Pass
Explore Tolmin Gorge
Underground marvels of Škocjan Caves.
Pretty harbour views in Piran
Kids will love Slovenia family holidays because of the incredible range of activities that can be enjoyed here. The Julian Alps provide a stunning location for plenty of hikes, but all parents know that endless walking won't tick the boxes for most children. Instead, there are opportunities for cycling, kayaking, horse-riding and white-water rafting.
The children will love bombing down rivers in inner tubes and taking running jumps into beautiful Lake Bled from wooden jetties. They can join shepherds in remote mountain huts to sample traditional sheep cheese or search for tiny starfish by the sea-side. The possibilities are endless.
The country is wonderfully easy to get around by car. The driving is easy and the roads are well signposted, so most of our Slovenia family holidays will operate on a self-drive basis. As the distances are small, you can avoid the dreaded 'are we nearly there yet?', the bane of any parent's life. With a range of great hotels, from remote mountain huts to boutique lake-shore retreats, there are options to suit all families.
With Croatia just next door, you can also extend a Slovenia family holiday with time meandering along the Adriatic coast in Croatia. This is a particularly attractive option if you want time on the beach, as although Slovenia does have a coastline, the beaches in Croatia definitely have the edge.
Example Slovenia itineraries
All of our Slovenia itineraries are bespoke which means that they are tailor-made for your own specific family. We can make them as active or as relaxing as you wish, depending on what appeals. We will also take into account the ages of your children, your interests, budget, and so on.
To give you an idea of what you could do on a family holiday in Slovenia, have a look at our Highlights of Slovenia. You could also consider extending your trip into Croatia, as on our Slovenia and Croatia tour. But these are just sample itineraries. If you want to spend longer in Croatia, for example, or tick off even more Slovenian highlights, let us know and we can tailor the itinerary accordingly.

Call us and we will be happy to provide you with a free-of-charge no obligation itinerary and quotation designed for you.

Talk with our friendly team about your family travel needs.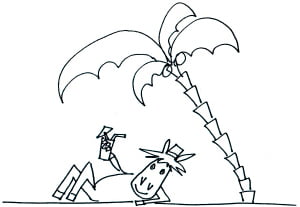 "The rafting and all the Soca Valley activities were great fun… the kids loved every minute of this trip. People so friendly and scenery is stunning!"