New Zealand family holidays
If you are looking for that perfect all-round family-friendly destination then look no further than New Zealand. Incredible scenery and gorgeous beaches. Great food, exhilarating activities and astonishing wildlife. A New Zealand family holiday ticks the boxes for everyone.
With miles and miles of open roads, New Zealand is also perfect for self-drive, the ultimate family-friendly mode of travel. Using a mix of rental car and campervan, on a New Zealand family holiday you can drive at leisure between the famous hotspots. Take in dramatic mountains, rainforests, glaciers and rugged coastline – at your own pace.
Your days will be filled with a wide range of exciting activities. One day you may be swimming with dolphins or whale-watching. The next you could be kayaking turquoise waters, biking coastal tracks or experiencing the Maori culture. You can take an overnight fiord cruise or head out into the wilderness to follow one of New Zealand's many famous hiking trails. There's certainly no shortage of adventure on a New Zealand family holiday.
Our top activities on New Zealand family holidays include:
Hiking, biking and kayaking the stunning Queen Charlotte Sound
Digging your own thermal pool on the Coromandel Peninsula
Enjoying a traditional Maori Haka ceremony
Swimming with dolphins and whale-watching at Kaikoura
Visiting the Hobbiton movie set from 'Lord of the Rings'
Firing up the adrenalin – jet boating, sky-diving or bungee jumping in Queenstown
Spotting penguins, albatross and fur seals cruising the Otago Peninsula
The key attraction of a New Zealand family holiday for the kids will undoubtedly be the sheer range of activities. There's such an astonishing variety of things to do that everyone, from adrenalin junkies to wildlife lovers, will be kept happy. Older children can enjoy an overnight mountain trek in Fiordland National Park or horse-riding in the hills outside Wanaka. Younger ones will get a thrill from riding the luge on Sky Mountain or spotting stingrays from a glass-bottom boat in the Coromandel Peninsula.
The accommodation is wonderfully family friendly, with a tempting selection of friendly B&Bs, welcoming guesthouses and idyllically situated campsite. With an emphasis on fresh and often organic produce, even the fussiest of eaters will be kept happy – and parents can indulge in extravagant seafood meals washed down with excellent local wines of course…
Example New Zealand family itineraries
All of our New Zealand family holidays are bespoke which means that they are tailor-made for your own specific family, taking into account the ages of your children, your interests, your budget and so on.
However, to give you an idea of what you could do on a family holiday in New Zealand, have a look at our sample itineraries, Highlights of New Zealand (2 weeks) and New Zealand Grand Tour (3 weeks).
Also check out some of the other places that you might like to visit on a New Zealand family holiday and if you need further inspiration, have a look at our gallery.
See our When to go to New Zealand page to find out more about the weather and what it will be like at the time that you want to travel. Or simply give us a ring and we'll be delighted to advise you on the best holiday to New Zealand for your family.

Call us and we will be happy to provide you with a free-of-charge no obligation itinerary and quotation designed for you.

Talk with our friendly team about your family travel needs.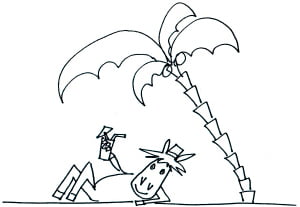 "Thank you for the absolutely amazing time we've had in New Zealand. The road trip was a great experience… we loved all the excursions especially the Milford Sound cruise – just spectacular"