This example 12-day holiday takes in the highlights of Oman but also has the time to include some less well known gems as well. Beach, desert, mountains, turtles, souks, forts, camels, you've got it all covered! You will be accompanied throughout by an English speaking chauffeur and we will suggest a range of hotels to suit your budget.
Highlights
  Hike Oman's Grand Canyon
  Explore imposing desert forts
  See turtles lay their eggs
  Wild camp on a remote beach
  Relax in a snazzy resort
12 days from £1,050 pp
Plus international flights from £400 per person
A self-drive 12-day holiday in Oman for a family of four usually costs from £4,200 based on mid range hotels (excluding international flights). Guided holidays from £5,400.
Highlights of Oman day-to-day itinerary
Day 1 Muscat

Arrive in Muscat where you will be met by your driver for the transfer to your hotel.
---
Day 2 Muscat
Today is a relaxing day and you can spend time exploring the city on your own. Perhaps head to the souk and wander along the narrow pedestrianised alleyways packed with gold, antiques, colourful textiles and spices. The Grand Mosque is also well worth a visit (although closed to children under 10) with its richly decorated interior and vast marble courtyards. 
---
Day 3 Jebel Shams
After breakfast at your hotel you will head off this morning and travel high into the mountains.
On the way you will be able to visit Nizwa and Bahla Forts. At the souk in Nizwa children can enjoy watching the silver and coppersmiths at work, admire the displays of battered old rifles, daggers and swords that are on display and rummage through trays of old silver jewellery.
You will end the day in a resort on Jebel Shams (Mountain of the Sun). This is the second highest peak in the Arab Gulf region, rising to over 2000 metres. Known as Oman's Grand Canyon, the scenery in this area is stunning, the huge canyon stretching for miles through a dramatic and barren landscape.
Driving today is around 3 hours, plus sightseeing.
---
Day 4 Jebel Shams
You have the day free to explore the area. Perhaps follow some of the old goat tracks that surround the resort, offering breath-taking views over the surrounding landscape. Once you have had enough you can relax at the resort, enjoy cooling off in the pool, or perhaps take part in a local craft making demonstration (let us know in advance if you would be interested in this so that we can request it). Alternatively your driver can take you back down into Nizwa for lunch or you could visit Jabrin Fort, in a stunning location in the heart of the date palms. Children will love exploring the labyrinth of corridors and courtyards inside the fort and the views from the walls are beautiful.
If you are interested we could arrange for you take a day hike in Jebel al Akhtar, known as Green Mountain. This is in the heart of the Al Hajar mountain range, a magnificent landscape of rugged and untouched beauty. You can spend the day hiking through the juniper groves and olive orchards. There is a lovely deserted village in Wadi Ban Habib that makes for a good base from which to explore, but you can discuss your exact route with your hiking guide.
---
Day 5 Jebel Shams – Misfah
This morning you will drive to Misfah Village where you will spend the night in a simple lodge in a traditional Omani mountain village.
The scenery is stunning as the village is located amongst the palm trees in a lush oasis surrounded by barren rocky peaks. There are endless irrigation channels that children will love following through the date and banana palm groves, and you can stop to chat with villagers, perhaps take a ride on a donkey and following narrow winding streets to see where they lead.
Read MoreRead Less
---
Day 6 Wahiba Sands
An exciting day today as you head into the desert by 4WD jeep. The Wahiba Sands are a huge sand sea, a vast area of immense sand-dunes that reach more than 100m high and are constantly shifting with the winds. You will make your way to a small desert camp where you will spend the night in traditional goat hair Bedouin tents. This evening you will have a Bedouin barbeque and sit around the camp fire with nothing above you but a blanket of stars.
If you would prefer we can also arrange for you to wild camp. We will provide simple tents, bedding and a barbeque dinner and you can enjoy complete peace and quiet under the stars! 
---
Day 7 Wahiba Sands – Wadi Bani Khalid
Rise early to climb one of the dunes that soar above the camp for sunrise over the desert
Later you will take a short drive to Wadi Bani Khalid, a lush valley where you can follow the trail up the wadi (canyon) to several beautiful deep emerald pools where you can swim. Note that this is a popular spot with locals and although some foreigners swim in bathing suits, you may feel more comfortable if you swim in clothes (as the locals do).
After a picnic lunch by the pools you will return to your camp for a second night.
---
Day 8 Wahiba Sands – Sur – Ras Al Jinz
After breakfast drive to Sur, an attractive seaside town that is famous for its many shipyards. These still make traditional Omani sailing boats (dhows) used by fishermen throughout the Arabian peninsula. You will have time to explore the town before continuing to Ras Al Jinz turtle reserve. The beach here is renowned as a place where the endangered green turtle comes ashore to lay eggs.
During the evening / night you will visit the reserve and watch as these huge creatures come ashore and lay their eggs in holes that they dig in the beach.
---
Day 9 Bimmah Sinkhole
Drive along the coast stopping at the Bimmah Sinkhole. This is a circular limestone hollow about 500m in from the coast that boasts the most incredibly clear turquoise waters. Swim in the refreshingly cool pool or relax on the rocks around the edge, dipping your toes in the water and feeling little fish come to nibble on them!
From here continue to the small village of Fins. Here there are numerous small coves with steep cliffs that drop to idyllic white beaches and beautiful turquoise sea. You will spend the night camping on one of the beaches. We will provide you with all the camping equipment that is required and you will enjoy a delicious barbeque dinner on the beach.
---
Day 10 Fins – Muscat Beach
You will have time to relax and enjoy the deserted beach before driving back to Muscat for a final two nights in a resort hotel on the beach.
There are many different resort options near Muscat. Here you very much get what you pay for and despite an exhaustive search, we have yet to find that perfect boutique mid-range property! If you can possibly afford it, it is therefore well worth spending the last two nights in one of Muscat's top-end resorts as these are supremely comfortable and also on particularly good stretches of beach.
---
Day 11 Muscat Beach
A full free day to relax and enjoy the pool or the beach.
---
Day 12 Muscat
Transfer to the airport for your flight home.

Call us and we will be happy to provide you with a free-of-charge no obligation itinerary and quotation designed for you.
Unparalleled family travel experience
Specialist knowledge across three continents
Hand-picked local partners
Every holiday is tailor-made for you
100% financial protection
24hr emergency contact number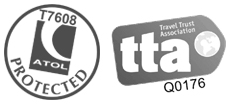 100% Financial
Protection
We are members of the Travel Trust Association, a trade association of Travel Agents, Tour Operators and Travel Organisers that operate trust accounts in order to provide financial protection for the consumer. Membership number Q0176.
Our ATOL number is T7608.