Costa Rica (Easter & Christmas)
This itinerary is ideal for those with younger children or for families looking for a mixture of activity and relaxation. As always the itinerary will be tailored to your own family so if you want longer on the beach or if you want to throw in a few extra activities, just let us know. We will be happy to provide you with a free-of-charge no obligation itinerary and quotation designed for your family.
Highlights
  Superb wildlife in Manuel Antonio
  Snorkelling & whale watching
  Zip-lines at La Fortuna
  Rainforest & jungle hikes
  Relax on beautiful Pacific beaches
15 days from £1,500 pp
Plus international flights starting at £750
A two-week holiday at Easter or Christmas usually costs a minimum of £6,000 plus flights for a family of four.
Costa Rica Easter & Christmas day-to-day itinerary
Day 1 San Jose

When you arrive you will be transferred to your hotel by a Stubborn Mule Travel representative and taken to your hotel. The rest of the day is free for you to relax.
---
Day 2, San Jose – Manuel Antonio
This morning you will head to the Pacific coast to Manuel Antonio National Park.
In the afternoon you can either relax on the beach or perhaps take a sea-kayaking excursion off the coast from Quepos. Heading into the open water with a guide, you will get magnificent views of the coastline with its jungle clad cliffs and prolific birdlife. You will also stop in a small secluded bay for a spot of snorkelling. Two man kayaks can be arranged so that younger children can also take part.
---
Day 3 Manuel Antonio National Park
You have a full day to explore Manuel Antonio National Park. This stretches from the pristine white sands of the Pacific coast to the rugged jungle interior. It encompasses lush rainforest, remote mangrove swamps and idyllic beaches. Capuchin monkeys leap from branch to branch in the forest canopy, three toed sloths make their way slowly through the jungle and brightly coloured kingfishers dart above the river in search of small fish.
You can spend the full day in the park, following trails through the jungle and enjoying the beaches.
---
Day 4 Uvita
This morning you will head south along the coast to Uvita. This afternoon you can either relax or perhaps take a boat ride in the largest mangrove estuary left in the Americas. Here you can see many different species of birds, monkeys, caiman and (if you are lucky) boa constrictors.
---
Day 5 Uvita
Today you will enjoy a full day tour off the Pacific coast, taking a boat trip out to Cano Island. En route to the island there is the chance to spot humpback whales and dolphins. The island itself is a wonderful biological reserve with crystal clear waters and pristine marine life, making this a paradise for snorkellers. You have the opportunity to swim alongside sea turtles, dolphins, stingrays, manta rays, moray eels, barracudas and much more.
You will also enjoy a picnic on Violines Island, a small lush island where you can again snorkel or take a hike along the beach before returning to Uvita by boat, passing through the Terraba mangrove forest.
Read MoreRead Less
---
Day 6 Uvita – Tarcoles
This morning head north to Tarcoles. You will stay in a lodge in the jungle and this afternoon can perhaps take a boat ride on the Tarcoles River. This is renowned for its large crocodile population and there are excellent sightings of giant crocs, some more than 5m long.
---
Day 7 La Fortuna
Today you will leave the coast behind you to head inland to the picturesque town of La Fortuna near Arenal Volcano.
This afternoon there are lots of activities you can take part in (biking, hiking, paddle-boarding or horse-riding to name a few) or perhaps head to one of the hot springs resort to bathe in the rejuvenating waters.
---
Day 8 La Fortuna
This morning those with older children enjoy an exciting rafting tour on the Balsa River. This adrenalin fuelled activity will take you paddling down crashing rapids as the river descends through a beautiful landscape.  The river is surrounded by forest so keep your eyes peeled for wildlife whenever you have a moment between rapids!
Those with younger children will enjoy a more peaceful raft experience on a flat section of the river. Giant trees overhang the banks with monkeys swinging from branch to branch and sloth curled up taking a snooze. Crocodiles bask in the sun on the sand bars at the edge of the river and birds dart across the water. You will stop at a local farm for delicious local snacks.
---
Day 9 La Fortuna
Today you head deep into the rainforest. Your tour starts with a walk over the hanging bridges, giant suspension bridges that have been built high in the forest canopy. If you are lucky you might come across a troupe of howler monkeys but there are birds galore as well as iridescent flying beetles that will keep the children entertained.
Next up you get yourselves strapped into a harness and ride to the top of the mountain in a cable car. Then it's time for an adrenalin rush! Fly across the valley on a series of descending ziplines, each several hundred metres long and high above the hillside. It is wonderfully exhilarating and a real adventure.
---
Day 10 La Fortuna – Bijagua
Drive north to the quiet village of Bijagua where you will stay on a working organic farm in beautiful surroundings. In the afternoon take a hike along some of the short private trails through the farm grounds or perhaps visit a waterfall or go horse riding.
---
Day 11 Bijagua
This morning those with older children will enjoy an exciting morning tubing expedition, during which you float on giant inner tubes down the turquoise Rio Celeste. This is a fantastic experience with a combination of calm water where you can relax, and rapids where you have to hold on tight.
Younger children may want to further explore the farm or perhaps take a short walk in Tenorio National Park.
---
Day 12 Beach
Now it's time for the beach! The northern Pacific coast of Costa Rica is home to a series of glorious beaches and we will suggest one that we think will suit your family. If you want some action, perhaps head to Tamarindo with its lively nightlife and vibrant restaurant scene. If the family like surfing, perhaps Nosara will suit, with its long surf beach and laid back vibe. Our favourite is probably Samara, a picture perfect bay with a lovely golden sweep of sand backed by palm trees but there are plenty of options.
---
Days 13-14 Beach
Two full days to relax and enjoy the beach.
---
Day 15 Beach – San Jose
Travel back to the capital in time for your flight home.

Call us and we will be happy to provide you with a free-of-charge no obligation itinerary and quotation designed for you.
Unparalleled family travel experience
Specialist knowledge across three continents
Hand-picked local partners
Every holiday is tailor-made for you
100% financial protection
24hr emergency contact number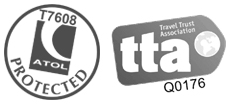 100% Financial
Protection
We are members of the Travel Trust Association, a trade association of Travel Agents, Tour Operators and Travel Organisers that operate trust accounts in order to provide financial protection for the consumer. Membership number Q0176.
Our ATOL number is T7608.