This family adventure, starting in Mandalay and finishing in Yangon, is perfect for travel during July and August. Although this is monsoon time we prefer to think of it as the 'green season' as the landscape is beautifully lush and the temples at Bagan look particularly stunning emerging from a sea of verdant green. The best of the weather is found on the dry northern plains so the itinerary concentrates on this area. There will be rain at times, but there should also be plenty of sunshine. The trip includes an overnight hill tribe trek but this can be removed for those with younger or less active children.
Highlights
  See ancient Ava by horse & cart
  Explore Bagan's many temples
  Climb 720 steps at Mount Popa
  Feed and bathe elephants at Kalaw
  Take a long-tail boat trip at Inle Lake
  Overnight hill-tribe trek
15 days from £1,500 pp
Plus international flights from £650
A two-week holiday in Burma for a family of four usually costs from £6,500 plus flights.
Burma in the Summer day-by-day itinerary
Day 1 Mandalay

Arrive in Mandalay airport where you will be met by a Stubborn Mule Travel representative who will take you directly to your hotel.
The rest of the day is free for you to relax and enjoy the pool.
---
Day 2 Mandalay
After breakfast head to the banks of the Irrawaddy to board a small boat to sail upriver to the ancient site of Mingun. The boat journey is lovely, with many different wooden boats and bamboo rafts heading up and down river, carrying produce and goods. You will have the chance to look around the Mingun Pagoda and see the enormous bell.
In the afternoon you explore Mandalay, including a visit to the Golden Palace and the Mahamuni Image. There are a number of craft workshops in the city, which are worth a quick visit; you can see tapestry weaving, gold leaf application and bronze-melting. You will watch the sunset from Mandalay Hill, with wonderful views over the pagodas and the huge Irrawaddy River.
---
Day 3 Mandalay
After breakfast take a short transfer to Ava, the ancient capital of Mandalay and hugely picturesque. Here you will jump on a horse drawn cart to explore the ruins, the perfect way to keep children happy whilst you sightsee!
On the way back to Mandalay you will stop to explore Amarapura, home to the Mahagandayon monastery which houses more than 1,000 monks. After visiting the monastery you can visit the impressive U-Bein Bridge, more than 200 years old and 2km long, constructed entirely from teak.
---
Day 4 Mandalay – Bagan
Drive through beautiful scenery to Bagan. Along the way you can stop at Sagaing, a small riverside town that is home to hundreds of monasteries, more than 500 stupas and at least 6,000 monks and nuns. It is a peaceful place and best appreciated from the top of Sagaing Hill, on which is the largest concentration of temples and which offers wonderful panoramic views over the plains and monasteries below. If you are feeling active, you can take the route that the pilgrims follow, up a series of colonnaded steps that lead to the hilltop.
---
Day 5 Bagan
After breakfast visit the Nyaung Oo Market, which kids will find fascinating. The market is full of local people shopping for fish, vegetables, rattan baskets, cotton goods, household wares etc, as well as the odd 'antique'. Later you will continue to explore the temples of Bagan either by car or by bike.
Bagan is a huge plain that is dotted with temples as far as the eye can see, dating back more than a thousand years. Whilst some of the temples are well preserved and maintained, others are in a state of disrepair but this is perhaps part of the charm. You can spend many happy hours clambering up the hidden stair-cases of the more remote temples, admiring the views from the top and finding exquisite old carvings and frescoes adorning many of the walls. This is a truly incredible sight and a real highlight of your visit to Burma. Your tour will be partly by vehicle and partly by horse drawn cart.
You can watch the sunset from one of the temples.
Read MoreRead Less
---
Days 6-7 Bagan
Two free days to explore Bagan further by yourselves or relax by the pool.
---
Day 8 Mount Popa – Kalaw
Head to Mount Popa, a scenic journey through toddy palm countryside. The mountain itself is the core of an extinct volcano and rises very sharply from the surrounding area. It is said to be the sacred home of the nats (or spirits) and it is a long climb up the 730 steps to the animist shrine at the top. However the views from the top are wonderful and it is fun to share the route with local pilgrims.
Later head up on to the Shan Plateau to Kalaw, a picturesque British hillstation. The total journey to Kalaw takes around 6 hours. There will be plenty of opportunities to stop along the way for a drink and to stretch the legs and although it is quite a long drive, it is a great opportunity for a glimpse of rural life. (If you would prefer to fly, please let us know and we can arrange this).
---
Day 9 Kalaw
A full day at the Green Hill Elephant Camp, an impressive eco-tourism venture in the hills outside Kalaw. This has been set up to teach visitors about local traditions and introduce them to the Burmese elephant. This is great fun for the children as you will have the chance to help feed and bathe the elephants. Prepare to get wet!
---
Day 10 Kalaw – Hike
Today you head off on a 2 day / 1 night hike into the countryside around Kalaw. This will start with a tuk tuk ride to the start point of the walk, and you will then head into the countryside on foot. The landscape is absolutely beautiful with endless views over rolling hills, pine forest, small villages and orange plantations. You will pass through villages belonging to Danu and Pao hill-tribes and will get an insight into the way of life in rural Burma.
You will spend the night in very simple accommodation at a local house or monastery. Bedding is provided (usually a mattress on the floor and a mosquito net). Bathroom facilities will be very limited and will usually just be a squat toilet outside the house.
---
Day 11 Hike
Continue your trek, with stunning views along the way, stopping in a village on the way for lunch. After lunch you transfer to Inle Lake for the night.
---
Day 12 Inle Lake
Today you explore the lake by longtail boat. This is a small wooden boat powered by an outboard motor that can nose through the channels at the edge of the lake. Along the way you will visit a number of picturesque island monasteries. You will also see floating villages, many of which have developed an intriguing way of growing fruit and vegetables, suspended on the surface of the water.
There will be time to visit a local craft shop where you can see handicrafts being made – our favourite is the blacksmiths, where they still forge iron in the traditional way – and you will also visit the lovely Indein pagodas on the edge of the lakeshore.
There will also often be a bustling village market somewhere around the lake, which we will try and arrange for you to visit. Children really enjoy the markets, which attract exotically dressed hill-tribe people from the surrounding mountains, selling a wide variety of produce.
---
Day 13 Inle Lake – Yangon
This morning take a picturesque bike ride near the lakeshore. The ride can vary in duration depending on how fit you are, but will take you along quiet country roads. You will enjoy views of paddy fields as you pass through quiet villages with stilted bamboo huts, lumbering water buffalo and friendly children.
In the afternoon take a flight to Yangon and transfer to your hotel.
Depending on what time you arrive there may be time for a sunset visit to the majestic Shwedagon Pagoda. This is the centre of Buddhism in Burma and a beautiful collection of golden temples, immaculately swept courtyards and devout pilgrims. It is a great place for a spot of people watching.
---
Day 14 Yangon
A full day guided tour of Yangon. The children will love the bustling streets of the downtown area and will enjoy exploring lively Bogyoke Market, a labyrinth of stalls selling all manner of exotic produce and trinkets. You pass through Chinatown and Indiatown so perhaps stop for some delicious fresh pakora or chapattis at a local restaurant. You will also visit Sule Pagoda in the centre of the city and the Chaukhtatgyi Reclining Buddha.
---
Day 15 Yangon
Transfer to the airport for your flight home.

Call us and we will be happy to provide you with a free-of-charge no obligation itinerary and quotation designed for you.
Unparalleled family travel experience
Specialist knowledge across three continents
Hand-picked local partners
Every holiday is tailor-made for you
100% financial protection
24hr emergency contact number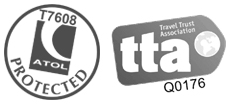 100% Financial
Protection
We are members of the Travel Trust Association, a trade association of Travel Agents, Tour Operators and Travel Organisers that operate trust accounts in order to provide financial protection for the consumer. Membership number Q0176.
Our ATOL number is T7608.