This relaxing Kerala family holiday takes you through the lush fertile countryside of this region, from mist-clad tea plantations to gorgeous white sandy beaches backed by swaying palms. Accommodation is in small family-run boutique hotels where you are made to feel like a long-lost friend making it ideal for families with children of all ages.
Highlights
  Watch a colourful Kathakali dance
  Explore the tea plantations of Munnar
  Nature walk through a wildlife park
  Swim in a waterfall
  Bike through the backwaters
  Relax on a picture perfect beach
15 days from £2,500 pp
Plus international flights from £750
A 2-week Kerala family holiday will cost from £10,000 for a family of four, plus international flights.
Kerala Family Holiday day-to-day itinerary
Day 1 Kochi

Arrive in Kochi where you will be met by a Stubborn Mule Travel representative and taken to your hotel.
Kochi (or Cochin) is set on a cluster of islands and narrow peninsulas and has one of the best natural harbours in the world.  The famed 'Malabar Spices' were exported from this very port, bringing to Kochi visitors as varied as the Arabs, the Dutch, the Portuguese and, finally, the British. All of them have left their mark on the architecture. This makes Kochi one of the most beguiling, unique and fascinating towns in India.
---
Day 2 Kochi
In the morning enjoy a city tour of Fort Cochin. First stop is Kochi harbour where the children will enjoy seeing the traditional Chinese fishing nets suspended over the water. Elsewhere in the old city it seems like you are walking through the pages of a history book. Explorers will be inspired by St Francis Church, the oldest church in India and the burial place of Vasco da Gama. There is also a 17th century Jewish Synagogue and a Dutch Palace. This place really is a melting pot of different cultures all coming together in a uniquely Indian style.
In the evening you will see a Kathakali Dance Performance in which local dancers are intricately made up as demons and superhuman beings. The male performers adorn themselves in huge skirts and headdresses with incredibly elaborate make up.
---
Day 3 Kochi – Munnar
Head into the hills, with a drive to Munnar of around 4 hours. Sprawling tea plantations, picture-book streets with old Raj style bungalows, winding lanes and cool air make Munnar a perfect place for a relaxed couple of days.
The afternoon is free for you to wander around.
---
Day 4 Munnar
A day excursion to Eravikulam National Park to get up close to some of the world's last Nilgiri tahr (a variety of mountain goat or ibex). Existing only in the mountain grasslands of the Western Ghats, the tahr is an endangered as the tiger, with fewer than 2,000 left. Of course, sighting what is basically a goat, no matter how rare, may not be as exhilarating as spotting a tiger, but your chances are far higher! In fact the tahrs have grown so used to visitors that you can usually get within a few yards of them. Aside from the tahr, the views across the mountains are stunning.
---
Day 5 Munnar – Thekaddy
After breakfast take a beautiful drive with incredible views to Thekkady (about 3 hours). The afternoon is free for you to relax and enjoy the panoramas of the Cardamom Hills.
Read MoreRead Less
---
Day 6 Periyar Wildlife Sanctuary
Head into the Periyar Wildlife Sanctuary, a beautiful nature reserve in the hills. This is home to a large population of wild elephants as well as a small number of tigers (that are notoriously difficult to spot). The landscape here is gorgeous with lush grasslands sandwiched between lakes and thickly forested hills.
In the morning take a nature walk through the sanctuary, spotting birds, butterflies and other wildlife. The trails pass through evergreen and moist deciduous forests interspersed with marshy grasslands.
Later in the day take a boat trip on Periyar Lake. The reserve is centred around a vast artificial lake where you can take a boat trip. This offers one of the best ways of seeing a range of wildlife as you can watch the animals as they come to drink from the lake at dusk. Although tigers usually prove elusive you will often see the elephants at the lake shore.
---
Day 7 Thekkady – Teekoy
After breakfast drive around 3 hours to the small hill station of Teekoy, near the origin of the Meenachil River. Here you will stay as guests on a working vanilla and coffee plantation. Your hosts – Rani and 'Baby Matthew' – are charming and Rani is a wonderful cook who will conjure up delicious meals in her immaculate kitchen! The surrounding landscape is stunningly beautiful with mist-clad hilltops, cascading waterfalls, rolling knolls cloaked in emerald green and evergreen tea gardens.
---
Day 8 Teekoy
A full day to explore the plantations around your homestay. You can swim in the natural pools of the Meenachil River, take a walk through the nearby plantations or perhaps take a short tour through the spice gardens. 
---
Day 9 Teekoy – Allapuzha
Drive to Allapuzha (around 2 hours), a bustling town south of Kochi and a major trading centre for the coir industry. It is also the centre of Kerala's backwaters with many interesting homestays in villages around the town.  Bordered by the Arabian Sea in the west and with a vast network of lakes, lagoons and fresh-water rivers crossing it, this backwater country shelters some unique animal and birdlife.
Spend the night on a Kerala houseboat known as a Kettuvallam. This is one of the most tranquil and relaxing things you can do in India.  There is a large open sitting area where you can relax and watch the world go by, sipping from a tender coconut and enjoying the sheer peace of the surroundings. Freshly cooked Indian food and chilled beer make the experience even more enjoyable!
---
Day 10 Allapuzha
Disembark your house boat after breakfast and head to a wonderful old heritage home on Kerala's backwaters. Time can be spent watching the toddy tappers climbing the tall palm trees. Walk among the paddy fields or row through the narrow canals in a country boat. This area will give the children a real insight into rural life in this part of India.
---
Day 11 Allapuzha
A full day to relax and enjoy exploring the surrounding area. You can borrow bikes and follow small quiet roads through local villages, take a cruise through the narrow channels of the backwaters on a rowing boat or wander through the nearby villages.
---
Day 12 Allapuzha – Mararikulam
A short drive of just 30 minutes take you to Mararikulam for three nights on the beach. Situated 56 km south of Kochi and just a few kilometres north of Allapuzha, Mararikulam offers a fabulous stretch of soft sandy beach fringed with swaying palms.  Life in the village still goes on much as it did a hundred years ago, with the men going out to sea each day to earn a living bringing in the daily catch.  It is an idyllic retreat for those who want to 'get away from it all'.
---
Day 13 – 14 Mararikulam
Two full days to relax and enjoy the beach.
---
Day 15 Mararikulam – Kochi
Transfer to Kochi Airport for your flight home.

Call us and we will be happy to provide you with a free-of-charge no obligation itinerary and quotation designed for you.
Unparalleled family travel experience
Specialist knowledge across three continents
Hand-picked local partners
Every holiday is tailor-made for you
100% financial protection
24hr emergency contact number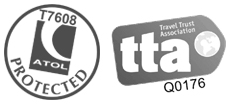 100% Financial
Protection
We are members of the Travel Trust Association, a trade association of Travel Agents, Tour Operators and Travel Organisers that operate trust accounts in order to provide financial protection for the consumer. Membership number Q0176.
Our ATOL number is T7608.