Our example itinerary, 'Highlights of Morocco', starts in Fes and finishes in Marrakech and includes most of the highlights of the country combined with a few of our favourite less well-known gems.
Highlights
  Visit Fez, Meknes and Volubilis
  Explore Marrakech
  Walk in High Atlas Mountains
  See the Kasbah of Ait Ben Haddou
  Camel ride along the coast
  See daily life in Essaouira
15 days from £1,500 pp
Plus international flights starting at £150 direct.
A 2-week holiday for a family of four will usually cost from £6,000 based on comfortable mid-range boutique hotels or riads (usually with pools) excluding international flights.
Highlights of Morocco day-to-day itinerary
Day 1 Fes

On arrival at the airport, you will be met by a Stubborn Mule Representative and transferred to your hotel in the old city.
---
Day 2 Fes
You have a full day to explore Fes. Children love following the labyrinthine streets of the old city, which have changed little since they were built in the 8th century. The streets are so narrow that no cars can pass through, so all goods are transported by donkey and you will have to occasionally get out of the way as a heavily laden animal lumbers past!
Make sure that you head deep into the medina, following small alleyways as they wind past hawkers, mosques, traditional houses and souks, the heady aroma of spices vying with the ever-present smell of the tanneries. This is perhaps the best-preserved medieval city of the Arab world and children will be wide-eyed taking it all in.
We can either arrange a guide for you or you can explore by yourselves.
---
Day 3 Meknes & Volubilis
Today you have a full day tour to Meknes and Volubilis. The historic centre of Meknes is a UNESCO world heritage site and is a wonderful place to explore with huge thick city walls, impressive imperial buildings and an enticing souk. From Meknes the road leads through rich agricultural farmland to the hilltop Roman ruins of Volubilis. These are quite extensive and a great place to let younger children have a run around and clamber over the ancient stones. Return to Fes for the night.
---
Day 4 Marrakech
Transfer to the train station for the train south to Marrakech. This takes around 8 hours but is a very comfortable ride and the easiest way to cover the distance. However, if you prefer we can arrange for you to drive.
Marrakech is wonderfully exotic city, its narrow winding streets enticing you in and surrounding you with scenes from the Arabian nights. There are myriad souks spilling their goods into the street, beautifully converted mansions, crumbling mosques, boutique galleries and steaming hammams. All roads lead to the great square, Djemaa al Fna, which becomes the centre of activity at night with food stalls and entertainers galore. The children will be agog at the non-stop activity; grab a glass of freshly squeezed orange juice, get a henna tattoo from one of the many Berber women, watch cobras writhe to the music of the snake charmers and then sit down to a delicious meal of calamari, kebabs, Moroccan salad and freshly cooked flatbread.
---
Days 5-6 Marrakech
Two full free days in Marrakech. Perhaps take a caleche (horse and buggy) ride around the old city, visit the exquisite Jardin Majorelle, wander around the El Badi Palace or hone your haggling skills in the markets. Some families enjoy having a guide for half a day to help get their bearings whilst others prefer the freedom to explore by themselves. We will discuss what would best suit your family.
Read MoreRead Less
---
Day 7 Ait Ben Haddou
After breakfast you head to Ait Ben Haddou, which takes around 3½ – 4 hours. The road initially passes through a green and fertile landscape before it rises sharply into the mountains. Here it becomes more barren and you will cross the dramatic Tizi 'n Tichka pass with spectacular views.
In the afternoon take a camel ride into the desert.
---
Day 8 Ait Ben Haddou
This morning visit the magnificent kasbah of Ait Ben Haddou. Perched high on a rocky outcrop, its crumbling towers and red hued walls probably the most picturesque in Morocco, the Kasbah is familiar to many from numerous Hollywood films. The children will enjoy following the narrow streets as they wind towards the top of the hill from where there are incredible views out over the rocky desert.
In the afternoon you can either relax at your hotel (particularly enticing if we arrange a hotel with a pool) or you could perhaps visit Ouarzazate. This is around 30km away and is home to a vast studio where films such as Lawrence of Arabia, Gladiator and Cleopatra were filmed.
---
Day 9 Imlil (High Atlas)
Drive to Imlil, a small town in the foothills of the High Atlas and nestled in the shadow of Mount Toubkal. The afternoon is free for you to explore and perhaps take a walk.
---
Day 10 Imlil (High Atlas)
Today you head into the hills around Imlil either by foot or on the back of a mule, to enjoy the beautiful scenery of the High Atlas. The views here are gorgeous, with small fields of fruit trees, burbling irrigation streams, traditional stone built houses and the dramatic backdrop of the mountains. In spring the fruit trees are in blossom, which is particularly beautiful.
The route will be tailored to the ages of your children but might include a visit to a rocky waterfall where the children will enjoy clambering over the boulders at the edge of the falls. We will provide as many mules as are needed – most families find that it works well for the parents to walk and the children take it in turns to ride a mule but we can arrange whatever will suit.
You stop for a traditional Berber lunch of flatbread, soup and hot sweet mint tea in a local village house.
---
Day 11 Ouirgane
After breakfast drive to the Tizi n'Tamaterte, a high pass just above Imlil that offers incredible views over the Atlas Mountains and the Imnan and Ait Mizan valleys. The views really are beautiful and there is plenty of time to explore Tamaterte village or perhaps take a short hike from the top.
Later your driver will take you to Ouirgane, a small town not too far from Imlil, but with very different countryside of rolling hills, olive groves and terraced orchards. There is a lovely hotel here that has beautifully decorated Moroccan-style rooms and a large pool that you will struggle to prise the children from!
---
Day 12 Ouirgane
Today you take a camel ride into the hills. This is great fun and the children will enjoy learning the strange back and forwards movement required to remain upright on the back of a lumbering camel.
There is also plenty of time to have a walk into the village of Ouirgane or just relax by the pool.
---
Day 13 Berber Beach Camp
After a relaxing morning you will head to the Atlantic coast (around 4 hours) to a small Berber camp with stunning views over the ocean. You take an afternoon camel ride along the coast to enjoy the sunset before returning to the camp for the night. Here you can relax on colourful rugs under the stars and will enjoy a delicious Berber feast and campfire.
---
Day 14 Essaouira
After breakfast you will be transferred the short distance to Essaouira and have a full day to wander around the town.
Situated on a vast bay on the Atlantic coast, Essaouira is a beautiful town of whitewashed buildings that is encircled by thick stone battlements. It used to be a pirate's hideout but today the streets are home to a thriving community of artisans, the white buildings and characteristic blue doors opening into numerous small galleries and attractive cafes.
Children will love exploring the lively harbour which is always a hive of activity with fishing boats bringing in the days catch, some of which are sent straight to the sizzling grills of the many stalls offering delicious barbequed fish.
---
Day 15 Essaouira – Marrakech
A free day until you transfer to Marrakech for your flight home.

Call us and we will be happy to provide you with a free-of-charge no obligation itinerary and quotation designed for you.
Unparalleled family travel experience
Specialist knowledge across three continents
Hand-picked local partners
Every holiday is tailor-made for you
100% financial protection
24hr emergency contact number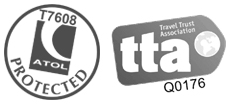 100% Financial
Protection
We are members of the Travel Trust Association, a trade association of Travel Agents, Tour Operators and Travel Organisers that operate trust accounts in order to provide financial protection for the consumer. Membership number Q0176.