This 15-day family adventure starts in Bangkok and finishes on the beach. There are plenty of activities to keep the children entertained with long-tail boat rides, swimming in waterfalls, a cookery class, hill-tribe hike and bamboo rafting. Throughout you will be accompanied by an English speaking guide (a different one in each area) although if you prefer to be independent this is also possible. A wide range of different accommodation types are available and we can adapt any aspect of this itinerary to suit your family and travel dates.
Highlights
  Tuk tuk ride through Bangkok
  Stay on a floating rafthouse
  Swim in forest waterfalls
  Learn to cook Thai style
  Overnight with the hill-tribes
  Relax on a gorgeous beach
15 days from £1,875 pp
Plus international flights from £650
A two-week holiday covering the north and south of Thailand usually costs from £7,500 plus flights for a family of four.
Highlights of Thailand day-to-day itinerary
Day 1 Bangkok

Arrive in Bangkok where you will be met by a Stubborn Mule Travel representative and transferred to your hotel.
---
Day 2 Bangkok
After breakfast, take a public river taxi to the Pak Klong Dalat flower market, a wonderfully colourful start to your tour and a great introduction to Bangkok. From here you will continue by tuk tuk to the Grand Palace for a guided tour around this beautiful building and the temple of Wat Phra Kaew. The palace walls are covered with intricate and rather gruesome depictions of battle scenes from Buddhist mythology, which are fascinating. If the children need fuel there is also an excellent ice-cream shop.
Later visit Wat Pho, one of Thailand's most important temples. The temple is home to a thriving massage school so we can arrange a family Thai massage. This is not a relaxing experience as your body is moved into awkward positions and pummeled with great force, but you do feel great invigorated afterwards!
After lunch at a local restaurant take a water taxi across the river to visit Wat Arun then board a 'longtail boat', This is essentially a long wooden boat with an outboard engine and you spend a couple of hours navigating the maze of waterways and canals of this more hidden part of Bangkok, a far cry from the hectic centre.
---
Day 3 Kanchanaburi
Rise early to transfer to Wongwian Yai Railway Station, located on the opposite bank of the Chao Phraya River. The station is charming, with wooden shophouses, old-fashioned barber shops and fresh fruit stalls stretching along the side of the railway. You will take a local train to the end of the line, to Mahachai Station.
From here drive northwest into Kanchanaburi province, through endless rice paddies, until you reach Kanchanaburi town. In the afternoon take the train over the 'Bridge over the River Kwai', part of the Burma Railway that was constructed during the Second World War by POWs. You will also visit the Chung Khai War Cemetery which is a very sombering but interesting experience. 
---
Day 4 Kanchanaburi
In the morning head to Erawan National Park, a picturesque series of falls that cascade down the mountainside. There is a path that climbs up beside the falls and you can stop off along the way to swim (though be aware that there are lots of small fish in the pools that will come and nibble at your feet!).
After a simple lunch at the waterfalls you will proceed to the lovely Prasat Muang Singh temples, which date back to Angkorian times and are similar to Angkor Wat although on a smaller scale. The ruins are almost always deserted, stunningly beautiful and great fun to explore. 
---
Day 5 Kanchanaburi – Ayuthaya
In the morning take a cookery class in Kanchanaburi and learn some of the secrets of Thai cookery. The class starts with a visit to the local market where you can learn about the exotic herbs and spices that form such an integral part of Thai cuisine. You will then learn how to put these together and will whip up a range of delicious dishes before sitting down to eat them all! Typical dishes include pad thai, thai green curry and tum yum soup.
Later drive to Ayuthaya (which takes around 3 hours), the ancient capital of Thailand.
This evening make sure that you visit the night market that comes to life every evening at around 5pm. It is packed with stalls selling a wonderful collection of delicious local dishes such as khao mok kai (Muslim-Thai style biryani rice), nam prk pla tuu (chilli mackerel), freshly grilled corn on the cob and much more. There are also many stalls selling clothes and knick knacks.
Read MoreRead Less
---
Day 6 Ayuthaya
Today you have the full day to explore the sights around Ayuthaya. You start with Bang Pa In, the old summer residence, and will then take a long-tail boat trip along the Chao Phraya River, ending at the impressive Phananchoeng Temple. If the children are old enough we can alternatively arrange for you to spend the day cycling around the ruins. This is great fun as the roads are very quiet and flat and you can also get out into the countryside.
In the evening take the overnight train north to Chiang Mai. You can either travel first class in private 2-person cabins or second class, in an open carriage with individual sleeper berths.
---
Day 7 Chiang Mai
Arrive in Chiang Mai and transfer to your hotel to drop off your bags (although you will not be able to check in to your room yet). You will then proceed to Chiang Mai's most famous landmark, the temple of Doi Suthep Temple, perched on a hill-top on the outskirts of town. The temple is stunning with beautiful views over Chiang Mai, and there are always many local people making offerings of flowers and incense.
The afternoon is free for you to explore Chiang Mai on your own. The town centre is quite small and perfect for wandering with many lively markets, peaceful temples and tempting cafes.
In the evening perhaps head to the night market.
---
Day 8 Chiang Mai
Today visit the Elephant Nature Park, a very responsibly run elephant rescue and rehabilitation centre. Here you will take part in a unique hands-on experience, learning how to look after an elephant. You will help at feeding time and will then head to the river where you help the mahouts (elephant carers) bathe the elephants. Prepare to be squirted!
---
Day 9 Hill-tribe trek and bamboo rafting
Venture up into the hills outside Chiang Mai to get a taste of hill-tribe life. You start with a bamboo rafting experience, gently poling along the river with thick jungle on either side. After lunch in a picturesque Karen hill-tribe village you will start your trek. This can be tailored to the ages of your children but will usually entail a 3-4 hour walk through the jungle with stunning mountain views along the way. Your guide will be able to explain the various uses of the plants and trees that you can see on the sides of the path.
Spend the night in a traditional stilt house on a village homestay. The accommodation is very simple but the welcome is warm and we find that children particularly enjoy this experience.
---
Day 10 Chiang Mai
After breakfast in the village you have a chance to explore with your guide and can visit the village shrine and perhaps the local school. Later take a 90 minute hike to a Karen village from where you will meet your vehicle for the return journey to Chiang Mai. Along the way there is the chance to stop at one of Chiang Mai's famous orchid nurseries if this is of interest.
---
Day 11 Chiang Mai – Beach
Transfer to the airport for a flight to the beach. On arrival you will be taken to your hotel where you will have four relaxing nights.
Depending on what time of year you are visiting we may suggest Koh Samui (east coast) or one of the islands or mainland resorts on the west coast (Krabi, Koh Lanta, Phuket). There are a huge range of different hotels, including larger resorts with a wide range of activities and smaller more intimate beach-bungalow style hotels. We will suggest a hotel that will suit your family.
---
Days 12-14 Beach
Three full days to relax and enjoy the beautiful views over the ocean. Most resorts or islands will have a number of different activities including water sports, boat rides, snorkelling trips and so on. We can either pre-book these or you can arrange them locally.
---
Day 15 Beach – Bangkok
Transfer to the airport for a flight to Bangkok to connect with your international flight

Call us and we will be happy to provide you with a free-of-charge no obligation itinerary and quotation designed for you.
Unparalleled family travel experience
Specialist knowledge across three continents
Hand-picked local partners
Every holiday is tailor-made for you
100% financial protection
24hr emergency contact number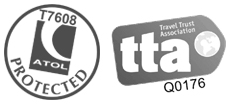 100% Financial
Protection
We are members of the Travel Trust Association, a trade association of Travel Agents, Tour Operators and Travel Organisers that operate trust accounts in order to provide financial protection for the consumer. Membership number Q0176.
Our ATOL number is T7608.