Having been popular with visitors for so long now, Morocco definitely has accommodation options down to a fine art. From the exquisite traditional surroundings of the famous riads to a simple gite in the mountains with mattresses and shared facilities, there will be something to suit all ages, inclinations and budgets. In the cities, most hotel or riad options offer a taste of the exotic – children will love the unusual furnishings and al fresco breakfasts on rooftop terraces.
In more remote, rural locations, you can still find surprisingly good quality lodges or perhaps choose the adventurous option of a Sahara desert or Atlantic beach camp. Wherever you are, you will enjoy the warm welcome for which Morocco is renowned.
We generally find that a mixture of hotels, village houses and riads works well for most family holidays to Morocco and allows you to enjoy a variety of both accommodation and locations. We should also point out that Morocco hotels are very accommodating for family groups as many offer spacious suites or large rooms with day-sofas which can be converted into beds for smaller children. Parents will also appreciate the lush, central courtyards for an evening nightcap whilst little ones slumber safely nearby.
What is a typical Moroccan hotel like?
One of our all-time favourite places to stay in Morocco is La Roseraie in Ouirgane. This gorgeous retreat is nestled in the foothills of the Atlas Mountains, only an hour from Marrakech but a world away from its riotous streets and frenetic pace of life. At 1,000 metres, it offers respite from the summer heat and a mild climate in the winter. Rooms, sumptuously decorated with traditional décor, open onto patios surrounded by extensive gardens full of rose bushes and fruit orchards that attract many birds and butterflies.
This really is an idyllic sanctuary where you can enjoy local delicacies and French cuisine in the rustic dining room or Moroccan lounge. Take a walk through the Ouirgane Valley, enjoy traditional Berber hospitality in one of the nearby villages, visit a weekly market or pop into the local hammam. Children will love the three pools and parents will appreciate sipping a tea infusion made from homegrown herbs, sitting in the shade of an ancient olive tree, beneath the rugged peaks surrounding mighty Mount Toubkal, North Africa's highest peak.
How do high-end and mid-range riads compare?
We recommend that all families spend at least a night or two in a riad. The ideal place to do this is in Marrakech, either to start your holiday off in style or finish with flair. Riads offer great value for money – anywhere else around the world accommodation on such a stylish level would fall into the luxury category. However due to sometimes erratic water supplies or lack of 24 hr concierge service, riads of any level offer a wonderful option to experience extravagant surroundings in superb locations at a reasonable price.
Riad Africa
is our favourite mid-range option, although mid-range hardly does this charming hotel justice. Three ancient merchant houses combine to offer two palm-filled courtyards with pools (one of which is heated during the winter months), a juice bar, restaurant (kids' menu available for fussy eaters!) and gorgeous garden roof terrace. Family rooms and suites provide useful configuration options and interconnecting rooms offer parents privacy and a pleasant place to enjoy some mint tea whilst the children are asleep. In a superb location with the main Djemma al Fna Square only 5 minutes away, Riad Africa allows for a tranquil retreat from the hubbub of the streets outside.
If you have a higher budget, we recommend the Dar el Souk, on the doorstep of the main square. Eight rooms surround a plunge pool set in a leafy courtyard and there are plenty of places to sit on a sun lounger beneath the shade of a fruit tree and recover from a bartering session in the souk. Enjoy breakfast or dinner under the stars on the beautiful terraces of this traditional Moroccan family house.
For a real treat you could look at La Sultana. A member of the Small Luxury Hotels of the World, La Sultana offers all the facilities of a first-class hotel in riad surroundings, including a heated pool, spa, gym and games room. Top quality dining can be enjoyed on its panoramic terraces and air-conditioned rooms include king-size beds, free WiFi and, for those moments on a family holiday when home comforts are required, TV/DVD and Ipod stations. A ten-minute walk from Djemma al Fna, La Sultana is a taste of luxury well worth splurging out on for the last few days of your trip.
These are just a few examples of places to stay in Morocco that past travellers have loved. All our holidays are tailor-made, so once we have found out a bit more about you and your family, we will suggest places that will suit your family, bearing in mind the ages and interests of your children.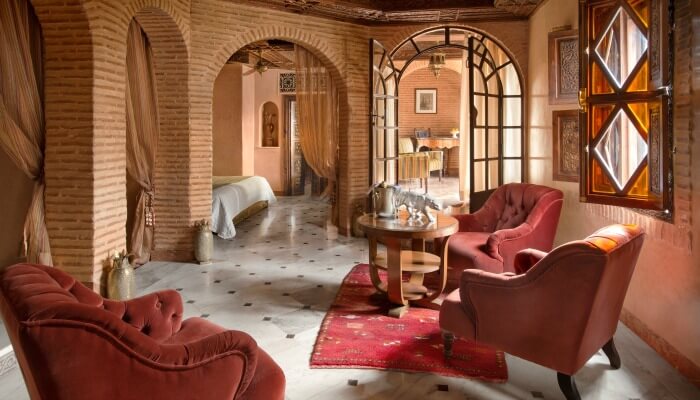 Call us and we will be happy to provide you with a free-of-charge no obligation itinerary and quotation designed for you.

Talk with our friendly team about your family travel needs.