One of the great joys of travelling in Vietnam is the superb customer service that you receive in the many hotels, particularly when travelling with children. Staff will bend over backwards to help you with whatever you need (whether that is a DVD for older children who want a movie night in or a special breakfast for a fussy toddler) and nothing is too much trouble. There are some wonderfully atmospheric high-end hotels packed with colonial charm and old-world elegance but Vietnam also has a number of really top-notch mid-range hotels that offer real comfort and exceptional value for money.
So what is a typical Vietnamese hotel like?
One of our favourite hotels is the Pu Luong Retreat, nestled in a magical hillside location deep in the mountains of the Pu Luong Reserve about 4 hours from Hanoi. Each of the beautifully decorated rooms is built in sympathy with the local surroundings – one even has a tree growing through the centre to avoid having to cut it down!
There is a wonderfully enticing infinity pool, a small bamboo pavilion built above the fishpond (which is a great place to read a book) and an attractive restaurant with chunky wooden tables where you can tuck into a seriously delicious dinner. However, the big drawcard of this hotel are the sweeping views over the terraced paddy fields to the mountains beyond. There surely is no better view in Vietnam!
How do high-end and mid-range hotels compare?
When we prepare an itinerary for you in Vietnam we will take into account your budget and will be able to suggest a range of hotels to suit. Families who want a bit of a splurge can enjoy beautifully renovated colonial mansions whilst those on a tighter budget can enjoy clean and comfortable accommodation either in simple hotels or sometimes staying with local families.
The charming town of Hoi An provides the perfect place to illustrate the different levels of accommodation. Those on a tighter budget will enjoy staying at the friendly Betel Garden Villas, a lovely small hotel with just a handful of rooms, set in a small compound with lovingly tended gardens.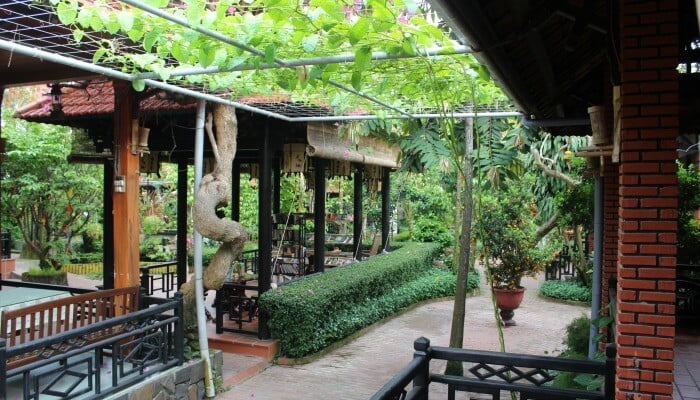 There is a small pool but it is big enough for everyone to cool off in the middle of the day. Also the hotel have a number of bikes that you can borrow if you want to cycle the short distance into town or out to the beach. Rooms are immaculate and there are large family rooms for people travelling with younger children who all want to be in together. The staff are delightful and the food is delicious, making this an excellent base to explore the region.
Those seeking a bit more comfort will love the Boutique Hoi An Resort located right on the beach a few km outside Hoi An. You enter the hotel through its large open sided lobby, the winds coming in off the sea beyond. There is a wonderful pool (and a mini pool for toddlers) that you will struggle to entice the children out of but if you can, it is just a few steps to the sea.
There are nearby beach cafes where you can sit barefoot in the sand enjoying a delicious plate of fresh calamari or fried noodles before wandering back along the sand to the hotel, past the odd fisherman. Rooms are spacious and deliciously cold (perfect if you need to retreat from the heat), there is a breakfast buffet to die for and the staff could not be more attentive. There is also a frequent shuttle into Hoi An if you decide to swap the beach for an evening wander along the lantern-lit streets of town.
These are just a few examples of places to stay in Vietnam that past travellers have loved. All our holidays are tailor-made, so once we have found out a bit more about you and your family, we will suggest a range of properties that we think will suit you best. Get in touch for firsthand advice on all aspects of family travel to Vietnam.

Call us and we will be happy to provide you with a free-of-charge no obligation itinerary and quotation designed for you.

Talk with our friendly team about your family travel needs.