Lakes, Falls and Cities of Ontario
This wonderful self-drive itinerary mixes urban buzz and Niagara Falls with plenty of time spent in the Great Outdoors. Start in the vibrant city of Toronto before heading to Niagara to make a splash at the world-famous falls. From here, travel east along Lake Ontario to visit the gorgeous 1000 Islands and on to the nation's capital, Ottawa.
Next up is a 5-day wilderness trip into Algonquin Provincial Park, combining canoeing and camping with hiking and wildlife-spotting from a cosy log cabin. Finish up at the Blue Mountains where the whole family will be kept busy with the huge variety of adventure sports.
This itinerary is designed to keep driving days and locations to a minimum whilst including plenty of outdoor activities. A slightly revised itinerary can also be enjoyed in the winter.
Highlights
  View Toronto from the CN Tower
  Get soaked at Niagara Falls
  Cruise or kayak the 1000 Islands
  Discover Ottawa's quaint charm
  5-day Algonquin wilderness safari
  Family fun at Blue Mountain
15 days from £1,750 pp
Plus international flights from £450
A two-week holiday in Ontario for a family of four usually costs from £7,000 to £10,000 plus flights and eTAs, depending on type of accommodation.
Lakes, Falls and Cities of Ontario day-to-day itinerary
Day 1 Toronto

Welcome to Toronto – Canada's most multi-cultural and vibrant city. If energy levels permit, spend the evening wandering around the pedestrianised Distillery District. This is a converted warehouse area full of independent boutiques and family-friendly restaurants.
---
Day 2 Toronto
A full day to explore. Perhaps start your day with a visit to the CN Tower, the third tallest building in the world. Whizz up 550m in a glass-fronted elevator and hold your breath as you take a walk along the glass floor. Older children will enjoy taking the harnessed Edgewalk around the roof.
Back on solid ground there are endless things to do. Sports fans can visit the Hockey Hall of Fame or the architectural icon of the Rogers Centre. This is home to the major league baseball team, the Toronto Blue Jays. Shopaholics will enjoy getting lost in the landmark Eaton Centre or descending beneath the ground to explore a network of 18 miles of shops and restaurants (much needed in the Canadian winter). Or simply hop on a streetcar and nip between such neighbourhoods as Little Italy, Koreatown and Little Portugal.
In the evening you will face a hard decision – dim sum in Chinatown, kebabs in Greektown, some delicious pasta al fresco in upmarket Yorkville or fresh fish down at the harbour-front. A wonderful way to start your Ontario family holiday!
---
Day 3 Niagara Falls
This morning head west to the Niagara Peninsula; in just 2 hours you will find yourself gasping in awe at one of the world's greatest falls. Consisting of three waterfalls shared between Canada and America, Niagara Falls produces the highest flow rate of any waterfall in the world. It's enough to fill 70 swimming pools per minute!  The noise is incredible and the spray it throws up into the air can be seen for miles. Experience the falls from the river on the Hornblower cruise, or perhaps by zipline, helicopter or from the top of the Skylon Tower.
After being surrounded by so many adrenalin-filled options (and to be honest, utter commercialisation), it is a relief to take the scenic drive along the Niagara Parkway to 'Canada's Prettiest Town' – Niagara on the Lake.  Here picturesque boutiques and colonial houses make a delightful contrast to the neon glitz of the falls area. The region is also home to some of the country's best vineyards so sample a glass of the local 'icewine'.
---
Day 4 Gananoque & 1000 Islands
Today you will make your way to Gananoque, on the St Lawrence River. Highly recommended is the backcountry scenic route that takes you through picturesque farmland and wineries. This area is well known amongst foodies, so perhaps stop along the way to buy some local specialities and find a beautiful spot for a picnic.
Also worth a stop is Kingston, a historic city situated on the St Lawrence River and full of grand 19th Century buildings.
---
Day 5 Gananoque & 1000 Islands
Gananoque is a charming waterfront town and the gateway to the beautiful 1000 Islands. This network of tiny forested islands (actually well over 1,000!) are home to tiny waterfront cottages, private mansions and imposing castles. Active families will enjoy taking a guided kayaking tour around the islands, stopping off in a secluded spot for lunch and a swim off a sandy beach. Others will enjoy a boat cruise, passing Millionaire's Row and the 1000 Islands International Bridge which spans Canada and the USA. Perhaps enjoy a brief foray into America with a stop at historic Boldt Castle with its magnificent Italian gardens and striking stonework (passports and ESTAs required).
Read MoreRead Less
---
Days 6-7 Ottawa
Following the Rideau Heritage Route, full of charming towns with plenty of picnic spots, you arrive at the nation's unassuming capital. Ottawa is an utter delight, its low-key ambience a complete contrast to Toronto's busy streets. You can witness the Changing of the Guards ceremony on Parliament Hill or take a city tour with a difference on an 'Amphibus'. Spend a relaxing afternoon strolling along the Rideau Canal or for a dose of excitement take a white water rafting tour on the river just minutes from downtown.
In the evenings, Ottawa's multi-cultural scene comes to life. Head to the lively ByWard Market, a historic farmers' market by day and popular evening venue by night. Here the pedestrianised cobbled streets are lined with outdoor bars, live music venues and a mouth-watering variety of restaurants.
---
Days 8-11 Algonquin Park Wilderness Experience
It's time to experience Canada's wilderness, in Algonquin Provincial Park. With 2,400 lakes and 750 miles of rivers, this was the first of Ontario's protected parks. It provides a superb setting for your taste of true Canadian wilderness. Whilst the crowds head to the Rockies, you can enjoy peaceful walks through maple and fir forests. Watch beavers and otters frolick in the streams and canoe past moose grazing at the lakeshore. The park is particularly famous for its wolf population. Falling asleep to the sound of their howling cries is an unforgettable part of any family holiday.
The ideal way to enjoy the park is on a 5-day canoe and log cabin expedition. Having met your guide you will load your canoes and head off into this pristine wilderness. On the way you will learn how to paddle and portage (carrying a canoe on your head between lakes – teamwork required!). No experience is necessary and there will also be plenty of time to swim in the clear, fresh water.  You will spend the night under canvas at a scenic camp and enjoy your first meal around the fire. Followed by the pre-requisite roasting of 'S'mores' of course…
The next day is spent paddling further into the wilderness, hiking, swimming and fishing. There are opportunities to spot beaver, white-tailed deer, mink and moose. You will spend a further night camping out under the stars, baking bannock bread on the fire and listening to tales of legendary Canadian explorers.
After a final morning of paddling, leave your canoes behind and transfer to a cosy log cabin to enjoy a swim, sauna and shower. Kids can learn how to make traditional dreamcatchers whilst parents relax over a cold beer or some wine and cheese on the lakeside sundeck.
The following day is spent hiking to Lookout Bluff for stunning views over mixed-wood forests and lakes. You can also swim at Surprise Lake and enjoy tasty home-cooked food. In the evening, head out on a night wildlife safari in a 26ft canoe. The kids will love the wolf howl session, waiting for the reply to echo back in the haunting wilderness.
---
Days 12-14 Algonquin – Blue Mountains
On your final morning in Algonquin enjoy a hike on Kitchie Island before a BBQ lunch, swim and sauna.  It's then time to head south to the Blue Mountains, set in a picturesque location just outside Collingwood. This is a purpose built resort that is a world away from the Canadian wilderness, but there is an incredible array of family-friendly activities that will thrill the kids.
There's a bike park, a mountain gondala, an aquatic centre with rope swings and waterslides, high ropes, low ropes, ziplines, segways and more. Pack your days with activities and spend your nights feasting on steaks, tacos, burgers, pizzas, sushi and the Canadian favourite, wings. This is a real North American experience.
If you need an escape then head out on the beautiful Bruce Trail (directly from the resort) or rent SUPs at the world's longest freshwater beach at nearby Wasaga.
If Blue Mountain is not your 'thing' then there are numerous options in Muskoka. These range from salubrious log cabins to more boutique-style hotels.  Please discuss the options with us.
---
Day 15 Toronto
It's an easy 2 hour drive back to Toronto for your flight home.

Call us and we will be happy to provide you with a free-of-charge no obligation itinerary and quotation designed for you.
Unparalleled family travel experience
Specialist knowledge across three continents
Hand-picked local partners
Every holiday is tailor-made for you
100% financial protection
24hr emergency contact number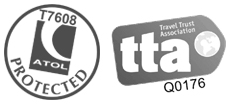 100% Financial
Protection
We are members of the Travel Trust Association, a trade association of Travel Agents, Tour Operators and Travel Organisers that operate trust accounts in order to provide financial protection for the consumer. Membership number Q0176.
Our ATOL number is T7608.