You can't see all of China in two weeks, but this example itinerary ticks off all the main highlights, with the imperial cities of Beijing and Xian, the pandas in Chengdu and the bucolic scenery around Yangshuo. You will also have the chance to get a bit more off-the-beaten-track to visit the dramatic Dragon's Backbone rice terraces where the mountains have been carved into an incredible series of terraces that cascade down the side of the mountain. We can vary any aspect of the itinerary so please call us to find out how this can be customised for your family.
Highlights
  Hike the Great Wall of China
  See the Terracotta Warriors
  Visit the pandas in Chengdu
  Take a scenic boat ride in Yangshuo
  Climb Dragon's Backbone Rice Terraces
15 days from £2,000 pp
Plus international flights from £500
A 2-week holiday in China for a family of four usually costs from £8,000 plus flights.
2-week China Highlights day-to-day itinerary
Day 1 Beijing

When you arrive in Beijing you will be met at the airport by a Stubborn Mule Travel representative who will take you directly to your hotel. The rest of the day is free for you to relax or explore the local area.
---
Day 2 Beijing
After breakfast head to Tiananmen Square and the Forbidden City, the traditional home of China's Emperors. The children will love Tiananmen Square – there are plenty of vendors selling kites, which can be great fun on windy days. In the Forbidden City make sure you ask your guide to take you to some of the smaller side sections that are interesting to explore.
In the afternoon visit the beautiful Temple of Heaven (Tiantan), which is situated in a large shaded park that is brilliant for kids and a great place to explore. Not only is there a playground, but this is where Chinese people hang out to relax; you will find groups ballroom dancing, doing Tai Chi, singing, playing in orchestras or music groups, twirling ribbons and playing bat and ball.  
---
Day 3 Beijing – Great Wall
A full day excursion to the Great Wall. You will visit the section at Jinshanling, which is a bit of a drive from Beijing, but is absolutely spectacular and well worth the effort. It is also far less visited than the sections closer to Beijing, which are always jam-packed with people. Some parts of the wall have been restored but there are many turrets which remain untouched and the views are incredible. The children will love clambering around and exploring all the different sections. The climb onto the walk is relatively steep but there is a bubble-car style chair lift if anyone is feeling lazy.
Later return to Beijing for the night.
---
Day 4 Beijing – Xian
Take the morning bullet train to Xian.
In the afternoon you head to the Big Wild Goose Pagoda, a 7th century tower that you can climb for great views over the city. The pagoda is on the edge of a vast city square which comes alive in the late afternoon and early evening with local families as there is a musical fountain show. You can stay to watch the show, always very popular with children. 
---
Day 5 Xian
A morning visit to the tomb of Qin Shi Huang, the first emperor of China. This includes the Terracotta Warriors, a vast underground army that was built more than 2,000 years ago to protect the emperor in the afterlife. Excavation continues to this day so you will be able to see 'archaeology in action'. Children particularly enjoy the excellent short film which tells the story of the warriors.
You also visit the Hanyang Tombs. These date back to the Han Dynasty (around 220 AD) and are therefore a few hundred years younger than the Terracotta Warriors but are fascinating to visit not only because you can get very close to the exhibits but also because the lack of many other visitors gives the site a very serene and atmospheric ambience.
You end the day in the lively Muslim Markets where you could stay for dinner as there are lots of local restaurants serving up a delicious array of foods; spicy kebabs, stuffed breads and even pigs trotters if you are feeling adventurous!
Read MoreRead Less
---
Day 6 Overnight train
A full day for you to explore Xian. Perhaps take a bike or electric bus around the thick ancient city walls or head to the national museum. Alternatively follow your nose down the backstreets to seek out one of the many dumpling restaurants for which Xian is famous……there is nothing more delicious than a steaming plate of freshly steamed dumplings with a hot dipping sauce!
In the early evening you will transfer to the train station for the overnight train to Chengdu. This departs at 19.45, arriving the following day at 11.50. You will be accommodated in soft sleeper cabins which sleep four people.
---
Day 7 Chengdu
When you arrive in Chengdu you will be transferred to your hotel where you have time to freshen up.
In the afternoon you will have a city tour and will stop in the meandering alleyways of Old Chengdu where the streets are strung with red lanterns and packed tea shops spill out onto the street. Chengdu is famous for its tea shops so perhaps stop for a freshly brewed pot of Sichuan tea before finding a restaurant to sample the region's famously spicy and delicious cuisine.
---
Day 8 Chengdu
A morning visit to the Panda research centre on the outskirts of Chengdu, when the animals will be at their most active. The centre is wonderful and the children will love watching the pandas. This is an active breeding centre and if you are lucky you may see baby pandas.
The afternoon is free for you to further explore Chengdu on your own.
---
Day 9 Chengdu – Guilin – Yangshuo
Transfer to the airport for a flight to Guilin. When you arrive you drive (around 90 minutes) to Yangshuo where you will spend three nights in a lovely countryside hotel in a dramatic location with fabulous views over the surrounding scenery.
---
Day 10 Yangshuo
This morning you will take a bike ride along peaceful trails that cut through the the heart of this beautiful landscape. Along the way you will pass meandering rivers, lush green paddy fields tended by farmers in conical hats and dozy waterbuffalo wallowing in the shallows. There are traditional stone villages and you can stop for lunch with a local family in their home.
In the afternoon relax at your hotel or perhaps hire a giant inner tube and float down the river.
---
Day 11 Yangshuo
Today you have a free day. If you would prefer for us to include an excursion we can arrange a visit to some nearby caves or a hike through the countryside.
Alternatively perhaps take a short taxi ride into the town of Yangshuo, a treasure trove of small shops, cafes and lively markets. There are also many classes on offer in the area, including fan painting, calligraphy, tai chi, basic Chinese (and many more), so if you like the sound of any of these we could arrange this for you.
---
Day 12 Yangshuo – Dazhai
This morning you drive through spectacular mountain scenery to Dazhai (about 4 hours). Here the entire mountainside has been carved out into steep terraces over past centuries, each terrace holding a tiny field of rice. Traditional stone villages dot the landscape, connected by large stone slabs and you can take wonderful hikes in any direction.
This afternoon your guide will accompany you on a hike to a superb viewpoint. 
---
Day 13 Dazhai
A full day to explore the area around Dazhai, taking a hike into the hills around the village. If you are not feeling active you can grab a pot of freshly brewed tea and find a quiet spot to just drink in the views.
---
Day 14 Dazhai – Guilin – Beijing
After breakfast transfer to Guilin for a flight back to Beijing to connect with your onward flight.

Call us and we will be happy to provide you with a free-of-charge no obligation itinerary and quotation designed for you.
Unparalleled family travel experience
Specialist knowledge across three continents
Hand-picked local partners
Every holiday is tailor-made for you
100% financial protection
24hr emergency contact number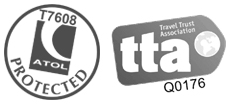 100% Financial
Protection
We are members of the Travel Trust Association, a trade association of Travel Agents, Tour Operators and Travel Organisers that operate trust accounts in order to provide financial protection for the consumer. Membership number Q0176.
Our ATOL number is T7608.