Morocco Family Short-Break
This short trip is ideal if you only have a week, but want a taste of the exotic. It combines an enticing mix of Marrakech, the High Atlas Mountains, the remote striking landscapes of the Agafay Desert and the seaside town of Essaouira.
Highlights
  Night market in Djemaa al Fna
  Hike in the High Atlas
  Lunch with a Berber family
  Overnight in a desert camp
  Camel ride in the desert
  Explore Essaouira's bazaar
8 days from £1,250 pp
Plus international flights from £150
An 8-day holiday in Morocco usually costs a minimum of £5,000 based on comfortable mid-range boutique hotels or riads (some with pools) excluding international flights.
Morocco family short-break day-to-day itinerary
Day 1 Marrakech

Upon arrival at the airport, you will be met by a Stubborn Mule Representative and transferred to your hotel in the heart of Marrakech's old city.  The rest of the day is free for you to relax or start to explore.
Marrakech is wonderfully exotic city, the bustling twisting streets enticing you in and surrounding you with scenes straight from the storybooks. The cobbled streets are lined with stalls piled high with ornate silverware, mounds of spices, intricately etched leather goods, embroidered slippers and much more.
You can spend hours wandering through the markets (don't worry if you get lost, the stall-holders will always point you in the right direction when needed). Stop for a glass of freshly squeezed orange juice or a mint tea, and perhaps a plate of tagine or a snack of lemony olives. Catch a glimpse of gorgeous mansions hidden behind carved wooden doors, tiny mosques squeezed into narrow alleyways, boutique galleries and steaming hammans.
---
Day 2 Marrakech
This morning your guide will take you on a walking tour of Marrakech. This will finish in a rooftop restaurant where you will enjoy a delicious lunch.
The afternoon is free for you to further explore by yourselves. Children will enjoy a caleche (horse and buggy) ride around the old city or you could visit the beautiful Jardin Majorelle.
In the evening make sure that you head to the night market in Djemaa al Fna, Marrakech's great square. This comes to life in the evening, with a huge food market where you can sit down at a long table and tuck into a plate of calamari, piping hot flatbread, spicy kebabs and delicious salads. There are old Berber ladies keen to draw a henna tattoo on your arm, snake charmers who will drape a snake around your neck before you know it and colourful water-carriers asking to have their pictures taken.
---
Day 3 Marrakech – Imlil
After breakfast your driver will pick you up and take you into the High Atlas Mountains, to Imlil. You will spend two nights in a small hotel with beautiful views of the mountains. This afternoon perhaps take a wander into the village of Imlil or walk to the waterfall in the hills above the town.
---
Day 4 Imlil
A beautiful day out in the countryside on either a walk or a mule ride into the foothills of the Atlas Mountains. Follow quiet trails through villages, passing small terraced fields of fruit trees (a riot of colour in spring), old stone houses and gushing rivers. You will stop for lunch with a local Berber family, feasting on freshly cooked flatbreads and hot sweet mint tea.
The length of the excursion can be varied depending on the ages of your children; many families find that it works well for the parents and older children to walk and then get a mule for younger children. They don't need to ride all the time and you can 'mix and match' so that all the family can have a turn on the mule if of interest.
If you are interested, we can alternatively arrange an overnight trek into the Atlas mountains, spending the night in simple accommodation in a Berber village. Please let us know if this is of interest.
Read MoreRead Less
---
Day 5 Imlil – Agafay Desert
After a leisurely breakfast, your driver will take you across scenic rocky plains into the Agafay Desert to spend the night in a desert camp. Although quite close to Marrakech, the Agafay Desert feels a world away and gives you a real sense of the empty vastness of this country. You will spend the night in a camp in the heart of the desert, against a scenic backdrop of mountains.
After an afternoon by the pool, take a camel ride into the desert to enjoy the sunset.
---
Day 6 Agafay Desert – Essaouira
This morning your driver will take you to the seaside town of Essaouira.
Situated on a vast bay on the Atlantic coast, Essaouira is a beautiful town of white-washed buildings encircled by thick stone battlements. The town used to be a pirate's hideout but today the streets are home to a thriving community of artisans. Wander along narrow streets lined by white buildings with characteristic blue doors that open into small galleries and attractive cafes. Also make sure that you explore the lively harbour, always a hive of activity. Watch the fishermen bringing in the day's catch, and sample the fresh fish, cooked immediately on a sizzling barbeque at one of the harbour stalls.
---
Day 7 Essaouira
A full free day to explore the harbour, wander along the beach and shop for gifts in the souk.
---
Day 8 Essaouira – Marrakech
Today you will be transferred directly to Marrakech airport for your flight home.

Call us and we will be happy to provide you with a free-of-charge no obligation itinerary and quotation designed for you.
Unparalleled family travel experience
Specialist knowledge across three continents
Hand-picked local partners
Every holiday is tailor-made for you
100% financial protection
24hr emergency contact number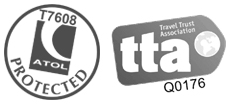 100% Financial
Protection
We are members of the Travel Trust Association, a trade association of Travel Agents, Tour Operators and Travel Organisers that operate trust accounts in order to provide financial protection for the consumer. Membership number Q0176.