Starting in one of Europe's most exotic cities, this journey across Turkey will give your family a real insight into the highlights of this intriguing country. The alluring city of Istanbul, with its imposing mosques, chaotic bazaars and historical sites is your introduction to Europe-meets-Asia.
A short flight brings you to the fascinating 'other-worldly' landscape of Cappadocia with its fairy-tale chimneys and weird rock formations. There are plenty of activities here before you head for the lush coastal scenery of the Mediterranean, along the Turquoise Coast. Enjoy blissful Mediterranean swims to round off an all-encompassing Turkish family holiday.
Highlights
  Souvenir hunt in the Grand Bazaar
  Hike the valleys of Cappadocia
  Sleep in a cave hotel!
  Trek the Lycian Way to Mt Olympos
  Swim the blue lagoon of Oludeniz
  Canoe sunken ruins from Kekova
  Loggerhead turtles at Dalyan
15 days from £1,500 pp
Plus international flights from £250
A two-week holiday in Turkey for a family of four usually costs from £6,000 to £8,000 plus flights, depending on type of accommodation, and if you self-drive for a section.
Highlights of Turkey day-to-day itinerary
Day 1 Istanbul

Welcome to one of the world's most magical cities, with its iconic skyline of mosques and minarets, straddling both Europe and Asia. The sights and sounds of the city will fascinate children – who can forget the first time you hear the haunting sound of the muezzin (call to prayer)…
You will be met and transferred to your hotel with free time this evening to indulge in the first of many mouth-watering Turkish meals. We find that kids love the wonderful variety of meze, kofte meatballs and doner kebabs and of course no meal is complete without the traditional finale of sweet baklava.
---
Day 2 Istanbul
Your guide today will take you on an unforgettable walking tour to all the major sights of the Sultanahmet quarter of this great city.  Head to the Topkapi Palace, which was the opulent residence of the Ottoman Sultans. The guide will keep children fascinated with stories from history so they can really feel the atmosphere of past centuries – what was it like to be a sultan, how many jewels can you count in the Treasury and just what is a harem?! There are also plenty of open courtyards and gardens for kids to let off steam.
After a break for lunch you will walk through a lovely alleyway full of Ottoman Houses to Hagia Sophia, once one of the largest and finest buildings in the world.  When you are inside, you will appreciate the ability of the architects and their vision, even back in the 6th century when this was the largest church in all of Christendom.
From here you will continue to the iconic Sultanahmet Mosque. Built by Sultan Ahmed 1 in 1616. Once inside, you will be surrounded by magnificent 17th Century handmade blue Iznik tiles – and understand why they call this grey building, the 'Blue' Mosque.
Then finally you get to go shopping – at the famous Grand Bazaar. Just wandering its narrow alleyways with theirincredibly lively atmosphere is an experience in itself.  From fake designer wear to exotic fruits and colourful spice displays – children will be wide-eyed at all the goods on sale. Barter away the pocket money buying that perfect holiday souvenir.        
---
Day 3 Istanbul
Today you hop from Europe to Asia! Children will love the ride on one of Istanbul's local ferries from the historical Golden Horn across the Bosphorus to the Asian quarter of Kadikoy. Here you will explore this eclectic district on foot by walking through Bagdat Avenue with its boutiques and colourful shops. You can then enjoy lunch here at a local restaurant – try catch of the day from the Kadikoy fish market.
Another ferry ride brings you back to the European side and Besiktas where you will board a shared taxi (Dolmus) to Taksim Square. Here your guide will lead you along the beautiful baroque Istiklal Street, the busiest street in Istanbul. Kids will love the entertaining ice-cream vendors (and their produce!) and a ride on a vintage red tram is an absolute must. Wind your way back to Karakoy and finish the tour this evening by the Galata Bridge – lunch in Asia, dinner in Europe!
---
Day 4 Istanbul – Cappadocia
Today you will be transferred to the airport for your domestic flight to Kayseri/Nevsehir. Your guide will meet you and transfer you to your hotel in the traditional riverside town of Avanos where they will discuss all the exciting options for your time in Cappadocia.
Avanos is a quiet, low-key town and a useful base from which to explore the main highlights of Cappadocia whilst offering a pleasant escape from the busier tourist hubs of Goreme and Uchisar. Meander the steep alleyways that climb through the town centre, lined with grand Greek-Ottoman mansions. Tour one of the many pottery workshops the town is famous for then descend to enjoy a stunning sunset overlooking the Red River.
Your hotel has some beautiful subterranean suites so tonight you will get to sleep in a cave!
---
Day 5 Cappadocia
Time to explore the most famous sites of Cappadocia. Both overground and underground, the weird and wonderful whimsical rock formations of Cappadocia have been shaped by wind, water and volcanoes over the centuries. Both natural sights and man-made rock-hewn churches and even entire underground cities, have to be seen to be believed!
Time to stretch the legs on a fascinating trek through Pigeon Valley, enjoying an ever-changing vista of cave dwellings, ancient rock paintings and impressive rock formations. You will then visit Pasabag, which is famous for its triple headed fairy chimneys (created by nature NOT fairies!). In the scenic Zelve Valley you can enjoy lunch in the shade of the cliffs and ancient walnut trees.
At the stunning Goreme Open Air Museum you will explore the finest collection of rock-hewn churches from the Byzantine era. Colourful frescoes provide a lovely contrast to the white sandstone surrounds. Head below ground at Kaymakli Underground City, the largest of the 36 underground cities they have discovered – so far…. Used initially as storage for animals and crops during the winter, they were developed as safe shelters during times of war and persecution.
After all this dusty exploration you will then take part in an age old ritual that only the Turks have developed and made part of their culture, the Turkish Bath or Hammam. This ritual will take around 45 minutes and you will emerge a new person after sweating, being pummelled and cleansed from head to foot. Kids will think this is hysterical – parents will never look at a sauna or massage in the same light again….
This evening it is time for a further traditional Turkish experience with a choice of either a Folklore or Whirling Dervish show. Enjoy typical local delicacies and drink whilst watching the entertainments and rituals – which will leave your head spinning.
Read MoreRead Less
---
Day 6 Cappadocia
This morning you have the option to rise early – and rise into the skies on a hot air balloon trip (minimum age 6yrs). No place on earth compares to Cappadocia when it comes to ballooning. The unique terrain allows experienced pilots to navigate through small valleys and ascend to dizzying heights. An unforgettable experience.
For the rest of the day we can arrange horse-riding, biking or further trekking through the many picturesque valleys.
The name Cappadocia probably derives from the Persian "Katpatukya", meaning "the land of the beautiful horses". So time spent on horseback exploring this mesmerising scenery seems apt. Ride among the fruit orchards and vineyards, winding up through the volcanic hillside, passing many beautiful fairy chimneys and churches along the way. From the Swords and Meskendir Valleys, you will enjoy breathtaking views from mountaintops and unique landscapes in every direction.
Alternatively, for those that prefer two wheels to four legs, we can arrange for an exciting mountain biking expedition.  Depending on ability, your route can include the lush Zemi Valley, the impressive Church of Columns in Rose Valley, the Church of St John the Baptist and the hilltop overlooking Goreme.
Two legs is also an option with lots of hiking routes including exploring Uchisar castle (great for younger kids), trekking deeper into Love Valley with its phallic-shaped rock formations (cue lots of giggling for older kids) and scrambling through the many caves and rock tunnels of Monks Valley. In Devrent Valley, rock formations are shaped like a variety of animals and mystical creatures – let your imagination go wild kids!
After a day out, immersed in the stunning Cappadocian landscapes, you will be driven to a viewpoint to drink in the gorgeous pink hues of the sun setting on the rose-red rocks – a feast for both camera and memory to capture.                
---
Days 7-8 Konya – Turquoise Coast
After a leisurely morning, you will make your way to Konya, the religious heart of Turkey by either hire car or transfer (3hrs). Konya mixes traditional architecture with labyrinthine market streets and modern shopping malls. It is a useful overnight stop to recharge the batteries (and replenish the snack bag). The next day you will enjoy a very scenic drive across the Taurus Mountains to Antalya on the Turquoise Coast (4hrs). Antalya is known as the jewel of the Turkish Mediterranean and is the perfect place for a lunch stop with its ancient Roman harbour, surrounded by Byzantine and Ottoman ruins.
Your base for the first few nights is the delightful seaside resort of Cirali, 1.5hrs from Antalya, situated at the end of a quiet valley that gently winds its way to the sea. During summer months it is also the nesting place for loggerhead turtles, which you may be fortunate enough to spot. Cirali has a beautiful beach which will no doubt be the first place the kids want to head to. Swap dusty walking shoes for flip-flops and dive into the crystal-clear aquamarine waters of the Mediterranean.
---
Days 9-10 Cirali – Mt Olympos
Two full days to relax and start enjoying the delights of the Turquoise Coast. We recommend a day at the beach – hey, it's 3.5km long so there will no fighting for space. There are plenty of wooden, beachfront cafes to enjoy the views out over the Mediterranean and with a backdrop of peaceful forest and orange groves this is the ideal place to relax.
For those looking beyond the beach, a really fun half-day adventure is the gentle walk along the coast to the ruins of the ancient city of Olympos, picturesquely nestled deep in the forested hills. From here you can form a great little loop heading back to Cirali via the mysterious Chimaera site where flames from underground gases spew into the sky. Best viewed at sunset, these fires have literally been burning for thousands of years. Kids will love hearing ancient historical tales regaling this as a mythological beast!
For your second day, the challenging but rewarding hike up Mount Olympos (2,366m) is a must. The mountain (also known as Mount Tahtali) is the highest in the vicinity and a popular feature of the Lycian Way, Turkey's first long-distance walking trail. From the summit, the stunning turquoise waters of the Mediterranean Sea stretch as far as the eye can see on one side with the forested peaks of the Olympos Bey Mountains on the other. There is also the Sea to Sky cable car option – although we prefer stretching our legs. Descend for a well-earned dip in the sea.
---
Day 11 Kekova – Kas
Today you will drive to Kekova (2hrs) to enjoy an exciting canoeing adventure. Kekova is famous for its offshore sunken underwater ruins. Enjoy paddling the gorgeous tranquil turquoise waters of this 'Environmental Protection Area' with its sheltered bays and pristine scenery. The ruined city of Dolikhiste lies just beneath the water off Kekova Island and is best viewed up close from your canoe. Swimming is not permitted near the ruins but there will be other opportunities to enjoy these crystal clear waters. Afterwards you will continue to nearby Kas (30mins).
Kas is one of the Turquoise Coast's most popular seaside resorts and well known for diving, snorkelling, ancient ruins and rock tombs. It has a lively atmosphere and there are endless dining opportunities at the many harbour front tavernas. 
---
Day 12  Kas
A free day to enjoy Kas. There are canyoning options in the nearby Kibris Canyon (one of the most impressive in the Taurus Mountains) or you can stick to the coast and enjoy a gentle walk through the olive groves to Limanagzi Beach (90mins) returning by water taxi. Alternatively, head to the beautiful beach at Kaputas where the colour of the water is a stunning emerald/turquoise. Mountain biking is also available – or you can pop into Greece for the day, taking a boat to the nearby Greek island of Meis. 
---
Day 13  Kakayoy – Oludeniz – Fethiye
A scenic drive along the coast takes you past the gorgeous beach of Patara before winding up towards Saklikent National Park, home to one of the world's deepest canyons. Head to the ghost village of Kayakoy (2hrs). Kayakoy used to be a thriving town but was deserted during the mass population exchange between Greece and Turkey in 1923. Children will love wandering the deserted streets, where they will be able to experience a traditional Turkish town in a somewhat eerie location.
After exploring Kayakoy, you will enjoy trekking one of the most scenic parts of the Lycian Way, following the rugged coastline to the famed beach of Oludeniz (approx. 3miles/2 hours). We find that even the most reluctant of young trekkers embrace a walk if there's a beach at the end! The undulating path climbs steep hillsides and makes its way through thick, shaded forest. Lunch (as well as some stunning views) will be enjoyed en route. There is then a final descent to Oludeniz. This beach, with its curving white sand divides the turquoise sea with the lush, pine-forested hills. This kaleidoscope of colours has made Oludeniz one of the most photographed beaches in Turkey and it is often listed as one of the top beaches in the world. Oludeniz translates to 'Blue Lagoon' and it is also known as the Dead Sea due to its calm, protected location. Snorkelling is particularly recommended here due to its crystal clear water and rich underwater caves and fauna. There will be plenty of time to enjoy its delights before heading to the nearby harbour-front resort of Fethiye.
---
Day 14 Fethiye – Dalyan
Fethiye is a delightful spot to end your Turkey family holiday. The old town is the perfect place to pick up a Turkish carpet and master those haggling skills. Sip a Turk Kahvesi (Turkish coffee) in colourful 'Umbrella Street', climb up to the rock tombs for stunning views over Fethiye marina, hop on a famous '12 Island Cruise' and watch the evening luminous fountain show (summer months only).
Or you could enjoy a day trip to nearby Dalyan where kids will love getting soaked in the mud baths, exploring the ancient ruins of Kaunos and cruising the Dalyan River past the Lycian rock tombs. From May to November you can also view the loggerhead turtles (known locally as Caretta Caretta) that come to nest at Iztuzu Beach. Return to Fethiye for one last night.
---
Day 15 Dalaman
Drive to Dalaman (45mins) for your flight home (or Antalya 4hrs). There are also options to extend your journey with a drive to the natural wonders of Pamukkale (3hrs), a series of dazzling calcified limestone terraces. Or on to the ancient city of Ephesus.

Call us and we will be happy to provide you with a free-of-charge no obligation itinerary and quotation designed for you.
Unparalleled family travel experience
Specialist knowledge across three continents
Hand-picked local partners
Every holiday is tailor-made for you
100% financial protection
24hr emergency contact number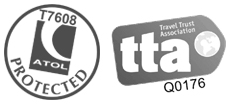 100% Financial
Protection
We are members of the Travel Trust Association, a trade association of Travel Agents, Tour Operators and Travel Organisers that operate trust accounts in order to provide financial protection for the consumer. Membership number Q0176.