Turquoise Coast Adventure
Enjoy the best that the Turquoise Coast has to offer on this varied and fun-filled family adventure! Mix white-water rafting with hiking the Lycian Way. Ascend Mount Olympos then descend for a well-earned dip in the Med. Explore ancient ruins on land, then head to the water to canoe over sunken cities. Enjoy charming seaside resorts and community interaction at a peaceful mountain village homestay. With lots of swimming opportunities, this wonderful 10-day trip, which can be taken on a self-drive or guided basis, will give you a fantastic taste of Turkey.
Highlights
  White-water rafting
  Hike the Lycian Way to Mt Olympos
  Kayak over sunken city of Kekova
  Rural mountain homestay
  Lively harbour life at Kas & Fethiye
  Explore the ghost town of Kayakoy
  Enjoy plenty of swimming time!
10 days from £1,000 pp
Plus international flights from £250
A 10 day holiday in Turkey for a family of four will start from £4,000 plus flights, based on self-drive. If you have a driver, the price will increase.
Turquoise Coast Adventure day-to-day itinerary
Day 1, Antalya

Arrive in Antalya, known as the jewel on the Turkish Mediterranean. Its cobblestone streets are enclosed by the waterfront on one side and the spectacular Taurus Mountains on the other. The old city contains Seljuk, Byzantine and Ottoman ruins and is based around an ancient Roman harbour. Highly recommended if time permits, is a visit to the Antalya Museum, one of the best museums in Turkey.
This evening you can enjoy your first taste of delicious Turkish cuisine. We find that kids love the wonderful variety of meze, kofte meatballs and the ubiquitous doner kebabs. Of course no meal is complete without the traditional finale of sticky sweet baklava.                   
---
Day 2, Koprulu Canyon Rafting
Start your Turquoise Coast adventure off with some white-water fun! Koprulu Canyon National Park has a dramatic mountain backdrop and is one of the most beautiful in Turkey. The canyon is 400m deep in places and stretches for 14km along the Koprucay River, well known for its superb white-water rafting expeditions. Your rafting trip will take you through this stunning canyon with its sheer sides soaring above you on either side. You will pass under aqueducts and Roman bridges that were considered great engineering feats of their time and also enjoy lunch in this scenic setting. Return back to Antalya feeling thoroughly refreshed and exhilarated.
---
Day 3, Mount Olympos Hike
Begin your journey along the coast with a short drive to the low-key beachside town of Cirali, famed for the ancient Lycian ruins of Olympos and nesting site for turtles during the summer. This afternoon you will take the challenging but rewarding hike up Mount Olympos (2,366m). The mountain (also known as Mount Tahtali) is the highest in the vicinity and is a popular feature of the Lycian Way, Turkey's first long-distance walking trail. From the summit, the stunning turquoise waters of the Mediterranean Sea stretch as far as the eye can see on one side with the forested peaks of the Olympos Bey Mountains on the other. There is also a cable car option – although we prefer stretching our legs! Descend for a well-earned dip in the sea.
Near Cirali, there is a mysterious Chimaera site where flames from underground gases spew into the sky. Kids will love hearing ancient historical tales regaling this as a mythological beast!
---
Day 4, Kekova Sunken Ruins
Today you will enjoy an exciting canoeing adventure at Kekova, famous for its underwater ruins. Enjoy paddling the gorgeous tranquil turquoise waters of this 'Environmental Protection Area' with its sheltered bays and pristine scenery. The ruined city of Dolikhiste lies just beneath the water off Kekova Island and is best viewed up close from your canoe. Swimming is not permitted near the ruins but there will be other opportunities to enjoy these crystal clear waters. After lunch, you will continue to nearby Kas.
Kas is one of the Turquoise Coast's most popular seaside resorts and well known for diving, snorkelling, ancient ruins and rock tombs. It has a lively atmosphere and there are endless dining opportunities at the many harbour-front tavernas.
---
Day 5, Kas
A free day to enjoy Kas. There are canyoning options in the nearby Kibris Canyon (one of the most impressive in the Taurus Mountains) or you can stick to the coast and enjoy a gentle walk through the olive groves to Limanagzi Beach (90mins), returning by water taxi. Alternatively, head to the beautiful beach at Kaputas where the colour of the water is a stunning emerald/turquoise. Mountain biking is also available – or you can pop into Greece for the day, taking a boat to the nearby Greek island of Meis.
Read MoreRead Less
---
Day 6, Minare Mountain Homestay
Drive further west along the coastal road with never-ending views of the Mediterranean. You will be able to have a 'swim stop' in one of the beautiful bays en route such as Patara, where you can also visit the nearby ruins of Xanthos. Head inland to the charming mountain village of Minare. Here you will enjoy first-hand cultural interaction by staying with a local family in their home. Enjoy genuine home-cooked cuisine in this simple, friendly mountain setting.
---
Day 7, Minare Trek – Fethiye
Today you will get to experience one of the hidden gems of the Taurus Mountains on a morning trek to the ancient Lycian city of Pinara. The ruins are in a gorgeous hillside location and little visited by most travellers. Surrounded by fragrant pines, olive trees, wildflowers and thyme shrubs, the ruins offer breathtaking views over the Xanthos Valley. After your walk you will enjoy lunch back at Minare and then leave for the short drive back to the coast and the well-known harbour front resort of Fethiye.
Fethiye is an important hub of ancient Turkish history and culture.  It had a rich cultural life in the Hellenistic and Roman periods and is full of monuments, stone tombs and Lycian sarcophagi as well as the Rhodes fortress and the well-preserved Roman amphitheatre. Today it is a bustling tourist hotspot and a convenient base to visit some of the most popular sights of the Turquoise Coast. It is also a useful place to pick up some holiday souvenirs and enjoy a more international cuisine for any fussy eaters out there!
---
Day 8, Kayakoy Ghost Town & Oludeniz Lagoon
A short drive brings you to the ghost village of Kayakoy. Kayakoy used to be a thriving town but was abandoned during the mass population exchange between the Greeks and Turks in the 1920s. Children will love wandering the deserted streets, where they will be able to experience a traditional Turkish town in a somewhat eerie location.
After exploring Kayakoy you will enjoy trekking one of the most scenic parts of the Lycian Way, following the rugged coastline to the famed beach of Oludeniz (approx. 3miles/2 hours). We find that even the most reluctant of young trekkers embrace a walk if there's a beach at the end! The undulating path climbs steep hillsides and makes its way through thick, shady forest. Lunch (as well as some stunning views) will be enjoyed en route. There is then a final descent to Oludeniz. This beach, with its curving white sand divides the turquoise sea with the lush, pine-forested hills.
This kaleidoscope of colours has made Oludeniz one of the most photographed beaches in Turkey and it is often listed as one of the top beaches in the world. Oludeniz translates to 'Blue Lagoon' and it is also known as the 'Dead Sea' due to its calm, protected location. Snorkelling is particularly recommended here due to its crystal clear water and rich underwater caves and fauna. There will be plenty of time to enjoy its delights before returning to Fethiye.
---
Day 9, Antalya / Dalaman
Depending on your departure airport, you can either return to Antalya (approx. 4hrs) where you can enjoy a last chance to swim in the crystal blue Mediterranean. Or enjoy a day trip to nearby Dalyan where you can soak in the mud baths, explore the ancient ruins of Kaunos and cruise the Dalyan River past the Lycian rock tombs. You can also view the loggerhead turtles (known locally as Caretta Caretta), which come to Iztuzu Beach to nest from May to November, returning to Fethiye for one last night before transferring to Dalaman airport the next morning (45mins).
---
Day 10, Antalya / Dalaman
Time to say farewell to the sun, sea and sand of the Turquoise Coast. Depart from either Antalya or Dalaman airport.

Call us and we will be happy to provide you with a free-of-charge no obligation itinerary and quotation designed for you.
Unparalleled family travel experience
Specialist knowledge across five continents
Hand-picked local partners
Every holiday is tailor-made for you
100% financial protection
24hr emergency contact number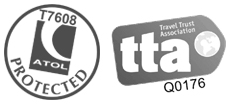 100% Financial
Protection
We are members of the Travel Trust Association, a trade association of Travel Agents, Tour Operators and Travel Organisers that operate trust accounts in order to provide financial protection for the consumer. Membership number Q0176.