Classic California Family Holiday
If you are looking for the classic California family holiday, then this has to be it. Starting in the iconic city of San Francisco, head inland to enjoy some outdoor fun in the Sierra Nevada Mountains at Lake Tahoe. This is followed by time in the equally stunning Yosemite National Park before you hit the coast. Soak up the glories of the Pacific as you drive the Big Sur coastal highway and enjoy the fabulous marine life at Monterey and Carmel.
End your California family holiday in either Santa Barbara with its glorious beaches and gorgeous vineyard valleys or Los Angeles, home to Disney, Universal and Hollywood. It will be like self-driving your family through a movie set!
Highlights
  Cycle across Golden Gate Bridge
  Hike, bike or paddle Lake Tahoe
  Spot bears in Yosemite
  Go whale-watching at Monterey
  Drive the Big Sur coastal highway
  Celeb spot in Los Angeles
  Hit the beach at Santa Barbara
15 days from £2,500 pp
Plus international flights from £600pp
A two-week holiday for a family of four to the USA will usually cost a minimum of around £10,000, plus flights and ESTAs.
Classic California Family Holiday day-to-day itinerary
Day 1 San Francisco

Welcome to the USA! Your California family holiday starts in San Francisco – that most iconic of west coast American cities. In order to help with jetlag, we suggest spending a few easy days here exploring the many sights. We will recommend a comfortable, centrally located hotel to suit your family and budget.
---
Days 2-3 San Francisco
One of the most scenic cities in the US, San Francisco is set against the backdrop of the wide San Francisco Bay and the imposing Golden Gate Bridge. It is home to picture-perfect Victorian terraced houses, painted in pastel colours and flanking steep tree-lined streets. There is also a bustling Chinatown (the oldest in North America).
You have two full days to explore the city. Head down to the waterfront at Fishermen's Wharf to spot sea lions. Wander around the botanical gardens of Golden Gate Park. Grab a coffee in Union Square or take the cable car up the steep, narrow streets for gorgeous views over the city. You can also take a ferry ride to infamous Alcatraz Island.
The city is renowned for its cuisine and there are numerous superb eateries. Choose from a bowl of steaming Chinese noodles, a plate of freshly cooked pasta from a neighbourhood Italian, a sumptuous seafood feast at Pier 39 or a plate of piping hot 'Joe's Special' (a famous local dish).
---
Day 4 Napa Valley
This morning pick up your rental car and drive to Lake Tahoe, in the heart of the glorious Sierra Nevada Mountains. Along the way you can meander through the vineyards of the Napa Valley and perhaps stop to visit a winery. These vary from boutique establishments to national treasures such as Robert Mondavi and Beringer. Just be warned there are over 400 to choose from!
You can also enjoy a stroll around the historic, picturesque town of St Helena. Another option is to bathe in the hot springs and mud baths at Calistoga before heading on to the mountains and Lake Tahoe.
---
Days 5-6 Lake Tahoe
The largest alpine lake in North America, Lake Tahoe is an outdoor enthusiast's paradise. The beautifully clear blue waters of the lake lap against the rocky shores, beneath a stunning mountain backdrop. This will be a highlight of any family holiday in California.
Enjoy two full days exploring the area. Active families will be keen to head out onto the waters of the lake. Hire SUPs and paddle under the towering cliffs of the Rubicon Trail, stopping for some cliff jumping off Rooster Rock for those that can summon up the nerve. Alternatively, you can hire kayaks at Emerald Bay and paddle out to Fannette Island. Here you can enjoy a picnic lunch with spectacular views across the lake.
Another popular option is to take one of the cable cars up into the mountains for superb hikes and bike rides (ebikes also available). One of our favourites is the route down Shirley Canyon. This passes waterfalls and dramatic granite boulders in Squaw Valley. There are also ropes courses, with zip-lines and rope bridges that the children will love. For the really adventurous, take a guided excursion along Lake Tahoe's Via Ferrata, a nail-biting (but safe) journey across the rock face with stunning views.
Read MoreRead Less
---
Day 7 Yosemite
Time to head to one of America's most famous national parks – Yosemite. Along the way perhaps get a taste of the USA's Wild West history with a stop at Bodie Ghost Town State Park. This once booming gold-mining town was abandoned more than 50 years ago and is now a ghost town. Its wooden houses remain unchanged since the last inhabitants left.
Another popular stop is Mono Lake State Park, centred around a beautiful lake. The park is renowned for its spectacular 'tufa towers', unique rocky spires that jut out of the lake. Follow a trail along the lake-shore and stop for a dip in the cool waters. However, beware! Just like the Dead Sea, the lake has a very high salt content. This makes for a wonderfully buoyant swim, but can be painful if it gets into the eyes!
---
Days 8-9 Yosemite National Park
Two full days to explore Yosemite National Park. This is one of the jewels in California's crown, with a majestic landscape of deep valleys, thundering waterfalls, ancient sequoia trees and remote meadows.
There are masses of activities available here. These include guided hiking trails, mountain biking and horse riding. Glacier Point and Tunnel View provide two of the most spectacular viewpoints in the park and are highly recommended. We also love the hiking trails through Tuolumne Meadows. These pass through beautiful grasslands and lush forest against a magnificent panoramic backdrop of the Sierra Nevada Mountains. Gaze up in awe at the iconic granite rock formations of El Capitan and Half Dome soaring thousands of metres above you.  Just how do climbers scale them?!!!!
Also make sure you stop in Mariposa Grove where the children will be amazed by the vast Sequoia trees. Many of these are well over a thousand years old. Pack a picnic and follow the Grizzly Giant Loop trail through the trees for an easy hike, or the Mariposa Grove Trail for something more strenuous. Keep an eye out for black bears, mountain lions and bighorn sheep….
---
Day 10 Monterey
Head west, hitting the coast at Monterey. This is home to the world-class Monterey Bay Aquarium. This afternoon a visit to the aquarium, housed in a former sardine cannery, is a great family activity. The interactive exhibits are home to sea turtles, stingrays, sharks, jellyfish, octopi and a bewildering array of fish.
Later continue south along the coastal route on 17 Mile Drive. This offers endless views of crashing surf and wild beaches before you arrive at the pretty town of Carmel.
---
Day 11 Carmel
Carmel is picturesque beach town, where Clint Eastwood was once mayor. It is a lovely spot to escape from the car and wander the quaint streets lined with galleries, boutiques and cafes. It is also renowned for marine wildlife safaris. You can choose to take a whale-watching cruise or paddle a kayak or SUP off the coast to view the huge range of sea-life found here. Depending on the time of year, this may include the Gray, Blue, Fin, Minke, Beaked or Humpback whale. There are also many dolphin, porpoise, sea lions and seals.
---
Day 12 Big Sur
Today you have the incredibly scenic drive south along the Pacific Coast Highway. The views along the way of precipitous cliffs, remote sandy beaches and the rolling waves of the Pacific Ocean are both dramatic and spectacular. Keep your eyes peeled for blue and humpback whales (summer only) along with sea otters and bald eagles.
En route perhaps visit the extraordinary Hearst Castle. This was one of the most extravagant private residences in the world when it was first built in the 1800s. Alternatively stop in the quaint town of Solvang, founded by Danish immigrants in the early 20th century. Unsurprisingly the town is famous for its pastries, with many small bakeries lining the picturesque streets.
---
Days 13-14 Santa Barbara or Los Angeles
Heading south from Big Sur, you may want to spend time on the beaches around Santa Barbara. Alternatively you can continue straight to Los Angeles to enjoy the theme parks and Hollywood.
Option 1 – Santa Barbara & beaches
Known as the American Riviera, Santa Barbara is a great base for a few days. The town itself is home to beautiful wide boulevards and shaded piazzas where you can stop for an ice-cream and soak up the sunshine. Outside the city, the gentle crescent of California coastline offers miles of sun-drenched and sandy beaches, lapped by the waves of the Pacific Ocean. Some are perfect for surfing, others for a lazy paddle and long beach walks.
Inland there are many gorgeous valleys, the rolling hills lined with vineyards. Santa Inez Valley is particularly beautiful and you can hire a bike for the day, load up with a picnic and head off through the vineyards.
Option 2 – Los Angeles & theme parks
LA is the quintessential American city, packed full of world-famous attractions and iconic sights.
Keep the kids happy with that 'must-do' visit to Disneyland or Universal Studios. Snap the family with the Hollywood sign in the background and tick the stars off on the Hollywood Walk of Fame. Take a Beverly Hills celeb tour, cruise Sunset Strip and gasp at the prices in the Rodeo Drive shops.
You can also rollerblade Venice Boardwalk, surf from Santa Monica beach and chill out in Malibu. Finally, no California family holiday would be complete without a baseball, basketball or football game. Join the fans watching the Los Angeles Rams, Lakers or Dodgers and get into that cheerleading spirit!
---
Day 15 Los Angeles
Make your way to the airport for your flight home at the end of your California family holiday.

Call us and we will be happy to provide you with a free-of-charge no obligation itinerary and quotation designed for you.
Unparalleled family travel experience
Specialist knowledge across three continents
Hand-picked local partners
Every holiday is tailor-made for you
100% financial protection
24hr emergency contact number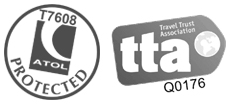 100% Financial
Protection
We are members of the Travel Trust Association, a trade association of Travel Agents, Tour Operators and Travel Organisers that operate trust accounts in order to provide financial protection for the consumer. Membership number Q0176.
Our ATOL number is T7608.