Western National Parks USA
This is the Big One for outdoor active families! Taking in many of America's top national parks you will travel from the heady glitz of Las Vegas through some mind-blowing natural scenery to end in the Grand Canyon.
As you pass through mesmerising landscapes, you'll be hiking, rafting, kayaking, cycling, SUPing and generally enjoying the great outdoors. Staying in glamping tents in some places, motels in others, you'll be eating bbq from food trucks and enjoying picnics in jaw dropping locations. Bliss!
Highlights
  The neon lights of Las Vegas
  Hike USA's greatest national parks
  Ride horses through the desert
  Navajo tour of Monument Valley
  Hike Antelope Canyon
  Sunrise over the Grand Canyon
15 days from £2,500 pp
Plus international flights from £600pp
A two-week holiday for a family of four to the USA will usually cost a minimum of around £10,000, plus flights and ESTAs.
Western National Parks USA day-to-day itinerary
Day 1 Las Vegas

Arrive in Las Vegas, that most iconic of American cities. Pick up your rental car and head downtown to enjoy an afternoon of excess in the city! Stroll the neon-lit Las Vegas strip, watch the acts at Circus Circus and take in an OTT illusion and magic show.
---
Day 2 Las Vegas – Zion
After breakfast, head off towards Zion. Highly recommended en route is a stop in The Valley of Fire, Nevada's oldest and largest state park. Here there is a stunning array of panoramic vistas, striking rock formations and dramatic desert views.
Continue from here to Zion National Park. This is one of Utah's gems, named after an ancient Hebrew word meaning 'sanctuary'.  The name is fitting; the landscape here is almost other-worldly, with high pink, cream and red hued cliffs soaring above the meandering Virgin River.
---
Day 3 Zion National Park
Zion does not permit self-drive on most of its roads so why not take advantage of the shuttle bus service which will drop you off at one of the numerous trailheads. This means you can enjoy the yellow and red sandstone canyons, lush hanging gardens tumbling from the cliff walls and the sparkling rivers and waterfalls at their best. There are a wide array of trails through the park, meaning that there is something suitable for both active families and those with younger children. There are also some excellent cycling routes through the park with both standard mountain bikes and e-bikes available. We will give more detailed recommendations after booking.
---
Day 4 Zion – Bryce Canyon
Enjoy a leisurely morning before driving to Bryce Canyon – why not stop off en route for a last glimpse of Zion from the scenic Canyon Overlook Trail on the Zion – Mt. Carmel Scenic Highway.
Once you arrive in Bryce Canyon, the colourful 'hoodoo' rock spires, high desert floor and layered plateau provide a complete contrast to the canyons and forested mountains of Zion. Being at a higher altitude, the slightly lower temperatures create a more child-friendly hiking environment too.
In the summer evenings, there is the chance to watch the bucking broncos and wranglers entertain you at a local country rodeo near the entrance to the park.  Yes, we know it's touristy but why not embrace the inner cowboy in you – yee-haw! We'll give you directions so you know where to go.
---
Day 5 Bryce Canyon
Perhaps rise early to head into the park for sunrise; if you can persuade the kids to get up early enough, the night skies here are stunning, and the contrast between the dramatic overhead display of stars before dawn, and the beautiful hues of the hoodoo rocks as the sun comes up, is hugely memorable.
Later in the day, there are endless hiking and cycling trails that you can follow to get the best views of the park. Or perhaps go full-cowboy and head out on horseback into Red Canyon with an experienced wrangler to hear tales of Butch Cassidy.
Read MoreRead Less
---
Day 6 Bryce Canyon – Moab
Take a leisurely drive north towards Moab. You might like to stay at the beautiful and little visited Manti-La Sal Forest with its deep sandstone canyons, mountaintops, meadows, lakes, and streams. Alternatively for more of a road trip, there is also a great scenic route that we will recommend; it takes a bit longer but you are richly rewarded with some superb views.]
End the day in Moab, the base for visiting both Arches and Canyonlands National Parks. There are some wonderful glamping sites in this area; please let us know if you are interested.
---
Day 7 Canyonlands
Today we suggest that you visit Canyonlands, one of America's most scenic national parks. This is Utah's answer to the Grand Canyon. It is carved out of the Colorado Plateau and is a landscape of mesas, deep-river gorges and, of course, canyons. The Island in the Sky area offers breath-taking viewpoints over the canyons below as well as several child-friendly hiking trails. View the famous Mesa Arch, Upheaval Dome and the steep switchbacks of Shafer Canyon.
Later perhaps stop at Quesadilla Mobilla, an iconic yellow food truck serving up some of the best quesadillas in Utah!
---
Day 8 Moab Desert
This morning, make like a cowboy with a horse ride out into the splendour of the Moab Desert. American Accompanied by an experienced wrangler, you will saddle up at the ranch and head out into the classic 'west' landscape. This area may look familiar as it has been used as a backdrop to many quintessential cowboy movies. Sandstone formations, towering cliffs, broad vistas and the Colorado River provide the setting for a rewarding morning.
If horse riding does not appeal, we can arrange an exciting white-water rafting trip or a morning canyoning. Please ask us for details.
---
Day 9 Arches National Park
Another day of superb landscapes as you visit Arches National Park, a real stunner with over 2,000 rock arches created by the force of nature. If you have had enough hiking, the 25 mile road through the park can be navigated by car and incorporates most of the most beautiful areas.
There are also many bike routes through the park, on both paved and unpaved roads so that there is something suitable for all families. (It may be too hot to cycle in the summer). Otherwise, we recommend starting early and donning your hiking boots again for a more up close and personal experience.
---
Day 10 Monument Valley
After breakfast, drive to Monument Valley. This spectacular landscape has been made famous in numerous movies. Once you view the dramatic red mesas and sandstone buttes you will understand why. A budding photographer's dream, the deep, bright colours of the rocks and cliffs are ever-changing from dawn to dusk.
This afternoon you will take a tour of the valley, accompanied by a Navajo guide. This means that you can enter into restricted areas, travelling along backcountry routes by open-air vehicle. Along the way, your guide will point out the different rock formations from Navajo legends, described as ancient warriors frozen in time.
---
Day 11 Monument Valley – Page
This morning drive to Page, home to Glen Canyon National Recreation Area. This vast area extends more than a million acres, encompassing Lake Powell, the second largest man made lake in the US. The landscape here is stunning, with the calm waters of the lake surrounded by barren red desert and weird wind-sculpted rocks. You can SUP or kayak in the lake, take a float tour down the Colorado River or hire a boat and head out onto the lake.
This evening take a stroll to Horseshoe Bend, a geological masterpiece where the Colorado River takes an abrupt turn back on itself in a perfect horseshoe. The views at sunset (whilst busy) are stunning.
---
Day 12 Antelope Canyon & Lake Powell
Today you will take a tour of Antelope Canyon, a colourful slot canyon where the canyon walls are sculpted into beautiful rose and pink coloured waves. You will descend into the Lower Canyon on a walking tour, climbing down ladders, through the tightly carved sandstone and into a part of the canyon most tourists don't reach.
In the afternoon, we suggest that you head to Lake Powell. Hire kayaks or a SUP and venture out onto the lake or just find a nice beach and go for a swim.
In the evening, we'll recommend a great BBQ joint.
---
Day 13 Page – Grand Canyon
Today you will drive to the Grand Canyon. Dinosaur enthusiasts might like to stop en route to see the dinosaur footprints at Moenave.
---
Day 14 Grand Canyon
A full day at the Grand Canyon, a vast canyon that weaves its way through the Colorado Plateau for 277 miles. The scenery here is breath-taking, the ground falling away at the edge of the canyon to the Colorado River, hundreds of metres below. Depending on what time of day you visit, the rocks of the canyon glow in varying hues and it is always spectacular.
You can follow one of the self-guided trails; there are a number of different options which you may want to choose depending on conditions underfoot. Both the Kaibob and Rim Trails are excellent and offer great canyon views. Hopi Point offers the best East/West viewpoint as it juts out into the canyon. Further on, Mojave Point and Pima Point will give you the chance to view the Colorado River with its dramatic white-water rapids.
There is also the option to take an enthralling 45 minute helicopter flight over the canyon for the ultimate aerial ride. 
---
Day 15 Grand Canyon – Las Vegas
Drive to Las Vegas for your flight home.

Call us and we will be happy to provide you with a free-of-charge no obligation itinerary and quotation designed for you.
Unparalleled family travel experience
Specialist knowledge across three continents
Hand-picked local partners
Every holiday is tailor-made for you
100% financial protection
24hr emergency contact number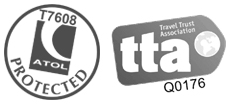 100% Financial
Protection
We are members of the Travel Trust Association, a trade association of Travel Agents, Tour Operators and Travel Organisers that operate trust accounts in order to provide financial protection for the consumer. Membership number Q0176.
Our ATOL number is T7608.