This example 2-week holiday starts in Hanoi and finishes on the beach in Hoi An (near Danang), taking you to all the highlights along the way. There are plenty of activities for children of all ages (kayaking, hiking, cookery classes, cycle rickshaw rides, zip-wires, bike rides etc) and we can suggest accommodation to suit your family. You will be accompanied throughout by an English speaking guide.
Highlights
  Cycle rickshaw tour of Hanoi
  Learn to make spring rolls
  Sailing trip on a Junk in Halong Bay
  Bike ride through the paddy fields
  Zip-line into Phong-Nha Caves
  Relax on the beach in Hoi An
15 days from £2,000 pp
Plus international flights from £1,000
A privately guided 2-week holiday in Vietnam for a family of four usually costs from £8,000 based on mid range hotels plus flights
Highlights of Vietnam day-by-day itinerary
Day 1 Hanoi

Upon arrival at the airport you will be met by one of our representatives and accompanied to your hotel in the heart of Hanoi.
Hanoi is a lovely city that will completely entrance; wander through the parks in the early morning or at sunset and you will see people doing Tai Chi and ballroom dancing. There are wide boulevards with imposing colonial buildings which you can admire from the comfort of a tiny noodle shop, gleaming office buildings, trendy boutiques and exquisite restaurants. There are also endless narrow streets full of children playing games and old men playing chess that just beg to be explored.
---
Day 2 Hanoi
You have a full day tour of the city today. The guide will tailor the itinerary depending on the ages of your children but will usually include Ho Chi Minh's Mausoleum where you can see the revered leader lying in state in a glass coffin and the graceful Temple of Literature, set in peaceful gardens.
The highlight for the children will undoubtedly be the afternoon cyclo (cycle rickshaw) tour through the chaotic streets of the Old Quarter. With two people to a cyclo, your rickshaw driver will navigate slowly through the narrow streets, past vendors pulling wooden carts laden with goods and shops spilling over with colourful handicrafts. The streets of Hanoi are completely manic (with a never ending stream of motorbikes) so this is the ideal (and most relaxing) way to take in the mayhem.
---
Day 3 Hanoi
This morning you will venture off-the-beaten-track, heading to a suburb on the banks of the Red River. The area escaped much of the bombing during the war and is home to many old houses and temples. Take a gentle bike ride through back streets, stopping to visit a charming small temple, and getting an insight into a very different side of the city. You will finish at a traditional courtyard house where you will join the host family for lunch, helping to make spring rolls.
The afternoon is free for you to relax.
---
Day 4 Hanoi – Halong Bay
This morning drive approximately 3.5 hours to Halong Bay where you will board a traditional junk (sailing boat) for a 2-night cruise.
Halong Bay is spectacularly beautiful, with thousands of towering pillars of sea and wind-carved limestone karsts soaring out of the water. Although Halong Bay itself gets extremely busy, we will arrange for you to sail to a much quieter but equally beautiful area so that you can get away from the crowds.
This afternoon the junk will stop at one of the small islands in the bay to give you the chance to try your hand at kayaking. You can paddle around the limestone cliffs and stop on a shallow sandy spit of land to swim.
---
Day 5 Halong Bay
A full day to continue with your exploration of the bay. The exact itinerary will depend on your choice of boat, but you will continue cruising through the spectacular scenery and may stop at a small beach to swim, kayak or relax.
Read MoreRead Less
---
Day 6 Halong Bay – Ninh Binh
Perhaps rise early for a tai chi class on deck as the boat continues its picturesque route through the bay. After stopping for a quick visit to Vong Vieng fishing village you will disembark and head to Ninh Binh. This is a beautiful area to the south of Hanoi, and home to one of its earliest capitals, Hoa Lu. The drive takes around 2.5-3 hours.
---
Day 7 Ninh Binh
This morning take a boat ride in Trang An. Here the rivers have carved a route through ancient limestone cliffs and your boat will follow the course of the river through caves up to 300m long. The tunnels are very narrow and low in areas, and the precision with which the boat 'rower' navigates the route is remarkable – you will need to duck frequently as you pass under low stalactites!
In the afternoon either relax and soak up the views or take a bike ride through the countryside, passing through paddy fields and small villages.
---
Day 8 Ninh Binh – Overnight train
After breakfast visit Cuc Phuong, the oldest national park in Vietnam. There is a primate rescue centre here and you can also take a gentle trek through the jungle to try to spot animals in the wild.
This evening board the overnight train to Dong Hoi. You will be accommodated in 4-person cabins, each with four individual comfortable bunks. Additional berths can be purchased if necessary (so a family of five, for example, can arrange to take two private cabins). If you would prefer to fly, this can of course also be arranged.
---
Day 9 Phong Nha-Ke Bang National Park
Your guide will pick you up from the train station this morning and will take you out for breakfast. Then transfer to the Phong Nha National Park, a UNESCO World Heritage Site and home to some of Vietnam's most spectacular scenery. Here you can find the oldest limestone mountains in Asia, underground rivers and over 300 caves and grottos, many of which remain unexplored.
After lunch take a boat trip along the Son River, passing through lush jungle vegetation as you make your way to one of the many cave systems.
---
Day 10 Phong Nha-Ke Bang National Park
A wonderfully exciting day today starts with a visit to Paradise Cave, the largest of all the 'dry' caves within the park.  Surrounded by forested karst peaks, this remarkable cave system extends for 31km – don't be fooled by the deceptively tiny entrance!  The scale is breathtaking, as wooden staircases descend into a cathedral-like space with colossal stalagmites and glimmering stalactites.
Afterwards continue the adventure to Dark Cave (Hang Toi), which includes zip-lining, swimming (warning; the water's cold!), a relaxing mud bath and short kayak ride on the Chay River.  Children under 10 are not allowed to do the zip wire into the mouth of the cave but can do all the other activities.
---
Day 11 Phong Nha-Ke Bang National Park – Hoi An
It's a long journey by car today along the coast to Hoi An, although we can arrange a train ride if you prefer. (Some families may also like to break the journey for a night or two in Hue, one of Vietnam's ancient capitals).
Hoi An is one of the loveliest towns in Vietnam, a small port that has traditionally been home to a thriving merchant community of foreign traders. There are lively markets and quaint narrow streets lined with old buildings that have been converted into tailors, cafes and boutiques. The town also lies on one of the most beautiful beaches in Vietnam, and you can choose to either stay in Hoi An itself or alternatively at one of the beach resorts just outside the town.
---
Days 12-14 Hoi An
Three full days to relax on the beach and enjoy Hoi An.
In Hoi An you can wander around and soak up the ambience of the town, perhaps visiting a couple of the old Chinese mansions. This is also a superb place to shop for souvenirs, especially in the evening when the streets are lit by traditional lanterns. The tailors here are particularly good so you could consider getting some clothes made up.
There are also a wide range of activities that can be arranged in the area around Hoi An; one of our favourites includes taking a basket boat along the narrow waterways around the town. This is a small round rowing boat made of woven palm thatch and you can stop in the water bamboo to try to catch purple crabs before enjoying a fresh fruit snack at a simple local café. You then continue by bike, following quiet trails along the edge of the river through a bucolic landscape of meandering waterways, paddy fields and small villages.
---
Day 15 Hoi An – Danang
Transfer to Danang airport for your flight home. This will be via Hanoi or Ho Chi Minh (Saigon). If you prefer, we can include a night in either of these cities before your return flight.

Call us and we will be happy to provide you with a free-of-charge no obligation itinerary and quotation designed for you.
Unparalleled family travel experience
Specialist knowledge across three continents
Hand-picked local partners
Every holiday is tailor-made for you
100% financial protection
24hr emergency contact number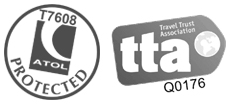 100% Financial
Protection
We are members of the Travel Trust Association, a trade association of Travel Agents, Tour Operators and Travel Organisers that operate trust accounts in order to provide financial protection for the consumer. Membership number Q0176.
Our ATOL number is T7608.