Highlights of Northern Argentina
Explore the various colourful and historical districts of Buenos Aires by bike and on foot. Then head to the wild and rarely explored North West, a land of soaring volcanoes, tropical forests, dramatic geology, colourful mountains and ancient pre-Hispanic settlements. Outdoor lovers will relish time spent hiking, biking and riding around Salta and Purmamarca in a variety of stunning landscapes before heading to the mighty Iguazu Falls, one of the world's great natural wonders. Finish in the peaceful and pristine surrounds of the wildlife-rich Ibera Wetlands.
The Salta section of this trip is based on self-drive, offering the ultimate in flexibility.
Highlights
  Bike & graffiti tour of Buenos Aires
  Canoe the Parana Delta from Tigre
  Horse-ride to a historic vineyard
  Barter in Purmamarca's market
  Walk with llamas in the mountains
  Get wet and wild at the Iguazu Falls
  Incredible wildlife in Ibera Wetlands
16 days from £3,750 pp
Plus international flights from £1,200
A two-week holiday in Northern Argentina (not including Ibera) for a family of four usually starts from £15,000 plus internal and international flights
Highlights of Northern Argentina day-to-day itinerary
Day 1 Buenos Aires

Arrive in the country's capital where you will be met and transferred to your central hotel.
Famous for its Latin American vibe, Eva Peron, football and the eponymous tango, Buenos Aires is the perfect starting point for your family adventure in Argentina.
---
Day 2 Buenos Aires
A full day to explore Buenos Aires with a guide. You will take in colourful La Boca (home to the famous Boca Junior's Stadium), trendy Puerto Madero, historical San Telmo and the prestigious Plaza de Mayo. In the afternoon enjoy a fascinating Graffiti Tour in the northern district of Palermo. Why not try some of the delicious Dulce de Leche pastries at the famous El Ateneo, a former theatre now turned extremely grand bookshop.
Note: If the children are old enough, the morning section of the tour can take place by bike, using the excellent cycle lane system.
---
Day 3 Tigre and the Parana Delta
Discover coastal life as you hop on a bike to journey through quaint riverside villages to the picturesque town of Tigre. From here you will take to the water in handmade canoes to navigate the waterways that wind their way through numerous lush islands, passing stilted houses and subtropical vegetation. You will meet the artists who craft the canoes and enjoy a relaxing time in one of the world's largest deltas, a pristine natural environment yet so close to the city. Return to Buenos Aires for the night.
---
Day 4 Salta – Cafayate
Fly north to Salta and take the scenic road to Cafayate. The scenery here is breathtaking. At first you will pass tranquil villages noted for the deep red earth used to construct them. Then gradually the landscape gives way to mountains and rock faces. Next, you reach the Quebrada de Cafayate (Cafayate Ravine), where the cliffs and canyons provide a kaleidoscope of colour; brick red, pale orange, yellow, white, green, slate blue, rich purple and more. These impressive geological formations never fail to amaze and will certainly impress budding geologists, geography students and keen photographers.
---
Day 5 Cafayate
Spend the morning at a nearby estancia for a picturesque horse-ride through stunning sand dune scenery, led by a creole gaucho. Afterwards visit one of the world famous vineyards, renowned for its Torrontes grape, and enjoy lunch.
The afternoon is free to explore by yourselves. Cafayate is known as the 'Tuscany of Argentina' with its lush vineyards and mountain backdrop. There are 'bodegas' or vineyards all over town and it is easy to wander between them, allowing parents to indulge in the local produce and the kids to let off steam between wineries. You can also hire bikes if you fancy exploring further afield or go souvenir shopping at the artisan market. Alternatively just find a perch in the Central Plaza and sample some of the delicious empanadas saltenas or wine ice cream the area is famous for.
Read MoreRead Less
---
Days 6-7 Salta
Take a hike amongst the stunning rock formations of La Yesera (think Wadi Rum meets Dakota Badlands) then continue by road back to Salta passing the lunar-like Quebrada del Rio de las Conchas rock formations. These impossibly red, silver and orange cliffs are as majestic as they are awe-inspiring.
Salta was one of the oldest cities to be established in Argentina by the Spanish conquistadors. An afternoon walking tour will be a fantastic introduction to its colonial history. Close to the borders of Chile, Bolivia and Paraguay, Salta nestles like a jewel among verdant green hills with a rich cultural heritage, artisan tradition and mouth-watering regional food.
This evening experience the strong folk traditions at a musical gathering in a local 'Pena' restaurant.
---
Day 8 Purmamarca
Travel two hours to Purmamarca, the perfect base to explore the amazing Cerro de Los Siete Colores (Seven Colours Mountain). This is known locally as the 'artist's palette' due to the rainbow of colours that run through it. Wander the streets of the quaint adobe town with its stunning backdrop and explore the colourful artisan market, one of the most vibrant in Argentina. Walk the Paseo de los Colorados loop passing lunar landscapes, rock formations and look out points over the valley and multi-coloured hill.
In the afternoon visit Salinas Grandes (Great Salt Flats), a mesmerising white expanse of salt pans, before returning to your hotel in Purmamarca.
---
Day 9 Purmumarca
Time to take a walk with the Llamas! For over 5,000 years the high Andean people have seen llamas as companions, a source of sustenance and good pack animals. Today you will walk those same ancient pathways through the hills, valleys and gorgeous landscapes accompanied by these amusing animals. Ascend to high altitudes to the viewpoint of the Serranias del Hornocal (also known as 14 Colour Mountain – these mountain titles are starting to get competitive now…), breathtaking, quite literally, before returning to Purmamarca.
This evening why not try some of the fabulous cuisine Pumamarca is famous for – empanadas, locro (a hearty stew of corn and meat), tamales, humitas, and (apologies to your trekking companions today), llama meat.
---
Days 10 to 11 Iguazu Falls
Return to Salta and fly to Puerto Iguazu, the gateway to the world's most impressive waterfalls. Think Niagara?  Think again… The Iguazu Falls are nothing less than a 'New Wonder of Nature', and all ages will be wowed by their strength and dramatic setting. They are in fact a series of 275 waterfalls, reaching up to 90m high, shared by Brazil and Argentina.  A visit to both sides (another stamp in the passport!) is an absolute must.
First off, head to Brazil. Incredible scenic walkways lead you to multiple view points including the dramatic Devil's Throat. Everywhere you are surrounded by the natural world. Coati racoons abound (watch out for your snacks), colourful butterflies flit overhead and toucans, macaws and parrots screech greetings. Fig trees, giant bromeliads and vibrant orchids add to the scene.
You will end your first day here at the 'Backstage Experience', which sounds like something out of Las Vegas, but starring local fauna instead. Enjoy privileged contact with birds, featuring feeding of toucans and other species whilst learning about the park's much needed conservation and rescue programmes.  Educational and a huge amount of fun – all ages will love it.
The next day experience the falls from the Argentine side, which most people consider to be the more exciting. Take a train that leads to the lower walkway circuit through humid subtropical forest filled with wildlife. Or follow the superior circuit with hanging bridges that offer spectacular views of the massive deluge of water.
You will then hop into a 'safari boat' and get up close to the base of the falls themselves, heart-stopping stuff as the captain plays with your nerves running the rapids, whirlpools and currents. Hint – you WILL get wet!
---
Day 12 Ibera Wetlands
Head to the incredible pristine eco-system of the Ibera Wetlands. Stop en route at the San Ignacio ruins and learn a little about the history of the Jesuit missions once based here.  Continue on to your remote ranch, set on the banks of the Parana River.
The Ibera Wetlands are one of South America's great-untouched wildernesses. A huge expanse of marshes and plains where capybaras, giant anteaters, alligators, anacondas, monkeys and numerous birds such as jabirus, rheas, toucans and parrots reside. It provides a fantastic off the beaten track destination for wildlife lovers – or those just wanting some much needed 'down time'.
---
Day 13-14 Ibera Wetland safaris
Home to 300 different types of birds, 35 varieties of reptile, 85 mammal species and dozens of amphibians, there should be plenty here to keep all ages excited.  You have two full days to enjoy exploring this natural world on a variety of different activities. These will include canoeing along the Paraná River, horseback safaris, early morning bird tours, boat rides, walking trails and kayak trips through the marshes…. just keep the fingers well away from those caiman and piranha!
Your ranch is a genuine estancia so you will be able to observe and participate in the modern life of a working farm.
In the evenings you can relax in a hammock surrounded by a constant stream of birdsong – punctuated by bickering families of howler monkeys!
---
Day 15 Buenos Aires
Fly back to the capital to enjoy a final afternoon in this fabulous city.  Bring those Strictly Come Dancing skills out in an evening tango lesson or simply enjoy the spectacle of a professional tango show.
---
Day 16 Buenos Aires
Transfer to the airport for your flight home.

Call us and we will be happy to provide you with a free-of-charge no obligation itinerary and quotation designed for you.
Unparalleled family travel experience
Specialist knowledge across three continents
Hand-picked local partners
Every holiday is tailor-made for you
100% financial protection
24hr emergency contact number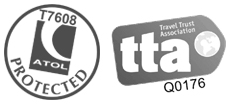 100% Financial
Protection
We are members of the Travel Trust Association, a trade association of Travel Agents, Tour Operators and Travel Organisers that operate trust accounts in order to provide financial protection for the consumer. Membership number Q0176.
Our ATOL number is T7608.