Argentina is a massive country so it is better to choose one or two areas to concentrate on rather than try to tackle too much. If you are looking to experience dramatic mountain scenery and glaciers then our 'Buenos Aires, Patagonia and Lake District tour' will suit your family best. Treks and and a wide range of exciting outdoor activities can be adapted to suit all ages. With unpredictable weather in Patagonia, it is best to focus travel here between October to Easter with the Christmas holidays being the ideal time, especially if you are looking to extend your trip down to Tierra del Fuego in the far south.
For somewhere a little different then try our 'Highlights of Northern Argentina'. Starting in Buenos Aires, this tour also includes Salta and the hidden delights of the ancient cultural and colonial Andean highlands. This combines with the pristine wetlands of Ibera and the mighty Iguazu Falls, to provide a wealth of adventure, ideal during the UK easter and summer months.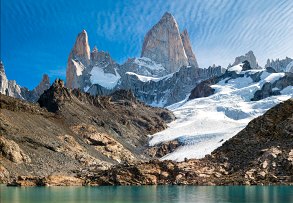 Visit Buenos Aires, El Calafate, Mount Fitzroy, Perito Moreno and Bariloche
Plus international flights from £1,200
Plus internal flights
Visit Buenos Aires, Salta, Ibera Wetlands and Iguazu Falls
Plus international flights from £1,200
Plus internal flights
Visit Buenos Aires, Mount Fitzroy, Perito Moreno, Torres del Paine, Lake District, Chiloe Islands, Osorno Volcano and Santiago
Plus international flights starting at £1,000
Plus internal flights
For those looking for the ultimate scenic family holiday to Patagonia, our three week 'The Best of Argentina and Chile' ticks all the boxes. Kicking off with a brief tango in Buenos Aires, you then head to the trekking paradise of Patagonia. First up is the Argentinian area around Mount Fitzroy in Los Glaciares National Park and the Perito Moreno Glacier. From here head to Chile and the world famous Torres del Paine National Park. Venturing north via Chile's Lake District, you finish your trip in one of the famous vineyards outside Santiago.
As ever, these example itineraries are just a guide as to the kind of holiday that we can arrange for you. We will tailor itineraries to your own family, the ages involved and specific interests. Please do give us a call as soon as you are ready to start planning or if you'd like to talk with someone with firsthand knowledge.
All our Argentina itineraries are 100% financially protected with the Travel Trust Association, number Q0176, if you book with us. We also have ATOL certification, number T7608, provided by the Civil Aviation Authority.

Call us and we will be happy to provide you with a free-of-charge no obligation itinerary and quotation designed for you.

Talk with our friendly team about your family travel needs.