Ecuador & Galapagos Highlights
This is the perfect two-week tour combining the highlights of mainland Ecuador with the most exciting parts of the Galapagos Islands. Starting and finishing in the colonial capital of Quito you will barter in traditional Andean markets, take the Liberty Train through the scenic highlands and stand astride the Equatorial line before flying out to join your Galapagos Island cruise. Here you can swim with seals, snorkel with penguins, hike lava rocks to dramatic look-out points, take a glass-bottomed boat through mangrove swamps and watch the Giant Tortoise lumber around the stunning highland scenery.
Back on the mainland you will take a dip in the Papallacta hot springs high in the Andes then head along the Avenue of Volcanoes to Cotopaxi National Park. Enjoy some traditional Ecuadorian activities from your hacienda and hike to the sparkling Quilotoa Crater Lake before returning to Quito. You will be escorted by an English-speaking guide throughout on this family itinerary.
Highlights
  Pick a poncho in Otavalo market
  Take an exciting Andean train trip
  Swim, snorkel & dive with sea lions
  Cruise rocky shorelines in a 'panga'
  Mountain-bike in stunning scenery
  Horse ride on slopes of Cotopaxi
  Turtle watching in glass bottom boat
14 days from £6,000 pp
Plus international flights from £1,000
A two-week holiday for a family of four, including a five day (four night) cruise, with the rest of the time spent in mainland Ecuador, will cost around £24,000 (excluding internal and international flights).
Ecuador & Galapagos Highlights day-to-day itinerary
Day 1 Quito – Otavalo

Upon your arrival in Quito you will be welcomed at the airport by a representative of Stubborn Mule Travel and escorted to your hotel in the gorgeous old colonial town of Otavalo around 90 minutes away. Otavalo is slightly lower than Quito so this will aid in acclimatisation.
---
Day 2 Otavalo market
Otavalo is world-famous for its textile market, packed full of blankets, wall hangings, handbags, table runners, alpaca-wool sweaters and scarves. After a fun bartering session, travel to the nearby market town of Cotacachi to stock up on leather goods (get your souvenir shopping over at the start of your trip!) and to view the stunning Cuicocha Lake named after the word for guinea pig. Braver children will have many opportunities to try 'cuicocha' in restaurants as it is the renowned national dish – we think it tastes like chicken….
Continue to the town of Peguche about midday where you will witness the ritualistic 'Pachamanka' lunch where vegetables, fruit and meat are covered with cabbage leaves and a cloth, which is then put deep into the hot volcanic earth. Possibly the most unique meal your children will ever experience. While the food is simmering it is decorated with flowers and turned into a lovely Andean Altar. Afterwards you will visit the Condor Park and observe these incredible birds, which have been rescued from illegal captivity. Return to Otavalo.
---
Day 3 Ibarra train ride – the Equator – Quito
Hop on board 'The Liberty Train'! This traditional route runs 30 kilometres from Ibarra to Salinas passing through beautiful scenic countryside, over breathtakingly high viaducts in the heart of the majestic Andean midlands. This route is particularly famous for passing through several tunnels, carved out of the rocks by workmen using little more than picks and shovels. The route ends at Salinas, famed for its native population of Afro-Ecuadorians. You will be welcomed with traditional dancing and invited to visit a salt museum before travelling south to Quito.
On your way you will stop at the Middle of the World and visit the Intiñan Museum. This museum is the true site of the equator line. Here your GPS will actually read zero degrees latitude and zero degrees longitude. Children will love standing in both North and South hemispheres and watching the famous 'balance an egg on a nail' trick. And which way does toilet water flush at the Equator….? Overnight in Quito, the capital city.
---
Day 4 Quito
Explore both colonial and modern Quito on a city tour taking in historic plazas, churches and colonial buildings. A visit to La Compañia Church cannot be missed as it is one of the most impressive in Latin America, plus San Francisco Church, one of the great religious buildings of the New World. Children will love a visit to the local grocery market where they will be able to taste traditional food and delicious fresh fruit juices.
The day ends on a high note with a trip on the Teleferico (cable car). You will have the most incredible view of the city, both old and modern parts, plus the dominant peak of Pichincha Volcano and, if you are lucky, mighty Cotopaxi in the distance. Just remember to take it easy at the top as you are now over 4,000 metres…
---
Day 5 Quito – the Galapagos Islands
Time to head to the land of blue-footed boobies, puffed up frigatebirds and smelly sea lions – off to the Galapagos! Our preferred yacht, the M/Y Santa Cruz II, operates two different itineraries, one starting on a Monday and one on a Saturday. The itinerary listed here is the Northern tour which starts on a Monday. Please ask us for details of the Eastern tour, which starts on a Saturday.
After an introduction on board the boat, set sail for neighbouring Santa Cruz Island. Your first stop will be the beautiful white beach of Las Bachas. Here there are several lagoons right next to the sea, which offer superb feeding grounds for various wading birds including flamingos. Kids can get straight into the lagoons with their snorkeling gear and it is a wonderful 'learning playground' to perfect their underwater technique. Return to the ship for a welcome cocktail on deck and a briefing about the following day's schedule before settling down for your first dinner on board whilst the ship begins its journey to Santiago Island.
Read MoreRead Less
---
Day 6 Santiago Island
The next two days will be spent circumnavigating Santiago Island and visiting neighbouring Rabida and Bartolome Islands. First stop is Santiago where you will explore the coastline beneath the impressive cliffs of Buccaneer Cove. This cove is testament to the fact that the island was once a refuge for pirates who would anchor in its protected waters to repair their ships and stock up on food and children will love hearing the somewhat embellished stories from these times. It is a particularly impressive site with hundreds of marine birds and sea lions all lined up in front of the dark red sandy beach and there are a number of fantastic natural rock formations such as 'The Bishop' and 'Elephant Rock'. Its protected waters offer great snorkelling opportunities in a safe environment and you can also enjoy a panga (dingy) ride along the coast. 
You will then re-board the Santa Cruz II and continue along the coast of Santiago to the beach at Puerto Egas. Here you can enjoy a swim or snorkel along the rocky shoreline – maybe even in the company of a group of marine turtles! You will then head inland on a 'walking safari' which is a great opportunity to observe both land and marine birds amidst a dramatic landscape of tuff-stone layers and lava flows. At low tide you can see marine iguanas grazing and Galapagos fur seals wallowing on the algae beds.
Return to the Santa Cruz II for a well-earned dinner and briefing about the next day's islands.
---
Day 7 Rabida Island and Bartolome Island
A top Galapagos day combining a hike, a swim, a beach and coastal exploration! After breakfast, you land on Rabida Island's unusually coloured beach, reddened by the high content of iron in the volcanic material. A walking tour brings you to a large colony of sea lions and marine iguanas. The beach here is a great place to snorkel due to the unique combination of underwater species and submarine landscapes. Non-snorkelers can enjoy a cruise on a glass bottom boat or a panga ride.
Later set sail for Bartolome Island, keeping your eyes peeled for pods of dolphins that are often spotted in this area. On arrival it is time to stretch your legs on a hike to the central summit for wide-sweeping views of the Galapagos archipelago. Although this is a reasonably steep climb there is a wooden staircase and rest platforms so even little legs should be able to manage it – and the view is worth the effort we promise! Then it is back down to the pangas or glass-bottom boat for a trip around the enormous Pinnacle Rock before heading back to the beach for some more swimming and snorkeling – this time perhaps in the company of Galapagos penguins….
Return to the Santa Cruz II for supper and a further briefing whilst the ship sails northeast to Genovesa Island.
---
Day 8 Genovesa Island
The sunken crater of Genovesa Island is a wild place that is home to thousands of marine birds and feels like a world a million miles from anywhere. The morning starts with an exciting panga ride along the cliffs of this dramatic island. You will then disembark and ascend Prince Philip's Steps on a steep climb (90 feet) to reach a flat plateau. As a useful distraction from the climb you can observe large colonies of Nazca boobies, red-footed boobies, great frigate birds and storm petrels. After the walk, snorkel along the dramatic cliffs where there are chances of spotting a huge variety of fish, and possibly Galapagos fur seals.
After lunch there's more swimming and/or snorkeling from the beautiful beach at Darwin Bay and an optional walk over sharp lava for dramatic views of this volcanic island. Alternatively you can enjoy a panga ride along the coast.
Return for one last evening meal on board as the Santa Cruz II sets sail south for San Cristobal
---
Day 9 San Cristobal Island – Quito
After breakfast docked in Puerto Baquerizo Moreno, say farewell to your wonderful guides and crew. There is a highly recommend optional trip to see the giant tortoise breeding programme at Cerro Colorado. Here, you will learn about this endangered species and its promising future. Following the visit, you will return to town and transfer to the airport to take the flight back to the mainland. On arrival at Quito you will be met and transferred to your hotel.
---
Day 10 Quito – Papallacta – Quito
Enjoy a leisurely morning driving up the Eastern Cordillera where you will go over a 4,000 metre pass offering breathtaking (literally) views of the Antisana volcano and lush surrounding paramo wetlands. From here you will travel to the Papallacta hot springs in a spectacular location amongst the mountain forests of the Andes. Here the entire family can enjoy a healthy dip in the thermal waters (parents, you will feel years younger!) or various spa treatments as well as a guided walk around the grounds before returning to Quito.
---
Day 11 Quito – Cotopaxi – Pedregal
Begin with a stunning early morning drive along the Panamericana Highway, appropriately known as 'The Avenue of the Volcanoes'. Your destination is none other than the world's highest active volcano: Cotopaxi, standing loftily at 5,897 metres with a picture perfect snow-capped cone.
Here you will hike through the pine forest to the Limpiopungo Lagoon, located on the slopes of the volcano. The pace will be extremely gentle as you are at significant altitude here.
After exploring Cotopaxi National Park continue to your traditional hacienda located high in the mountains. Here you can experience genuine Ecuadorian country life in the Andes. Finish your day in the mountains with an exciting two hour horseback ride around the hotel grounds.
---
Day 12 Pedregal – Quilotoa – Pedregal
This morning head to one of the most spectacular spots in the Ecuadorian Sierra – the Quilotoa Crater Lake. This is a beautiful lagoon at the top of the Quilotoa volcano and the mineral water of the lagoon is a dramatic emerald green colour, which can vary to blue or yellow, according to the season.
Hike down to the lagoon and then climb (or rent a donkey for tired legs) back up to the top of the crater. Afterwards, visit the small village of Tigua, famous for its painted craft; here you will find coloured paintings made on sheepskin and symbolic masks. After some fun last minute bartering it is back to your hacienda hotel. This afternoon it's time for some fun in the kitchen learning how to prepare empanadas (small dough packages that can be filled with virtually everything: chicken, cheese, meat and more…). We tend to find that the children's favourites are empanadas filled with cheese and topped with sugar! After all the hard work comes the best part where you sit down and enjoy all the wonderful things you have prepared.
---
Day 13 Pedregal – Quito
Enjoy a free morning at the hacienda. You could take one of the optional excursions available such as a mountain bike ride, high ropes course, milking cows or walks around the hotel's estate. You will then return to Quito for a final evening.
---
Day 14 Quito – Airport
Today after breakfast your guide will collect you from your hotel and will drive you to the airport for your flight back home.

Call us and we will be happy to provide you with a free-of-charge no obligation itinerary and quotation designed for you.
Ecuador & Galapagos in pictures
Unparalleled family travel experience
Specialist knowledge across three continents
Hand-picked local partners
Every holiday is tailor-made for you
100% financial protection
24hr emergency contact number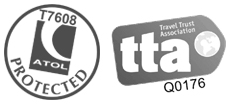 100% Financial
Protection
We are members of the Travel Trust Association, a trade association of Travel Agents, Tour Operators and Travel Organisers that operate trust accounts in order to provide financial protection for the consumer. Membership number Q0176.
Our ATOL number is T7608.