Galapagos & Peru Highlights
Tick of two of South America's highlights with this two-week tour that includes both the extraordinary wildlife of the Galapagos with the ancient Incan ruins of Peru. In the Galapagos you will swim with sea lions and turtles, snorkel with penguins and hike to wind-swept cliffs dodging darting land iguanas en route. In Peru you will come face to face with the animals of the Amazon, explore the mysterious ruins of Machu Picchu and wander the cobbled streets of Cusco. As ever the exact details of the trip can be tailored to your family.
Highlights
  Swim with sea lions & turtles
  Cruise rocky shorelines in a 'panga'
  Explore Amazon jungle
  Zip-line across the Sacred Valley
  Hike the ruins at Machu Picchu
  Sample delicious food in Cusco

18 days from £6,500 pp
Plus international flights from £1,300
An 18-day holiday in the Galapagos and Peru for a family of four usually costs a minimum of £26,000 based on mid-range hotels (excluding internal and international flights)
Galapagos & Peru Highlights day-to-day itinerary
Day 1 Quito

On arrival you will be met by our local representative and transferred to your hotel.
Quito is a stunning city with its diverse neighbourhoods, both colonial and modern. This is most noticeable from the famous Panecillo viewpoint. The top attractions are the historic plazas, churches and colonial buildings, like the Independence Square, the Presidential Palace, the Archbishop Palace, the Municipal Building (City Hall), and the Cathedral.
---
Day 2 Quito
A guided tour of this fascinating city. This will include both La Compañia and San Francisco Churches, two of the great religious buildings of the New World. Children may be more interested in the visit to a local grocery market where they will be able to taste traditional food and fresh fruit juices.
Later take a ride on the Teleferico (cable car). At the top there is the most incredible view of the city against the backdrop of Pichincha Volcano. If you are lucky, mighty Cotopaxi may be visible in the distance. Just remember to take it easy at the top as you are now over 4,000 metres…
You can also visit the Middle of the World where you will be at zero degrees latitude and zero degrees longitude. Children will enjoy standing in both North and South hemispheres and watching the famous 'balance an egg on a nail' trick. And which way does toilet water flush at the Equator…?
---
Day 3 Quito – Galapagos Islands
Time to head to the land of blue-footed boobies, puffed up frigatebirds and smelly sea lions – off to the Galapagos! Our preferred yacht, the M/Y Santa Cruz II, operates two different itineraries, one starting on a Monday and one on a Saturday. The itinerary listed here is the Eastern tour which starts on Saturday. (This boat has many facilities and is particularly good for families but there are cheaper options; please let us know if you would like details).
On arrival on San Cristobal Island, you will transfer to the Santa Cruz II, anchored at Puerto Baquerizo Moreno, the provincial capital of the Galapagos Islands. You will be shown to your cabin, enjoy an introductory talk, boat drill and lunch.
Motor to Punta Pitt, on the eastern tip of San Cristobal Island. This is the only site in the Galapagos where the three species of boobies can be found together and there is a spectacular coastal trail. Enjoy a panga (dinghy) ride along the coast and some time for snorkelling or swimming.
Return to the ship for a welcome cocktail, a briefing about tomorrow's landings and dinner.
---
Day 4 Santa Fe Island – South Plaza Island
After motoring overnight to Santa Fe island, take the panga over to an idyllic sandy-white beach populated by many sea lions. The endemic land iguana, unique to this island, may be spotted during the morning walk amid the giant prickly pear cactus. Snorkelling and swimming from the panga rounds off a rewarding experience or the glass-bottom boat provides an incredible view for non-snorkellers.
During lunch motor to South Plaza Island, whose turquoise waters contrast brilliantly with the white sand and black lava of the shoreline. Beyond, a carpet of scarlet sesuvium succulents serves as groundcover for a grove of luminescent green prickly-pear cactus. Yellow-grey land iguanas sit beneath these, waiting patiently for prickly-pears to drop. Along the coastline you can find sea lion colonies, while frigatebirds, swallow-tailed gulls and shearwaters glide.
---
Day 5 Santa Cruz Island
Disembark at Puerto Ayora for a visit to the famous Charles Darwin Research Station's giant tortoise Breeding Centre within an impressive giant prickly-pear cactus forest home to many land birds. This station is the headquarters of scientific investigation, conservation and the National Park's administration. It is also home to Lonesome George's preserved body – a stark reminder of the need for conservation.
There are several options available for this afternoon – hiking, mountain biking or kayaking in Tortuga Bay). There is also time for some all important souvenir shopping…
Read MoreRead Less
---
Day 6 Espanola Island
Motor to Punta Suarez in time for breakfast. An exciting walk awaits at this site, to enjoy its unique sea bird colonies, including Galapagos albatross (April – December), Nazca boobies, blue-footed boobies, and swallow-tail gulls as well as a view of the Galapagos' famous blow-hole.
In the afternoon motor to the picture-postcard white coral beach of Gardner Bay. This provides a beautiful setting for observing sea lions, mockingbirds and finches. Expect great snorkelling in this area. Return for a final supper on board ship.
---
Day 7 Baltra Island – Quito
Disembark at Baltra Island and transfer to the airport to take the flight back to the continent (via Guayaquil). On arrival in Quito you will be met and transferred to your hotel, not far from the airport yet in a lovely rural location. Enjoy one final night in Ecuador.
---
Day 8 Quito – Lima
Transfer to the airport for a flight to Lima where you will be met by a Stubborn Mule Travel representative and taken to your hotel. If you arrive in the evening we would suggest staying at the airport hotel as it will be an early flight the next morning to the Amazon. Alternatively if there is time you can explore the city.
---
Day 9 Amazon Lodge
Fly to Puerto Maldonado, deep in the Amazon Rainforest. Cruise along the Tambopata River to your lodge. The journey in itself is a wildlife safari and you will spend three nights in a traditional rustic riverside lodge with an exciting programme of activities.
---
Days 10-11 Amazon Lodge
There is an array of activities on offer that will keep all ages happy. Take a walk to the canopy tower from where you can enjoy sightings of toucans, parrots and macaws as well as incredible views of the vast expanse of rainforest. Cruise to an oxbow lake searching for caiman and capybara or travel downriver to a small botanical farm where it is fascinating to learn about the various different plants and their uses.
Children might protest at the early mornings (breakfast is served from 4.30am!) but all will be worth it when they arrive at the clay lick near the lodge to witness the colourful spectacle of hundreds of parrots and parakeets ingesting the clay. At night your children will love venturing into the forest and although unlikely to see any larger animals, they will be suitably entertained by the weird and wonderful frog population and the sheer cacophony of sounds surrounding them in the dark.
---
Day 12 Amazon Lodge – Sacred Valley
Fly high into the Andes mountains to Cusco. From here you will transfer to the heart of the picturesque Sacred Valley. Staying in the Sacred Valley rather than Cusco allows you to acclimatise to the altitude more gradually (the Sacred Valley is lower than Cusco) and is also a gorgeous location in which to relax for a few days.
---
Day 13 Sacred Valley
This morning you will visit the colourful market at Pisac and get the children bartering for all those colourful souvenirs before visiting the Pisac ruins. These are stunning, a huge swathe of agricultural terraces that descend down the mountain. To get away from the crowds you will take a lovely trail that descends down the side of the mountain offering breathtaking views to the main temple complex and down into Pisac Village. Market days at Pisac are Sundays (the largest), Tuesdays and Thursdays but there are plenty of handicraft shops and stalls you can enjoy if you are unable to visit on these days.
---
Day 14 Sacred Valley
Enjoy a guided tour of Moray, where you will visit its impressive circular terraces. You will then start the gentle trek to the village of Maras and descend towards the salt mines of the same name. You will continue to the indigenous community of Pichingoto where you will finish the walk. There are also the nearby ruins of Chinchero to enjoy before returning to your hotel.
---
Day 15 Sacred Valley – Aguas Calientas
This morning you can choose from an adrenalin-fuelled white-water rafting trip down the Urubamba River, a breathtaking zip-wiring excursion, the wonderful Pumamarca hike to the ruins at Ollatntaytambo or even the One Day Inca Express Trail ending at Machu Picchu later this afternoon. Please ask us for more details (suitable for older children).
Later you will transfer to Ollantaytambo from where you will take the train to Aguas Calientas, the base town for visiting Machu Picchu. This evening perhaps head to the hot springs where you can bathe in the (rather smelly) sulphurous pools for a rejuvenating experience.
---
Day 16 Machu Picchu – Cusco
This morning you will visit Machu Picchu with a guide. Perched on a ridge between enormous peaks, framed by the towering Huayna Picchu and the raging Vilcanota River, the lost city of Machu Picchu has to be one of the most impressive archaeological sites in the world and will be a highlight of your trip. The ruins are vast and spread wide over the mountain side and you can spend many hours exploring, following small passageways through the vast rock walls. No-one knows exactly what the ruins were originally used for …was it a permanently inhabited city or a country retreat for the Inca nobility?
In the afternoon take the train back down to Ollantaytambo and then continue on to Cusco.
---
Day 17 Cusco
You have a full day to explore the city. After a busy itinerary, many families enjoy visiting Cusco without a guide, being able to take things slowly at their own pace and making frequent stops in the many superb cafes that dot the city for a fresh fruit juice or ice-cream.
Once the centre of the vast Inca Empire, Cusco offers an intoxicating combination of ancient religious sanctity and colonial splendour. Follow the cobbled streets that lead steeply up hill to the artistic quarter where you can find many excellent cafes, restaurants and markets, or head to the lively central market to bargain for souvenirs or try the local dishes in the huge food court.
Just above the city are the impressive ruins of Sacsayhuaman, perched on the side of a hill with beautiful views over Cusco below. Built out of vast stone slabs, the ruins were originally thought to be those of a fortress built to protect the imperial splendour of Cusco from threat. However it is now thought that perhaps they are the remains of a sun temple…… see what the children think? It is a short 10 minute drive up to the ruins and then an enjoyable hike back down to Cusco, passing through the picturesque alleyways of the old town. 
---
Day 18 Cusco – Lima
After breakfast you will take a flight from Cusco back to Lima and transfer on to your flight home.

Call us and we will be happy to provide you with a free-of-charge no obligation itinerary and quotation designed for you.
Ecuador & Galapagos in pictures
Unparalleled family travel experience
Specialist knowledge across five continents
Hand-picked local partners
Every holiday is tailor-made for you
100% financial protection
24hr emergency contact number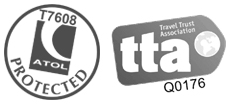 100% Financial
Protection
We are members of the Travel Trust Association, a trade association of Travel Agents, Tour Operators and Travel Organisers that operate trust accounts in order to provide financial protection for the consumer. Membership number Q0176.
Our ATOL number is T7608.