Highlights of Southern Brazil
This is the ideal two-week tour encompassing many of the highlights of the country. Starting in the famed city of Rio you will travel down the Emerald coast to the colonial town of Paraty to enjoy rainforest walks, hidden fjords and beaches. Head inland to explore the Pantanal on foot, by boat or horseback, searching for anacondas, crocodiles and jaguar. Then enjoy some adrenaline activities at the eco-tourism centre of Bonito before ending with a splash at the jaw-dropping Iguazu Falls. A wonderful mix of experiences suitable for all ages, allowing enough time in each place to really soak up that Brazilian vibe.
You will be escorted by English-speaking guides throughout.
Highlights
  Take the train up Corcovado
  Rainforest hike to Mamangua Peak
  Cruise to secret beaches & fjords
  Pantanal spotlight night safari
  Float along the emerald Rio da Prata
Take on the mighty Iguazu Falls
Try a Brazilian cookery class
15 days from £3,000 pp
Plus international flights from £585
A two-week holiday in Brazil for a family of four usually costs from £12,000 plus flights, depending on type of accommodation.
Highlights of Southern Brazil day-to-day itinerary
Day 1 Rio

Welcome to one of the world's most exotic cities! When you arrive into Rio you will be met by a Stubborn Mule representative and transferred to your hotel near the famous Copacabana Beach.  All around you are iconic Rio landmarks such as Sugar Loaf Mountain, Christ the Redeemer statue, Ipanema Beach and of course the fun-loving cariocas, or locals, out enjoying the sunshine and infectious bossa nova beat. Kids, we're not in the UK any more…
---
Day 2 Rio
Starting with the city's most famous landmark, you take an electric train up through the rainforest to the foot of the giant Cristo Redentor (Christ the Redeemer) statue at the summit of Corcovado mountain. From here the views out over Guanabaro bay, packed full of people enjoying their water sports, are astounding.
Next, hop on a bike and enjoy a city tour with a difference – Rio on two-wheels. From Flamengo Park you cycle to Botafogo Beach in the South Zone of the city past the Museum of Modern Art, the Estacio de Sa monument and the beaches of Flamengo and Gloria. You then head to the Urca neighbourhood where you swap two wheels for two feet and enjoy the lovely Morro da Urca trail, which takes you partway up Sugar Loaf Mountain. After 30 minutes you can then hop on the cable car and whip up to the summit to enjoy a spectacular sunset. Sipping the local caipirinha cocktail overlooking Copacabana beach surely has to be the most magical start to any Brazilian holiday. Welcome to Rio!
---
Day 3 Rio
Rio is set in a magical location surrounded by nature and the jungle. Today you discover part of the largest urban forest in the world – the National Park of Tijuca. After driving to the beginning of the trail you take a short hike to the top of Pedra Bonita peak (693m), which has one of the most impressive views over Rio.
You then descend, accompanied by the noise of howler monkeys, to a complete contrast in the Barra da Tijuca district with its lagoons, mangroves and swamps, home to many fish and animals.  Take a boat ride between the islands and narrow channels where there is a good chance of spotting two native species in particular – the capybara and broad-snouted caiman. It is a great experience seeing them in their natural habitat in a big city.
The rest of the day is at leisure to enjoy the beaches, try your hand at paddle boarding, surfing or even hang-gliding…. Chomp on a churros (local doughnut), enjoy supper at a traditional churrascaria (barbeque restaurant) and just try to stop humming 'The Girl from Ipanema'…
---
Day 4 Paraty
Head south along the famous Emerald Coast to the charming colonial town of Paraty, replete with cobbled streets, pastel-coloured houses and horse and cart transport.
Located between mountains and sea, its pedestrianised historical centre is protected by UNESCO and consists of preserved mansions, ancient churches and streets that were paved by slaves.
This evening enjoy a cookery demonstration where you can participate in the preparation of dinner. Brazilian cuisine is at a crossroads of cultures, its roots reflecting the combination of native Indian, Portuguese and African influences. Your chef will inspire your culinary senses, while telling stories about each of these traditions.
---
Days 5-6 Emerald Coast & Ponta Negra
You are in for a real treat today with a visit to the nearby Juatinga Peninsula Eco-reserve and Brazil's only tropical fjord, the Saco do Mamanguá. Taking a boat through this unique marine system and tropical paradise, you cruise through the fjord and then hike up Mamangua Sugarloaf Peak (yes, another one!) for incredible views of the whole region. Being Brazil, there is always time for some R&R at a beach so on the way back you can stop for lunch at a beachside restaurant and take a dip in the ocean to cool off.
On your second day here, head to Ponta Negra beach, accessible only by boat or on foot. Taking the trekking option, you will follow stunning trails right beside the sea, next to the Atlantic forest full of wildlife and colourful bromeliads. Emerge out onto Ponta Negra beach and view a breathtaking scene of fine white sand and transparent waters in a safe and secluded bay. The fishing village here is very traditional and you can enjoy a delicious meal of freshly caught and baked fish in the beach restaurant here before taking a dip.
Alternatively, if you have had enough walking, take a jeep tour and head into the rainforest to discover the numerous waterfalls in the area. The waterfalls are in wild and beautiful locations but in these parts it's all about being in them not just looking at them. Dive in, jump in, tarzan-style rope-swing over them, slide down huge rocks into them and that old favourite: ease yourself in, inch by inch, as obviously it won't feel as cold that way!
Read MoreRead Less
---
Days 7-9 Pantanal
Time to leave the coast and head inland. Transfer to Sao Paolo and fly to Campo Grande, the base for the famous southern Pantanal. The Pantanal is a huge wetland reserve, home to some 650 species of birds, 230 varieties of fish and many other exotic wildlife including the elusive jaguar.
Your traditional riverside lodge is replete with hammocks, anteaters roaming the grounds and a live macaw wake up call. From here you can head out on horseback, take to the river on a wildlife cruise, try your hand at piranha fishing (don't worry, they're vegetarian – allegedly) or enjoy a wagon ride to a local cattle ranch.
A forest walk may bring encounters with capybara, jabiru stork, giant otter, toucan, blue macaw and marsh deer. And you will never forget the glint of a caiman's eye reflecting back at you on a torchlight night safari….sweet dreams.
---
Day 10 Bonito
Just when you thought you had experienced everything Brazilian nature had to offer, you transfer to Bonito.  En route visit the stunning Boca da Onca waterfalls. Starting with a 4km trail through preserved forest, you will pass 12 beautiful crystal clear waterfalls including the region's highest, Boca da Onca at 156m high. It is possible for the daredevils out there to enjoy a thrilling abseil descent down a vertical 90m wall… All around, you are surrounded by lush greenery, colourful (and noisy) birds and a variety of other wildlife. Afterwards, enjoy a traditional lunch cooked on a wood stove. Freshen up with a dip in one of the natural pools (in the company of the local fish) before heading on to Bonito.
---
Days 11-12 Bonito
Bonito, meaning 'beautiful', is known as the eco-capital of Brazil and is famous for its animal diversity and ecotourism activities. Surrounded by lush forests with hundreds of waterfalls, over eighty caves and the clearest blue rivers you will find anywhere, this is a nature lover's paradise.
At Gruta do Lago Azul (the Cave of the Blue Lake) you take a trail down staircases made with limestone rocks. On your way, pass mind-boggling stalactites, stalagmites, travertines and several other weird and wonderful rock formations that any geography student will love. The enchanting underground blue lake shelters the rare albino shrimp and also bones of extinct animals that lived in the region over 12,000 years ago, like the giant sloth.
Emerge into the open air and head to Estancia Mimosa, recipient for countless environmental awards. Follow an interpretive trail through the forest, including sections in a rowing boat and many stops where you can bathe in waterfalls, natural pools and swim into small caves.  From suspended walkways you can see the dramatic gorges and hills of the Serra da Bodoquena National Park.
The following day provides some of the most memorable moments of your time in Brazil. Get your Go Pros and underwater cameras ready as you take off on an incredible water floatation ride down the Rio Prata.
Starting with a guided walk past giant mahogany trees where capuchin monkeys hang out, you emerge at the riverside before suiting up and submerging yourself in the unbelievably transparent waters. Gently bobbing down a river in Brazil surrounded by pristine nature has to be good for the soul.  Suitable for anyone over 3 years, you spend several hours immersed in the crystal clear waters, surrounded by colourful fish.  A stop will be made so that you can do some easy diving and get even closer to your marine companions.
After this you dry off and head to the Buraco das Araras, the largest sinkhole in Latin America. 500m wide and 100m deep, it is home to hundreds of bright red macaws.  The racket at feeding time will make any parent feel right at home….
Return to your rustic cabanas, in fitting with the surroundings.  For those who have not had enough of water-based activities today, you can chill out in the pool listening to the (very loud) sounds of nature.
---
Days 13-15 Iguazu Falls
The best till last… Transfer back to Campo Grande and fly to Foz do Iguacu, the gateway to the world's most impressive waterfalls. Think Niagara?  Think again… The Iguazu Falls are nothing less than a 'New Wonder of Nature', and all ages will be wowed by their strength and dramatic setting. A series of 275 waterfalls, reaching up to 90m high, are shared by Brazil, Argentina and (little known fact) Paraguay.  A visit to both the Argentine side (another stamp in the passport!) as well as the Brazilian, is an absolute must.
First off, Argentina, which most people consider to be the most exciting and also rustic side. Take a train that leads to the 'lower circuit', 1700m of walkways running along the falls through humid subtropical forest filled with wildlife. Or follow the 'superior circuit' with 650m of walkways and hanging bridges that offer spectacular views of the massive deluge of water. Both routes end at the edge of the most dramatic part of the falls, the Garganta del Diablo – the Devil's Throat. From here you hop into a 'safari boat' and get up close to the base of the falls themselves, heart-stopping stuff as the captain plays with your nerves running the rapids, whirlpools and currents. Hint – you WILL get wet.
The next day experience the falls from the Brazilian side.  More incredible scenic walkways, more fantastic wildlife and more getting wet! There are multiple viewpoints and everywhere you are surrounded by the natural world that you have now come to expect from Brazil. This is why Iguazu is about so much more than just waterfalls. Coati racoons and capybaras are everywhere (watch out for your snacks), colourful butterflies flit overhead and toucans, macaws and parrots screech greetings. Fig trees, giant bromeliads and vibrant orchids add to the scene.
You finish your day at the 'Backstage Experience' which sounds like something out of Las Vegas, but stars the local fauna instead. The Bird Park here is an internationally recognised rescue and conservation centre for birds, located in the middle of rich Atlantic Rainforest. The Backstage Experience is your opportunity for privileged contact with some birds, featuring feeding of toucans and other species whilst learning about the park's much needed conservation and rescue programmes.  Educational and a huge amount of fun – all ages will love it. A truly remarkable way to bring your time in Brazil to an end.
---
Day 16 Depart
Time to bid farewell to caiman, capybaras and caipirinhas and head home.

Call us and we will be happy to provide you with a free-of-charge no obligation itinerary and quotation designed for you.
Unparalleled family travel experience
Specialist knowledge across three continents
Hand-picked local partners
Every holiday is tailor-made for you
100% financial protection
24hr emergency contact number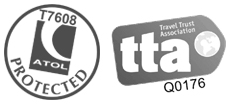 100% Financial
Protection
We are members of the Travel Trust Association, a trade association of Travel Agents, Tour Operators and Travel Organisers that operate trust accounts in order to provide financial protection for the consumer. Membership number Q0176.
Our ATOL number is T7608.