Classic Cape & Garden Route
This classic tour takes you from Cape Town, one of the world's great cities, along the dramatic and spectacular Garden Route. This is a wonderfully varied region encompassing picturesque rolling winelands, stark semi desert and gorgeous beaches. There are vineyards, safari parks and endless adventure activities. There is also a wonderful selection of boutique hotels that are ideally suited to families.
This whole itinerary is malaria free.
Highlights
  Sunset from Table Mountain
  Explore South Africa's Winelands
  Whale watching in Hermanus
  Meet the meerkats in Oudsthoorn
  Zip-lining in Tsitsikamma
  Big-five on safari
15 days from £2,625 pp
Plus international flights from £850
A two-week self-drive holiday along the Garden Route in South Africa usually costs from £10,500 plus flights for a family of four.
Classic Cape & Garden Route day-to-day itinerary
Day 1 Cape Town

When you arrive at the airport you will be met by a Stubborn Mule Travel representative and transferred to your hotel.
This stunningly scenic city is snugly situated at the tip of the Africa, its busy harbour and rugged mountains all surrounded by the expansive sparkle of the Atlantic Ocean. It's hard not to be impressed by Cape Town. There are gorgeous beaches, award winning vineyards and a trendy city centre. And it's all set again the dramatic backdrop of Table Mountain, the newest addition to the World's Natural Wonders. Beneath this iconic landmark lie a multitude of culinary delights, ambient cafes, African craft markets, compelling museums and a vibrant nightlife.
---
Day 2 Cape Town
A full day to explore Cape Town. Perhaps start the morning with a trip up Table Mountain (either on foot or by cable car) or consider an excursion out to Robben Island. This is where Nelson Mandela was imprisoned for 27 years. The botanical gardens are also stunning, and very child-friendly, with an elevated walkway offering superb views.
Also recommended is the craft market in Greenmarket Square and the Bo-Kaap's colourful Cape Malay area. There are surf lessons, mountain biking, township visits, culinary tours and plenty more to keep you all occupied!
---
Day 3 The Cape Peninsula
Spend the day exploring the Cape Peninsula, following the scenic Cape Point Route. This is a circular journey that hugs the Atlantic coast road out to Cape Point, taking you past pretty beaches and fishing villages. Stop at Boulders beach where the kids will love getting up close with penguins. They dart in and out of the water, bask in the sun on the beach, fluff their feathers then scuttle back into the water. Here you can also take an easy stroll along the wooden boardwalks that thread through the dense vegetation, passing over the dunes and round Foxy Beach.
Cape Point itself is also a highlight, the meeting point of the Atlantic and Indian Oceans. The area is a national park and provides an ideal opportunity to view the magnificent Fynbos vegetation, historic lighthouses and shipwrecks. You may even spot a zebra or two.
---
Day 4 Cape Town – Winelands
You can spend the morning in Cape Town, ticking off the last of the sightseeing.
From here it's then a relatively short drive (around 90 minutes) to the Winelands, staying in either Stellenbosch or Franschhoek. This area is a producer of orchard fruits, elegant wines and delicious olives. The scenery is stunning, with an impressive backdrop of mountains. There are plenty of opportunities to stop and explore – perhaps stop to buy yourselves a picnic and find a good spot in the mountains with a view.
---
Day 5 Winelands
A full day to enjoy the Winelands.
Highly recommended for families is the 'Hop-on, Hop-off' tram which takes you through the heart of the Franschhoek Valley. Along the way you will see picturesque vineyards and breath-taking scenery and will enjoy warm hospitality, world-class cuisine and fine wines. Many of South Africa's oldest and most distinguished wine estates are included on the route, and you can take a pleasant stroll through the vineyards before sampling the wine.
Read MoreRead Less
---
Day 6 Hermanus
A spectacular drive today as you travel over the Franschhoek Pass through Elgin Apple country to Hermanus on the Cape Whale Coast.
Hermanus is an attractive seaside town that offers some of the best shore-based whale-watching opportunities in the world from July to November. During this time you can witness giant southern right and humpback whales directly from Hermanus' shoreline and cliffs.
At other times of year, Hermanus is still well worth a stop. There is an pretty sea-front (perfect for an ice-cream overlooking the ocean) as well as beautiful beach and cliff walks. Just above the town lies the Fernkloof Reserve, which has more then 60km of hikes into the hills, all offering superb views over Walkers Bay.
Tonight perhaps head out for dinner at a restaurant near the waterfront.
---
Day 7 Hermanus
This morning take a boat cruise into Hermanus Bay. From July to November there are excellent whale sightings but this excursion is well worth doing throughout the year. Dolphins can be often be seen, particularly the playful 'common dolphin' which often follow boats throughout the cruise. Bottlenose dolphins are also seen here, famous for their ability to leap into the air and surf the waves. You also have a good chance of spotting massive Cape Fur seals. These are huge – the males can grow more than 2m in length!
Alternatively you could spend a lazy day browsing the shops and cafes, or take a hike in the Fernkloof Reserve.
---
Day 8 Oudtshoorn & Cango Caves
It's a fabulous drive into the interior today, travelling along the famous Route 62 to Oudtshoorn. Perhaps stop for milkshakes at the Blue Cow Coffee shop in Barrydale and enjoy lunch in the pretty town of Swellendam.
Oudtshoorn itself is the ostrich capital of the world, and sits in the heart of the Klein Karoo. This is the southern fringe of the Karoo, a huge semi-desert that covers much of the interior of South Africa. It is an area of dramatic views and vast landscapes.
This afternoon you can visit a local ostrich farm where the children will love being able to ride this large native African bird. You could also visit the famous Cango Caves and crawl inside this stunning underground landscape. Situated beneath the Swartberg foothills the caves are known for their vast caverns, dripping rocks and rising columns of calcite. This is a great adventure for families.
---
Day 9 Oudtshoorn – Tsitsikamma
This morning rise early and head out into the bush to witness a population of wild habituated meerkats start their day. As the first rays of the sun hit the burrow the 'sentinel' emerges, soaks up the warmth and scans the horizon to ensure that it is safe. If it is then she will start to 'chirrup' and the rest of the troop will slowly emerge, start their morning ablutions and dig for grubs.
Later this morning you will head for the coast, and the famous Garden Route. This is an absolutely stunning 200km stretch of coastline, starting officially in Mossel Bay in the west and ending at Storms River in the east. You will spend three nights in the small town of Tsitsikamma.
---
Day 10 Tsitsikamma & Garden Route
You have a full day of adventure in Tsitsikamma National Park, an expansive coastal reserve known for its indigenous forests, dramatic coastline and the Storms River Mouth. Choose from zip-lining through the forest canopy, kayaking (or 'lilo-ing') along the Storms River, mountain biking, hiking or horse-riding.
After an adrenalin-fuelled morning, perhaps take an afternoon boat ride into the inaccessible Storms River Gorge. Along the gorge you will find huge caverns which are home to a number of rare bat species. There are also cascades of mini waterfalls that flow freely along the rock overhangs and down into a lush fern forest. Sightings of resident fish eagles are also common in this area.
---
Day 11 Tsitsikamma & Garden Route
A further day to explore the area – there is masses to do! Highly recommended is the hike around the rugged Robberg Peninsular where you can spot Cape Fur seals playing in the surf. You'll also see hyraxes (rock rabbits) sunbathing on the rocks and a diverse range of marine birds. At certain times of year you may see Southern Right whales migrating west, or even an opportunistic great white shark looking for some dinner. There are beautiful beaches where you can stop for a paddle (out of reach of sharks!) or a picnic.
Other options include the Tenikwa Nature Reserve for a 'wildcat experience' and the Monkeyland Primate Sanctuary. You can see hundreds of brightly coloured birds at 'Birds of Eden free flight sanctuary' or spend time at the Knysna Elephant Park. There are also masses of enticing local shops where you can see artisans making beautiful souvenirs. Our favourite are the porcupine ceramics at The Mill or Old Nick Village.
---
Day 12 Eastern Cape Game Reserve
A relaxing morning before heading to the Eastern Cape. Here you will stay in a lodge on a private game reserve and this afternoon take your first safari.
There are many different private reserves in the area, including Shamwari, Amakhala, Kariega and Addo Elephant Park. All of these are popular with families as they are malaria free. They are all very well stocked with wildlife (including all the Big-Five) and provide a fantastic introductory safari experience for children.
This evening gather around the campfire to toast marshmallows under the African night sky.
---
Days 13-14 Eastern Cape Game Reserve
Rise before dawn and head out in an open-sided safari vehicle. As the sun slowly approaches the horizon, the animals start to wake. Watch as a lion stretches, yawns and pads quietly down a dried river bed. Be mesmerised by a herd of elephants as they troop slowly towards a watering hole. Seek out a family of cheetah, the cubs rolling in the long grasses and chasing each other.
The views are superb and you will stop for a morning coffee or hot chocolate at a stunning vantage point. Continue your safari into the morning before a well-deserved breakfast back at camp.
The middle of the day is free for you to relax before heading back out on safari mid-afternoon. Again this is the perfect time to see the animals, after the heat of the day has dissipated. Warthogs zig-zag across the road, giraffe meander past and zebra gather together in a bewildering dazzle of stripes. As the sun sets you will stop for sundowner drinks and snacks to enjoy the views before you.
You will have two full days of safari, with morning and afternoon game drives on both days.
---
Day 15 Port Elizabeth
This morning a short drive takes you to Port Elizabeth where the tour ends. From here there are regular flights on to Johannesburg and Cape Town for your flight home.

Call us and we will be happy to provide you with a free-of-charge no obligation itinerary and quotation designed for you.
Unparalleled family travel experience
Specialist knowledge across three continents
Hand-picked local partners
Every holiday is tailor-made for you
100% financial protection
24hr emergency contact number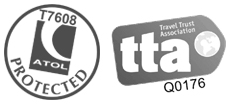 100% Financial
Protection
We are members of the Travel Trust Association, a trade association of Travel Agents, Tour Operators and Travel Organisers that operate trust accounts in order to provide financial protection for the consumer. Membership number Q0176.