Kruger & Beach Family Safari
South Africa is often described as 'a world in one country' and this 2-week tour shows you why. Start with the vast and rugged landscapes of the Panorama route. Next is the huge expanse that is Kruger National Park, where the Big 5 roam. From here you will cross into Swaziland, with its dramatic mountains and rural village life. Continuing on towards the coast, you'll have time to spot rhino in Hluhluwe Imfolozi before heading to the lush wetlands and mangrove forest of St Lucia. End up with a couple of days on the beach near Durban. There are masses of activities on offer to suit children of all ages.
Note that malaria tablets are recommended for this trip.
Highlights
  The Big-Five in Kruger
  Explore the Kingdom of Swaziland
  Venture deep into Zululand
  Snorkelling in iSimangaliso
  Hippo & croc spotting
  Finish on the beach in Durban
15 days from £2,625 pp
Plus international flights from £850
A two-week self-drive holiday in South Africa for a family of four usually costs from £10,500 plus flights.
Kruger & Beach Family Safari day-to-day itinerary
Day 1 Johannesburg to Hazyview

When you arrive in Johannesburg you can either take a connecting flight to Nelspruit (near Kruger / Hazyview) or we can arrange for you to pick up your rental vehicle and drive north. This takes around 4 hours.
---
Day 2 Panorama Route
Today you have a full day to explore 'The Panorama Route'. This is an area of extraordinary beauty, with dramatic craggy mountains, plunging waterfalls, crystal rock pools and sweeping pine forest. Favourite stops en route include God's Window, with its awe-inspiring landscape and Blyde River Canyon. The views from Three Rondavels and Bourke's potholes are also incredible. Well worth visiting is Pilgrim's Rest, a lovely quaint town. Here the traditional corrugated iron buildings are preserved in the style of the gold-rush era, offering a glimpse of the past.
We also highly recommend gliding down the Graskop gorge within a glass elevator (the new Graskop Gorge lift) and swimming in the Mac Mac rock pools. Brace yourselves, as the water is refreshingly icy.
Finally, for refuelling, do try 'Harry's Pancakes' in Graskop. Here you can enjoy a huge plate of sweet or savoury pancakes – biltong and avocado is a particular favourite! Or for an authentic and somewhat unique eating experience, try 'Potluck Boskombuis' (literally translated as 'potluck bush kitchen').
---
Day 3 Kruger
After breakfast it's time to set off for Kruger National Park. One of the largest parks in Africa, Kruger is home to a staggering array of wildlife including significant populations of all the Big-Five. Game viewing possibilities are simply unparalleled. As there are no longer any fences between the Kruger National Park and the neighbouring private game reserves, wildlife roams freely in a huge natural environment.
Depending on where you are staying, you may be able to enter Kruger at one gate this morning, and exit by a second.
---
Days 4-5 Kruger
Two full days to explore Kruger National Park. The park is criss-crossed by a large network of roads which you are allowed to explore in your own vehicle. This means that you can take your time meandering around the bushveld, keeping your eyes peeled for lion, cheetah, rhino and more. However, you may also like to consider a guided game drive; the guides here are exceptional and have an incredible ability to spot wildlife. A flick of a tail in the long grass reveals a cheetah; a shady tree is likely to shelter a snoozing lion. And is that a funny shaped branch at the top of the tree or a python slowly unfurling its coils?
You may also like to take a guided nocturnal game drive in search of some of the species that come out after dark. Driving slowly through the African bush, seeing glowing eyes staring at you from the darkness, is one of South Africa's great experiences!
---
Day 6 Swaziland (Eswatini)
Leave Kruger behind you and head to the little Kingdom of Eswatini, formerly known as Swaziland. This tiny country is rich in tribal heritage and scenic beauty. It is very different to South Africa, with a much more rural feel and the change is noticeable as soon as you cross the border.
Read MoreRead Less
---
Day 7 Swaziland (Eswatini)
An exciting morning, as you take a canopy tour in the pristine mountain wilderness of the Malolotja Nature Reserve. This is home to dramatic scenery, with striking rock formations, towering cliff faces and views across the lush forest canopy. The excursion starts with a drive in an open game vehicle with frequent sightings of Blesbuck, Eland, Impala and Zebra. You then take to the trees and experience the thrill of gliding through the forest canopy over eleven elevated forest platforms, ten slides and a 50m long suspension bridge!
If this does not appeal there are many other activities, including white-water rafting, mountain hikes, horse riding and a number of cultural experiences.
---
Day 8 Mkuze / Hluhluwe Imfolozi
Leaving Swaziland behind you will head to KwaZulu Natal, the ancient Zulu heartland. Once the exclusive royal hunting ground of King Shaka, this area is home to Africa's oldest established wilderness reserve. Your route takes you through a picturesque rural landscape of small local villages and rolling hills.
---
Day 9 Mkuze / Hluhluwe Imfolozi
A full day to explore the area. You may like to take a safari in Hluhluwe-Imfolozi National Park. This is famous for its successful white rhino conservation programme so keep your eyes peeled as you drive through the thorny scrubland. Alternatively you could take a walking safari in the company of the park ranger.
Depending on where you are staying there may also be opportunities for kayaking, nature walks and an evening around the campfire.
---
Day 10 St Lucia 
Continuing to the coast you have three nights in St Lucia. This small but quaint village is the ideal hub from to explore the nearby nature reserve. The reserve encompasses sweeping beaches, great fertile estuaries, mangrove forests and lakes.
---
Day 11 St Lucia
This morning take a boat trip through the lush wetlands of the St Lucia estuary. The scenery here is gorgeous, with an endless series of connecting waterways lined by reeds gently rustling in the breeze. The silence is punctuated by the grunting of a nearby hippo and the tiny splash as a crocodile glides off a mud bank and into the water. The boats here have a very shallow draft, allowing you to get remarkably (but safely) close to the wildlife.
The afternoon is free to relax or perhaps take a stroll along the beach.
---
Day 12 St Lucia
An exciting morning snorkelling off the beautiful coastline at Cape Vidal. This is suitable for all the family and there are fabulous sightings of a variety of colourful fish. If you are lucky you may also see turtles or an octopus. For added 'ewww factor' there are also eels and flatworms….
In the afternoon there are plenty of other excursions you can enjoy, including fishing and bird watching. Alternatively, find a friendly cafe and enjoy a milkshake or a cold beer. At dusk it's not uncommon to see a hippo lumbering past.
---
Day 13 Durban
This morning continue along the coast towards Durban, to finish up with two nights on one of the beaches just north of the city.
This afternoon you can wander along the sea front, take the skywalk to the top of the Moses Mabhida Stadium for panoramic views over the coast or head to the botanical gardens for a picnic.
---
Day 14 Durban
A full free day. Highly recommended is an outing to the uShaka Marine Park. This is home to a large aquarium, but perhaps of more interest to the children is the huge waterpark. Parents may have to come here under duress but for the kids you will be ending on a real high note, with an endless selection of pools and water slides for all ages.
---
Day 15 Durban
Transfer to the airport for your flight home.

Call us and we will be happy to provide you with a free-of-charge no obligation itinerary and quotation designed for you.
Unparalleled family travel experience
Specialist knowledge across three continents
Hand-picked local partners
Every holiday is tailor-made for you
100% financial protection
24hr emergency contact number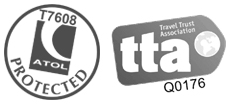 100% Financial
Protection
We are members of the Travel Trust Association, a trade association of Travel Agents, Tour Operators and Travel Organisers that operate trust accounts in order to provide financial protection for the consumer. Membership number Q0176.