Sri Lanka Christmas & Easter Tour
If you are travelling at Christmas or Easter the beaches on Sri Lanka's south and west coasts will have the best of the weather. This itinerary combines the highlights of the country, including Lion's Rock at Sigiriya, wildlife spotting in national parks and the gorgeous tea plantations in the central hills, with the beaches on this stretch of coast. As ever we will tailor the itinerary to your particular family and travel dates.
Highlights
  Highlights of the Cultural Triangle
  Searching for leopard on safari
  Washing an elephant in the river
  Train trip through tea plantations
  Explore a Dutch fort and play on the beach
15 days from £1,875 pp
Plus international flights from £450
A two-week holiday in Sri Lanka for a family of four usually costs from £7,500 plus flights.
Sri Lanka Christmas & Easter Tour
Day 1 Colombo – Coconut plantation / Negombo

Arrive at the airport in Colombo where you are met by a Stubborn Mule Travel representative and transferred to your hotel. Depending on budget, we can either arrange for you to stay in a hotel in the beach resort of Negombo or you can upgrade to a hotel in a beautiful coconut plantation.
---
Day 2 Coconut plantation / Negombo
A full day to relax. If you are staying in Negombo, we can arrange a morning excursion to the Muthurajawela Nature Reserve where you can take a boat ride on the canals. Keep your eyes peeled for birdlife and, if you are lucky, the occasional crocodile. If you are staying on the coconut plantation, you may prefer to stay put and enjoy the peaceful surroundings. There is the chance to take a bullock cart ride around the coconut estate or you can join the chef in the kitchen to learn some of the secrets of Sri Lankan cuisine.
---
Day 3 Wilpattu National Park
This morning drive north to Wilpattu National Park where you will stay the night in an African style safari camp.
This afternoon take a safari in the park in search of wildlife. Wilpattu is the largest park in Sri Lanka and is spread across a huge area that is home to more than 50 natural lakes. These lakes are a magnet for wildlife and the park is home to a significant leopard population. Many of our travellers have been very lucky and have spotted leopard, sloth bear and more.
Later return to camp for dinner around the campfire.
---
Day 4 Wilpattu National Park – Dambulla
If you didn't get to spot a leopard on your first safari, there is the opportunity to return to return to Wilpattu this morning.
Later, head through picturesque countryside of coconut plantations and lush green paddy fields, en route to the 'cultural triangle'.
In the late afternoon your driver will take you to Pidurangala, a hill located opposite Sigiriya. You can climb to the top for sunset for sensational views over the Lion's Rock. The top part of the climb involves a bit of scrambling up a couple of boulders but the views from the top are stunning.
---
Day 5 Dambulla
In the morning join local pilgrims for the climb up to a series of caves that are covered in brightly-coloured frescoes that date back more than 2,000 years. This is a UNESCO world heritage site and is very impressive. Along the way the children will enjoy watching the playful monkeys that live in and around the temple, although keep a close eye on your belongings, as they are quite keen on cameras or any snacks that you might have on you!
The afternoon is free to relax.
Read MoreRead Less
---
Day 6 Sigiriya & Minneriya National Park
Rise early to climb the huge rock fortress of Sigiriya before it gets too hot. Built in the 5th century on top of an enormous, sheer sided rock it is quite a steep climb up to the top but the views are immense.
Younger children will enjoy walking between the giant lion's paws on the way up the stairs, the last remnant of a giant lion's head that visitors used to have to climb through to reach the fortress. There are also further caves, ruins and gardens around the base of the rock that the children can explore. Older children might then be side tracked by the souvenir market… the perfect place to hone their haggling skills!
In the afternoon head to Minneriya National Park for a safari. The park is famous for its large herds of wild elephants and you can get remarkably close to the huge herds. These are sometimes 150-200 strong.
---
Day 7 Kandy
After breakfast this morning depart for Kandy where you visit The Temple of the Tooth. This is believed to hold one of Buddha's teeth and is one of the most important Buddhist pilgrimage sites in the world. You will also have the chance to explore the Botanical Gardens, which are beautifully laid out and provide the perfect place for younger children to let off steam. Later watch a cultural performance of traditional Kandyan dancing and devotional fire walking. It is fascinating to watch as hot coals are brought out and laid on the stage before the dancers walk briskly over them.
---
Day 8 Nuwara Eliya – Ella
This morning you have a beautiful drive through the hills to Nuwara Eliya. This town was founded by the British in the 19th century as a place where they could retreat to escape the heat of the plains and indulge their British past-times of hunting, polo and golf.
Once in Nuwara Eliya you can explore the town before continuing on by train to Ella.
The train journey is incredibly beautiful with superb views over the tea plantations and passing through local villages. When you arrive in Ella your driver will meet you for the short drive to your hotel where you will spend three nights on a working tea plantation.
---
Days 9-10 Ella
You have two full days to explore the tea plantations around your hotel. Perhaps take a gentle hike up Little Adam's Peak, try out the Ravana zipline, take a tea plantation tour or just relax and enjoy the pool.
---
Day 11 Ella – Uda Walawe
Leave the hill country behind you and head to the national park of Uda Walawe. The park is famous for its large herds of elephant as well as populations of crocodiles, monitor lizards and sloth bear.
This afternoon the children will enjoy visiting the Elephant Transit Camp where orphaned or injured elephants are rehabilitated before being released into the wild.
---
Day 12 Uda Walawe – Beach
A morning jeep safari into Uda Walawe national park. The park is very beautiful and is a wonderful place to enjoy the beauty of Sri Lanka quite apart from the potential for animal spotting. It is centred on a large lake that is home to many crocodiles but you will also see huge herds of elephant, many different kinds of deer and an abundance of birdlife.
In the afternoon drive to a beach resort on the south coast of Sri Lanka. We will suggest one that is suitable for your family, depending on whether you would prefer a secluded and remote beach or a more lively resort with a choice of activities and restaurants.
---
Days 13-14 Beach – Galle
Two full days to enjoy the beach. Depending on your choice of resort you might also want to visit the picturesque small town of Galle. First founded in the 16th century by the Portuguese, this is one of Sri Lanka's most charming towns and is packed with old architectural gems, historic churches and dramatic sea views.
---
Day 15 Colombo
Transfer to the airport for your flight home.

Call us and we will be happy to provide you with a free-of-charge no obligation itinerary and quotation designed for you.
Unparalleled family travel experience
Specialist knowledge across three continents
Hand-picked local partners
Every holiday is tailor-made for you
100% financial protection
24hr emergency contact number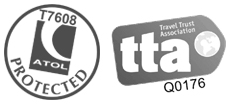 100% Financial
Protection
We are members of the Travel Trust Association, a trade association of Travel Agents, Tour Operators and Travel Organisers that operate trust accounts in order to provide financial protection for the consumer. Membership number Q0176.
Our ATOL number is T7608.