Tanzania customer reviews
We are very proud of the feedback that we get from our trips and are pleased to share reviews from past travellers. These are kept as up to date as possible. Please have a read through to get a real sense of the kind of experience that you might have on a family trip to Tanzania. And please do ring if you'd like to talk with someone who has been there and travelled with children.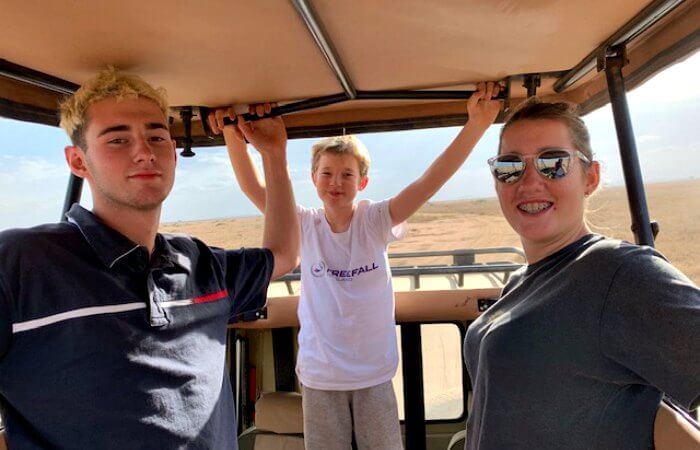 McCormick Family (with child aged 7)
Travelled February 2020
Hi Emily – We had a fabulous time in Tanzania. The highlight was Ngorongoro Crater due to the variety of animals in such a small area. We wished we could have had more time there. While we had great weather for most of that day, a shower in the afternoon made our road impassable and we had to take a long detour. Due to that detour, however, we were lucky to come upon a serval wild cat (on my son's 'to see' list) and a very close elephant. We had these animals all to ourselves for an extended period of time, and we wouldn't have seen them without the detour.
We really enjoyed Arusha National Park too, as we got to see a lot of animals close to the road. We enjoyed canoeing but we were unlucky during our hike and we didn't get to see any animals up close. It had rained the night before, so the animals were avoiding the wet ground. The waterfall made the walk worth it though…
Our accommodations were great. On my birthday the staff all sang for me and presented me with a cake, which was lovely. Our favourite was the luxurious tent experience at Tortillis.
Our driver/guide was very knowledgeable and made excellent driving decisions for the most part. He always tried to park at the best angle to get great photos. We got stuck for 45 minutes at one point and had to call for a tow. It all seemed to be part of the safari adventure, though. Hakuna Matata.
We marvelled at the sky and trees in the Serengeti. We stared at them long enough to imprint them in our memories. We even had a rainbow for our last evening there…
Our flight home ended up being delayed and rerouted adding an extra 10 hours of travel time. Thankfully we were healthy, and still on our holiday high.
Overall we had a fantastic experience. Thank you for arranging such a great itinerary with perfect accommodations. It was a once in a lifetime trip and we have such wonderful memories.
Williams Family (with children aged 9, 11 and 13)
Travelled Summer 2019
Hi Liddy – I wanted to email you to say THANK YOU, THANK YOU for seamless organisation of our holiday of a lifetime! The trip was perfect and every element your organised flowed from one exciting adventure into another! Safari was awesome… cheetahs and leopards, countless lions including a kill involving 3 lionesses and a poor gazelle… and a rhino in the Serengeti. We felt we were very lucky.
The first day in Arusha National Park was perfect…we saw a herd of elephants crossing the road when we were at the car park signing in… we hadn't actually officially entered the park and there they were. Walking safari and canoe trip were spot on. Awesome to be on foot and in the water!
Kisali, our driver was brilliant…had the magic touch in locating animals and drove endlessly to make our safari special.
Bike ride in MtoWambe was brilliant… great way of exploring the town.
So glad we went hunting with the Hadzabe tribe. No baboon liver but they shot a guinea fowl with bow and arrow, a boy about my eldests age… plucked, skinned, gutted and cooked for them and us on a fire in the bush. Unbelievable once in a lifetime experience!
Eileen's trees was perfect. Boys loved the pool. Great food, such happy staff everywhere.
Ngorongoro – special for us to go back to 25 years later. Unbelievable there are now flushing toilets!! Only at lodge for 12hours but special place with zebra outside the bedroom balcony.
Great to get some exercise hiking up Mt Makarot, interesting walk with the Masai ranger, sadly no animals (apart from the Masai cattle).
Then the beautiful Serengeti. We absolutely LOVED the camp. What a perfect place. It had just the right balance of a beautiful tented safari camp without it being ostentatious or over the top. The staff there were fabulous.
Kisali, our driver, organised a cake with our names on, the staff presented it by surprise, singing and dancing through the tent with the memorable Hakuna Matata song. Never will forget. My boys used words to describe their emotions that they'd never used in the context before!
Zanzibar was brilliant. Beautiful lodge…what a view for breakfast, Prison Island, spice tour, Africa House Hotel (again from 25 years ago). Then the beach hotel – its STUNNING!! Never did the water not look turquoise. Loved the difference to the experience when the tide was in and out. We did nothing but pool, beach, relax, eat and drink ( oh – and learn to play Bao) for 4 days. We felt this was well deserved after quite a busy schedule in the mainland.
We'd do it all again tomorrow.
Thanks for all of your suggestions. Inspired decisions that kept our normally busy family fully occupied and fascinated. I've raved constantly about your company and our time in Tanzania.
Next recommendation for our family holiday 2020 please.
Thanks again for a fabulous itinerary.
Evans Family (with children aged 12 and 15)
Travelled Summer 2019 – Tanzania and Zanzibar
Hi Charlotte – We had an amazing time thank you. All the accommodations were great for different reasons. It was fab having the interconnecting rooms really spacious, which I wasn't expecting. I would definitely recommend the walking tour in Arusha. It was that amazing and we had the opportunity to see giraffe baboons, buffalo and warthogs up close on foot.
We enjoyed the bike tour though I would warn people you do cross some busy roads whilst doing the bike tour. Lots of motorbikes etc going past as you cycle.  It's great going through the village when you get off the main road, all the children were so welcoming following us shouting Jambo and high fiving.
The visit to the school was a little disappointing as we didn't get the opportunity to meet children (most where on holiday) though some were there. We were introduced to the headteacher who straight away asked for help with his problems and gave us a tour of the school and showed all the problems. We were more than happy to support the school and maybe it's my naivety but I wasn't expecting it to be just about asking us for money. It may have been less disappointing if we'd known this before we went. I did speak to another lady who visited a school elsewhere who was able to join in the class and spend time chatting to children so maybe it was just unfortunate for us it was holidays.
The visit to the Hadza was really good. It was incredible to get the opportunity to see how they live. They were very welcoming and there was lots of laughter, particularly at my inability to light a fire. We all enjoyed bow and arrow lessons… again lots of laughter.
Ngorongoro Crater was amazing – unfortunately there was some paper work issue so we only got to spend 2.5 hours there, I would definitely recommend being there a bit longer. The lodge here was a lovely experience, different to the others, small and cosy with the log burner and really good food, the restaurant had lovely views.
The Serengeti and the camp here were brilliant. The food was great and the tent was spacious comfy and had everything you needed. We saw all the animals we wanted to apart from the elusive Rhino. I would definitely recommend a tented camp experience, waking up at 2 am to a gazelle and warthog outside the tent and lying in bed listening to lions and hyenas was incredible. Our driver Hilary was lovely. He was very experienced which showed in the Serengeti, we were sad to say goodbye to him.
Zanzibar was an amazing way to round off the trip and recover from busy days in Tanzania. The beach hotel was beautiful, we were pleasantly surprised to find we had 2 beach rooms, not the one shared I was expecting. The rooms had been renovated earlier in the year. The beds were spacious and comfy. The atmosphere was so relaxed and staff were lovely and couldn't do enough for you. There was so much outdoor space with hammocks dotted around it was like paradise.
We would definitely recommend the visit to Stone Town and the Old Slave Market, to learn about the sad history of the island.
We had the most amazing unforgettable experience we met some of the most lovely and happy people. Thank you so much for arranging it – every detail was thought of.
We need to get saving for our next adventure.
Gold Family (with teenagers aged 16 and 19)
Travelled Summer 2019
Hi Emily – We were very happy indeed with our trip. We found the itinerary very well judged for us: Arusha National Park was well worth a visit (and great for the first day) and we enjoyed doing some active things (canoeing and cycling) as well as game drives. We were very happy with all of our accommodation and I do plan to give them good reviews on Trip Adviser when I get a moment to do so. The level of comfort was just right for us and the people at each of the places were really lovely.
I am happy to give quotes, Trip Adviser or anything in praise of what Stubborn Mule did and will definitely recommend it to friends.
My only feedback is that it would be good to be a bit clearer to customers on the money needed for tips and other things… it is a bit complicated in terms of needing both US dollars and Tanzanian shillings, so working out how much is needed of each is hard, but I think I was surprised by how much that money added to the trip cost. However, that did not spoil what was definitely one of our best family holidays ever.
Ferguson Family (with child aged 7 )
Travelled Summer 2019
Emily, we had the best time! Julius and Chef Jeff were the absolute best. My son loved him and his cooking. He got special meals when the regular meal was not really something he would eat. And Chef Jeff would make sure we had snacks, which was really nice. Julius knew just about everything about animals and saw animals that no one else saw, which led us to seeing a lion try to take a wildebeest and start a stampede.
Julius also made sure we saw what we wanted to and got really good photos. He considered lighting and angles for the photos and that was above and beyond expectation. We managed to see all of the animals we wanted – lions, cheetahs, leopard, and black rhino. I would definitely recommend Jeff and Julius to anyone. They were the best guide/chef we have ever had.
The Hadza day was the highlight of that portion of the trip for us. It was a little contentious with Julius as he didn't seem to have that part planned like we had it in the itinerary. He suggested we would go see a different tribe and then go to an onion farm and then spend the night in normal village spot and see the Hadza the day we were supposed to drive to Arusha.
We were strong in our desire to go see the Hadza for a whole day and spend the night there. They did get it worked out and we did spend the night there. Getting to spend a whole day with them, hunting and gathering was awesome. My son got to do some target practice with them too. He carried a child's bow the entire time we were hunting and was always ready with an arrow in the bow just in case he was needed to shoot at something.
We followed the honey guide bird and found 3 honey stashes. It was crazy hot and sweaty, but we had the best time. D also got to practice starting a fire, making his own arrow and digging up a wooly potato.
We camped literally right in front of their stick house. It was awesome, but the worst sleep I had! Some of the kids were sick and coughing for hours and then a hyena started up and the dog went nuts. I think I slept for an hour. But it was worth it. I think by staying overnight, we had more time with the Hadza than normal day visitors. Apparently only journalists and researchers spend the night. We know how lucky we were to spend so much time with them and won't forget how awesome it was.
Our local guide, Osman, was the best. My son got his own bow and 3 arrows made just for him. Someone referred to him as the white bushman. He had just the best time and loved it. The bow and arrows made it safely back home with some hiccups along the way.
Maddocks Family (grandparents with children aged 9 & 11)
Travelled Summer 2019
We all had a great time, really exciting at times!!! Sam our driver was particularly good with children – should be working with them rather than a wildlife guide. We are busy sorting out the photos and yes the children want to submit one each that they took… The hotel was fine in Zanzibar but off the beaten track for children. The only thing to add is that we would have liked longer on safari than in Zanzibar. Will never forget this holiday!
Bowden Family (with children aged 6, 9 & 11)
Travelled Summer 2018 – Kenya & Tanzania
Dear Liddy – We had an absolutely fabulous holiday in East Africa – everything went very smoothly, nobody got sick and we saw so much. I must say that our whole trip was very well organised, all drivers turned up on time, the flights worked roughly according to schedule (!) and there was never a hassle.
Kenya

Laikipia was a highlight – we loved the wilderness camp there and the kids had so much fun. It was really family-orientated and particularly memories include jumping into and swimming in the river, rafting, tracking a lioness and a bush dinner followed by sleeping out under the stars (on E's 12th birthday). I would so recommend this place to others – everything was just really nicely done from the high grade G&Ts for sundowners, to afternoon tea and cake to the communal meals. I was particularly pleased that we went here first as it was a great introduction to safari – the wildlife in terms of big cats is less abundant but this is more than made up by all the activities on offer.
The Masai Mara was completely different – loads and loads of lions which was fantastic! We also see cheetah there as well as lots of other smaller animals. One comment I would make was that Eagle Lodge was a long, long way from the Mara River, which meant that our opportunity to see the wildebeest crossing the Mara River as part of the Great Migration was limited to one day. If I could change one thing about our trip it would have been where we stayed in the Masai Mara – Eagle Lodge itself was lovely but it was in its own conservancy area and not in the "main part" of the Masai Mara.
Tanzania
And then on to Tanzania where is was good to have a break from safari, have some downtime and do some more cultural activities. We particularly enjoyed going early morning hunting with the Bushmen and the boys loved practising their bow and arrow skills!
Then back to the Ngorongoro Crater and the Serengeti where we finally saw leopard and the elusive black rhino – well worth the long wait and hours of bumping around in the jeep! Kubu Kubu lodge was wonderful, although we enjoyed the more basic Angata Camp too. Perhaps it would have been nice to stay in a lodge with a view of the crater itself but I suspect that would have added considerably to the price! We also arranged a hot air balloon ride whilst in the Serengeti – an expensive but unforgettable experience.
Zanzibar
Finally, onto Zanzibar! Glad we stayed in Stone Town for a couple of nights before heading to the beach. Seyidda Hotel was charming and well-located although on arrival the family room we were given was a little strange as it only had two very small double beds in it for the five of us!! The hotel did put an extra bed into the room for us but it is worth noting as perhaps not all kids would be happy to share a bed with their siblings! Hideaway Hotel was lovely – it had just the right level of luxury and the beach was beautiful.
I could of course go on and on about the trip and all the amazing things we saw! I haven't yet had an opportunity to go through our photos properly – needless to say we have hundreds and hundreds! When I do, I will send you some.
A really big thank you to you and the team for organising such a wonderful trip for us – we have so many amazing memories and being away together for 30 days was (in the main) such a happy time – wish we could do it all again!
All the best – until the next time!
Purdie Family (with children aged 9 & 12)
Travelled Summer 2018
We had an absolutely fantastic holiday in Tanzania and Zanzibar. The itinerary that you arranged for us was great and everything ran extremely smoothly.  There were so many highlights that it would probably end up just being a list of pretty much everything we did!  All the accommodation you had selected was great.  We particularly liked the Tortillis camp that we stayed at on the Serengeti and absolutely loved Pongwe Beach on Zanzibar – we would highly recommend both of these.
Our driver, Sam, who worked for Joseph was lovely and very knowledgeable and all the staff in the hotels were so friendly, welcoming and couldn't have done more to help us.
The only thing we wanted to pass on to you was about our visit to Lake Eyasi.  When we went to visit the bush tribe, we went out for a walk and one of the tribe came back with a dead baboon (that still had the arrow in it and the intestines starting to come out).  They then proceeded to skin the baboon in front of us – the girls were a bit shocked!
They started a fire and were very keen for us to eat baboon liver for our breakfast and it was all we could do to politely decline! It has certainly given us a story to tell family and friends and we don't necessarily regret it.  However, it was certainly beyond what we were expecting and it might be worth warning people of this possibility so that they are not too shocked if they have the same experience!
Note from Stubborn Mule: We are now giving a more detailed description of the visit to the bushmen, so that travellers can be prepared and decide whether this is a suitable activity for their family.
So thank you very much for all your help and advice.  We really do feel like we had the holiday of a lifetime!  We have already recommended you to a number of friends and I am sure we will be in touch again ourselves.
Many thanks again.
Webb Family (with two teenagers)
Travelled Summer 2018 Tanzania
I must apologise for taking so long to reply to your email – return from holiday, back to school, busy period at work etc.etc… I did however want to feedback on what was a truly amazing holiday. The safari element exceeded our expectations and the cultural part of the holiday enabled us to see the real country… Zanzibar was a wonderful way to end the holiday and my son also did his Padi… The overview of the holiday from all of us was that it was amazing and far exceeded our expectations. The different safaris were perfect and we saw so much wildlife – at time a bit closer than we expected!! Thank you again for your help in organising the trip and putting up with my questions!
Caldwell Family (with grandfather and two kids aged 10)
Travelled Summer 2017
Hi Helene – I have to say the holiday was absolutely fantastic and a huge thank you to you and team in Tanzania for advising and organising. Joseph and our driver Godfrey were both lovely. Godfrey in particular was very calm and knowledgeable and we always felt were in very safe hands. He was great with the boys and worked tirelessly to make sure we had the best time. I noticed he cleaned the jeep every night and was working hard at both ends of the day.
The places we stayed were great for us – from the luxurious Maramboi Camp where I felt absolutely pampered to the tented camp in the Serengeti which was simple but more adventurous. All of the staff in each of the lodges were very attentive, warm and friendly, making a fuss of both the boys and our elderly grandparent. I think the amount of time we spent in each place was about right and it didn't feel like we were tearing about the countryside and in the jeep all day. It was a really good idea to stay two nights in each lodge so we could relax a bit. Food in each place was excellent and locations beautiful.
Walking out to lake Manyara early in the morning from Maramboi with a Masai guide was very memorable, as was sitting in all of the lodges just watching the wildlife come and go.
The only thing that didn't work for us so well was the visit to the Masai village which felt uncomfortable. It seemed expensive and we felt a bit like we were on a production line of tourists rushed through the "village experience" to get us quickly to the village shop to buy overpriced souvenirs. Felt a bit like a Masai theme park. Godfrey the driver did warn us about the shopping bit thankfully before we went in so we knew what was coming. I total understand the need for the Masai to make money from the tourists but the walk at Lake Manyara was a much better way to find out about the Masai culture and pay them for their time.
Godfrey also took us to a snake park on the way out of Arusha, which the boys found fascinating!
All in all it was amazing and I will never forget arriving at the Serengeti and taking in the vastness of it. I think we did the parks a good way round – starting with the smaller Tarangire, then the crater, then the Serengeti. They all had slightly different things to offer and we enjoyed seeing the different landscapes of each.
I have attached a few photos to give you an idea of the places we stayed. I have a million animal photos as we saw everything from cheetahs, leopard, elephants, buffalo and even wild dogs…
Browne Family (with children aged 12, 14 and 17)
Travelled Summer 2017
We are just back from Tanzania and wanted to drop you a quick line to say a huge thank you for making the arrangements for our trip, particularly at such short notice. We promise to try to give you a bit more advance warning next time! Anyway it was all great – Kati Kati camp was the highlight for us all, we are so pleased that you recommended this place. One morning we woke up and there were zebra right in the camp so we truly felt that we were in the middle of everything. The food here was amazing too. The beach was also lovely – Marafikis was a delight, such a beautiful location and a really relaxing way to end the trip.
McAllister Family (with children aged 11 and 14)
Travelled Summer 2017
Sorry it has taken us a few weeks to get back to you, but we had a great time in Tanzania. Our driver Joseph was superb and really made the trip for the kids. He was very knowledgeable about the animals and was happy to chat away about the wildlife as much as we wanted,  but he also knew when to let us have family time and chat amongst ourselves. He took us to his home at the end of the trip which was lovely, and we had tea with his wife.
We were worried that we had packed too much into the itinerary but actually it worked so well. You were completely right about not trying to do too many safaris. Even with some of the game viewing taken out, as we agreed, by the end the children definitely thought that they had seen enough animals. Sacrilege but that's how it goes! The couple of days in Arusha were then brilliant as we all enjoyed a bit of exercise after sitting for a while in the vehicles. The bike ride was lovely and highly recommended. We also enjoyed the cookery class, although T is fussy and wouldn't end up eating the dishes we made.
We were also so pleased to finish up on the beach and the kids loved all the watersports and spent a couple of days windsurfing. M and I didn't do much apart from lie on the beach but it was bliss.
Thanks again.
Teasdale Family (with three children aged 2, 4 and 6 and two grandparents)
Travelled February 2017
The holiday was absolutely fantastic and we loved every aspect of it. Above all, I'd like to personally say what a pleasure it has been to deal with you. I know that we asked way more of you than you'd normally expect and you always managed to answer all of my questions. To do this without getting frustrated must show a lot of patience, so for that I'd like to say a huge thank you!
As I'm sure you'll imagine, it was really important that it all went smoothly for us for what was effectively 3 holidays in 1. Since we were travelling with our young daughters and also my parents I wanted to do as much organising as I could before we left. Also, the Kili trip was extremely important to us and I'm delighted to say that it went perfectly, bar some mild Acute Mountain Sickness, which didn't stop us getting to the summit!
Thanks again so much for all your hard work. We're already thinking about where to go on our next holiday and would love to be able to book our holiday with you again. I'll be in touch soon with more feedback soon.
Further feedback from another member of the Teasdale Family:
We just wanted to say thank you so much for organizing one of our best ever holidays! It all ran incredibly smoothly and your patience in dealing with all of our questions and emails was incredible. Without a doubt one of the friendliest and most professional companies we've ever had the pleasure of dealing with. Thanks for everything – we're already considering our options for our next big holiday and will definitely consider booking with Stubborn Mule again.
Fulberg Family (with two children aged 5 and 9)
Travelled Christmas 2016/17
We had a fantastic time, thank you so much for all of your help. Everywhere we stayed on safari was great but by far our favourite was Maramboi tented camp. The guided Masai walk was great, the pool was beautiful and there were great free late afternoon snacks, which was perfect for the kids. The rooms were beautiful and the views packed with animals. Our escorts to and from the room in the evening were so nice – one even carried our youngest back to the room after supper, which she loved!
Our driver/guide, Gerrard was amazing, a very calm, kind, knowledgeable man. Joseph went out of his way to make sure we were happy. Unfortunately our bags didn't make it to Arusha – they got stuck in Nairobi. Joseph however was on the case and ended up having to drive on a Sunday to Kilimanjaro airport to collect out bags.
We also loved Zanzibar. The only problem we had there was the arrangements of taking us around the island (from Stone Town to Pongwe and Pongwe to the airport). The driver who took us to Pongwe didn't know where he was going and dropped us off at the wrong place – we ended up at the Pongwe Beach resort – so someone had to come and pick us up from Pongwe Bay – a bit embarrassing once we'd drunk our welcome drink to find we were in the wrong place!
This made us anxious about our pick up from Pongwe Bay to the airport – which was at 2.30am. We tried to get in touch with the driver to no avail so got in touch with Joseph instead. He assured us that it was all in place. Come 2.30 am on the day we were leaving and no sign of the driver. Luckily we were able to contact Joseph who got back to us to let us know the driver would not be coming! The Pongwe Bay driver who lives on site was dragged out of bed and got us to the airport on time and Joseph agreed to arrange payment.
Joseph throughout was brilliant, particularly being contactable at 2am, it was just a shame he was let down by his contacts in Zanzibar. I don't know how much he has to do with Zanzibar and I wonder if it would be better for you to make your own contacts there instead. Joseph is obviously very good at what he does and who he employs based in Tanzania but maybe Zanzibar is just too much of a stretch for him. (Note from Stubborn Mule: We are now using a new company in Zanzibar)
On a different note, my youngest daughter found the trip hard – too much moving on, too much time in a car. Speaking to friends who are interested in doing a similar trip I have recommended to them a minimum age of about 8 (my 9 year old loved it) as I think 5 is just too young.
Anyway, that said 3 of us absolutely loved it and I have passed your details on to friends. We have also started to think about our next trip so you might be hearing from me again!

Jefferson Family (with two children aged 10 and 7)
Travelled Summer 2016
Well we are back after the most amazing, wonderful, stunning 2 weeks in Tanzania that exceeded all our expectations in so many ways – and has been resoundingly voted the best holiday ever by all of us. The kids were just blown away by all we saw and experienced – as were A and I. So a huge thank you must go to you for the fantastic organisation of the trip. We got to know another family who were also travelling on pretty much the same itinerary as us – they were delightful and very good company particularly in the Serengeti where we mostly spent 3 days together.
A massive credit and compliment must go to Dennis – our driver / guide for the week. His knowledge of the national parks and wildlife was phenomenal and a huge part of the success of the trip was due to his cheerfulness, abilities to get through rough terrain, knowledge of wildlife species and habits, where to position us for wildlife viewing and unfailingly capable manner.
The accommodation was all great – there were no major hiccups along the way.
We particularly enjoyed the Mbugani tented camp in the Serengeti (which we worked out was the Migration Camp, not the permanent camp as shown on their website) as we could hear lions around the camp at night. It was pretty much just us 2 families while we were there too so it felt like 'our' camp.
All the other accommodation was good too – the Ngorongoro Farmhouse was lovely with stunning gardens. We only had the 1 night at Maramboi tented camp so that felt a bit like a whistle stop but again the 'tent' was great and suited us perfectly.
Thanks again for your organisation and attention to detail and please do pass on our compliments to the crew if appropriate as they really did make that part of the trip into an entirely magical experience which we will remember for the rest of our lives".
Progress Report
We got to Zanzibar on Sunday after a 2.5 hr flight on a 12-seater Cessna from the Serengeti, which was great. A got to sit in the copilot seat as the plane was full so he got a great position to see the landscape from the air – as did us 3 too. We flew at 6500 feet initially for the first short hop from the Serengeti airstrip to another airstrip to pick up the remaining passengers so for the first short leg it was just the 4 of us on the plane, which was very cool.
Then we flew at 13000 feet for the longer 2 hour flight to Zanzibar so we had great aerial views of the Ngorongoro Crater, Lake Manyara and of course stretches of the Serengeti too, all places we had spent time in during the week. We could also see Kilimanjaro out to the side in the distance, still with some snow on the peak.
It's such a stunning environment here – our first 8 days of game drives have exceeded our expectations in so many ways. A lot of the country looks very much like parts of the Australian landscape we know so well. Big skies, big horizons, the same light as Australia, the same bleached colours in the landscape. Trees dotted across rolling grasslands just like in Australia. All very familiar but all so new. We have just loved every moment of the trip and are so lucky to have seen all the wildlife we have.
Other parts of the landscape are baked, parched and dry – dusty and grey brown, seemingly devoid of life but this is where the Maasai often carve out their lives, which is incredible. You see a lone person with their cattle or goats in the distance, often children younger than F., out for the day minding the animals with the sun beating down on them. No obvious water sources but they know the landscape and will walk the animals 15-20 km a day to drink.
Our driver, Dennis was just fantastic. He stayed with us for the week. Pretty much all the safari trucks are Landcruisers, kitted out with 5-7 passenger seats. Some if the terrain we covered was very rugged, crossing mostly dry creek beds (some water crossings here and there but it is very much the dry season now) and going over bits of ground that seem impossible to get across but Dennis found a way every time and he only had to get out to put the 4WD on a handful of times.
He was a ranger for 6 years before becoming a guide so his knowledge of the national parks and wildlife was superb. How these guys navigate around is impressive – it's rugged dirt tracks with obviously no signage 99% of the time so the intrinsic knowledge the guides have of the parks is so vital, given the distances and often remoteness of the landscapes being covered. They communicate with each other via radio so if someone spots something it's impressive how quickly other safari trucks will converge and there will be a group of vehicles there within minutes.
Our final wildlife count was 43 lions, including a pride of 2 adult females with 15 cubs between them in one sighting, 2 cheetah, 3 leopard, hundreds of elephants, giraffes, warthogs, buffalo, monkeys, baboons and hippo, thousands of zebra and wildebeest, impala, gazelle, flamingo, vultures and more. We also spotted jackal, hyena, one rhino from a great distance (so we can say we saw the Big 5), a bat eared fox, loads of mongooses, eland, reedbuck, bushbuck and so much more. So amazing.
Staying in the tented camp in the Serengeti was very special – you could hear the lions around the camp each night – and you very much felt like you were a dot in the landscape in the middle of nowhere. You had to have a ranger escort you from the tent to the dinner tent after dark at all times but you always felt safe. We went out just after 6 one morning and within 10 minutes had spotted 3 lion right near the camp – 2 younger males (most probably brothers) in a territorial chase of a much older, larger male with a magnificent mane. Quite astonishing to watch. Those 2 brothers will probably end up having their own territorial fight down the track when they come to breeding stage and want to be the dominant male.
One of the other really significant sightings was managing to see the tail end of the wildebeest migration north to Kenya – we waited by the river Mara one afternoon for some time after tracking some herds throughout the morning who were moving in a formation north then we were rewarded with the sight of thousands of wildebeest running towards the river in a fairly controlled mass to then swim / wade across and up the other side. It took a few false starts when one would lead the others down the bank then pause at the last minute and they would then all retreat until finally one slightly smarter wildebeest managed to be the lead beast and then it was on and they all followed. What was sobering was the carnage afterwards of those that didn't make it, and once the mass had crossed the bodies of those that drowned started floating down the river past us – many, many animals drown which was very poignant to see. The vultures were there in their hordes, sitting on the carcasses in the river and feasting.
We are now in Stone Town in Zanzibar til tomorrow when we head across to the east coast of Zanzibar to stay at the beach for a couple of days. The children have just loved it all, as have we. We gave them each an old digital camera to use and they have been taking some really good pics. It's very hot and humid here in Stone Town and we are fortunately staying in a hotel with a pool, which is great. The heat inland was very dry which I find more manageable, I. has been suffering the most I think with the heat, our walk around the old parts of town this morning saw her wilting, and it was really draining. She and F. are in the pool now cooling off.
We visited the old slave market here this morning, which was sobering. The slave trade existed here officially until the late 1800s and unofficially til 1904. Harrowing tales of the treatment of the people and the conditions of the actual marketplace here then seeing the information about the ships that subsequently carried them to Europe, the Americas and the Middle East was chilling.
Stone Town has lots of small, winding narrow streets in a maze, full of tourist traps and some more authentic shops. The intricately carved wooden doors on many of the buildings here are magnificent. A lot of the architecture has a strong Islamic style, which is beautiful. Quite crumbling and decaying in many places but a faded elegance nonetheless. We were having a drink last night on a rooftop terrace when the call to prayer occurred across the city. The Hindu temple also rang their bells and horns at the same time so there was a fantastic combination of sounds echoing across the city as the sun set.
Family P (with three children aged 7, 12 and 14)
Travelled Summer 2016
Wow, where do we start? Just amazing, loved it all. Gerald was fab – what he didn't know about animals is not worth knowing. He could spot a deer at a thousand paces (how, how, how???) and told us endless amazing stories and details about all the animals. T was particularly enamoured and has now decided that she wants to be a safari guide… let's hope this translates into a bit more focus in science!
Hotels and lodges were all great. Loved the Kati Kati camp. Our least favourite was probably the hotel in Arusha, which was a bit sterile in comparison to the others, but still fine. Pongwe (in Zanzibar) was AMAZING. Loved it. Wished we could have been there longer!
Thanks also for all the help in the planning. I know we changed our minds a lot so you were VERY patient. Much appreciated.


Call us and we will be happy to provide you with a free-of-charge no obligation itinerary and quotation designed for you.

Talk with our friendly team about your family travel needs.