Peru's tourist industry has thrived over the past few decades and there is now a fantastic range of luxury hotels, boutique lodges and rainforest retreats along with more budget-friendly places which are still full of character. An added element of interest are the homestays – these are simple family homes offering basic but comfortable accommodation where you can enjoy close interaction with the locals. Children usually love experiencing real Peruvian village life, learning how to cook local food or making friends in an impromptu football match.
One factor to be aware of for any family holiday to Peru is that it can be hard to find inter-connecting or family rooms. Depending on the ages of the children involved it can result in two twin rooms with parents possibly split between the two or a double room with either an extra bed or a mattress on the floor.
So what is a typical Peruvian hotel like?
There are so many wonderful places to stay in Peru that it is hard to pick a favourite. However for sheer unbeatable location and that 'jungle explorer' feel we would have to highlight the fabulous Posada Amazonas lodge.
Easily accessible from the Amazon hub of Puerto Maldonado (a simple 45 minute boat ride as opposed to a more laborious transfer), this community-owned lodge lies deep amongst the wonderful flora and fauna of the jungle. Rooms are large with beautiful hardwood floors and spacious en suite bathrooms, verandahs from which to enjoy the sights and sounds of your surroundings and the ubiquitous hammock where you can relax after the activities of the day. The open-air thatched restaurant serves delicious Peruvian food and children's menus are available. And we particularly love any accommodation with its own family of giant river otters!
There is an exciting array of activities on offer that will keep all ages happy. Take a walk to the canopy tower from where you can enjoy sightings of toucans, parrots and macaws as well as incredible views of the vast expanse of rainforest. Cruise to the Tres Chimbadas oxbow lake searching for caiman and capybara or travel downriver to a small botanical farm where it is fascinating to learn about the various different plants and their uses.
Children might protest at the early mornings (breakfast is served from 4.30am!) but all will be worth it when they arrive at the clay lick near the lodge to witness the colourful spectacle of hundreds of parrots and parakeets ingesting the clay. At night they will love venturing into the forest and although unlikely to see any larger animals, they will be suitably entertained by the weird and wonderful frog population and the sheer cacophony of sounds surrounding them in the dark.
For a complete contrast, we have recently discovered a gem of a homestay community, in a pretty village location on the shores of Lake Titicaca, far removed from the now perhaps overly commercial set-up on Amantani Island. Accommodation is with local families and is simple but clean with the warm welcome making up for any lack of facilities. The community here have developed various tourist activities in order to produce a much-needed income.
Enjoy easy walks to lookout points offering fantastic views over the lake and surrounding terraced landscape. Sail on Lake Titicaca on a fishing boat or for the more adventurous, how about a kayak on the world's highest navigable lake? Children will gain a very special insight into a totally different way of life, learning about traditional farming and weaving techniques and tasting the local food. Access is by an exciting two-hour boat ride from Puno, which includes a stop at some of the floating Uros islands which are off the usual tourist route.
How do high-end and mid-range hotels compare?
When we prepare an itinerary for you in Peru we will take into account your budget and will be able to suggest a range of hotels to suit. Families who want to splash out can enjoy beautiful colonial mansions and boutique hotels where those looking for more economical options can enjoy clean and comfortable accommodation either in simple hotels or sometimes staying with local families.
Machu Picchu always forms an integral part of any family holiday to Peru so it provides the perfect place to illustrate the different levels of accommodation. Those on a tighter budget will enjoy staying at the Tierra Viva Cusco Machu Picchu Hotel, a lengthy name for a lovely, small hotel located in Aguas Calientes, the town closest to the famous Incan site.
Located in the quieter part of town and surrounded by lush cloud forest, the hotel has an exclusive bus service for your visit to Machu Picchu. It also offers a panoramic sun terrace with stunning views down to the Urubamba River and friendly staff happy to offer advice on local restaurants, visits to the somewhat whiffy hot springs or to serve you drinks before the fire on cool mountain evenings.
Those looking for the ultimate in location as well as more comfort need look no further than the Belmond Sanctuary Lodge, the only hotel located actually within the site itself.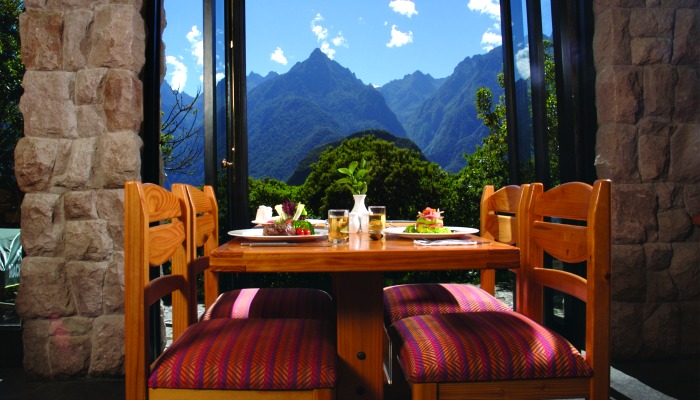 The lodge is situated amidst beautiful gardens boasting stunning views across Machu Picchu. Enjoy Peruvian cuisine overlooking manicured lawns and exotic orchid plantations. Children can enjoy treasure hunts whilst parents can treat themselves to an al fresco massage. Sip a pisco sour whilst drinking in your location, perched high on the mountain summit overlooking the dramatic Urubamba Valley. The real draw here is that after all the day visitors have left for the last train to Cusco, you can experience the magic of Machu Picchu in peace. Or rise early and enjoy the unforgettable sight of the sun rising behind Huayna Picchu, the mountain that looms over the ruined citadel, before the crowds arrive.
These are just a few examples of places to stay in Peru that past travellers have loved. All our holidays are tailor-made, so once we have found out a little more about you and your family, we will suggest a range of properties that we think will suit you best.

Call us and we will be happy to provide you with a free-of-charge no obligation itinerary and quotation designed for you.

Talk with our friendly team about your family travel needs.