Best of Mexico's Yucatan Peninsula
The Yucatan Peninsula offers absolutely everything you could want from a family holiday. There are glorious sandy beaches, incredible Mayan ruins and enchanting colonial cities. Hear gory tales of human sacrifice and learn how to tell a taco from an enchilada from a tortilla. This two week tour encapsulates all of our favourite highlights. Viva la Vida!
Highlights
  Chichen Itza, Tulum & Uxmal
  Kayak & zipline at Punta Laguna
  Swim in underground cenotes
  Visit artisan shops & lively markets
  Float in the lagoon at Bacalar
  Spot rainforest wildlife & birds
  Relax on idyllic Caribbean beach
15 days from £1,625 pp
Plus international flights from £500
A two-week self-drive holiday in Mexico for a family of four usually costs from £6,500 plus flights, depending on type of accommodation. A similar guided holiday would cost from £7,500 plus flights, with entrance fees payable locally.
Best of Mexico's Yucatan Peninsula day-to-day-itinerary
Day 1 Cancun

Bienvenido a Mexico! Alight from your flight straight into the colour, buzz and sun of Mexico's most famous beach resort. Here you can kickstart your family holiday to Mexico with a dip in the Caribbean Sea (the perfect antidote to jetlag).
---
Day 2 Punta Laguna – Valladolid
Leave the coast behind you and head inland to the lush landscape of the Punta Laguna nature reserve. Accompanied by a guide, you will hike into the jungle in search of spider monkeys, before crossing a beautiful turquoise lake by zip-line and kayak. The visit ends with an exciting abseil into a cenote, an underground cavern filled with crystal clear water, before climbing out on a 30m rope ladder!
In the afternoon, continue on to the colonial city of Valladolid. If you are interested you can stop en route to take a bike ride around the Mayan ruins of Coba.
---
Day 3 Valladolid
A full day to explore the picturesque colonial city of Valladolid. The town centre is a UNESCO World Heritage Site with attractive streets lined with one storey houses painted in pastel hues. There is also a pretty square overlooked by an imposing church. Families with older children may enjoy a cycling tour through the surrounding countryside to a local village, with a refreshing swim in a jungle cenote. Alternatively find a nice cafe, browse the enticing shops and watch the world go by from the main square.
---
Day 4 Chichen Itza – Izamal
Rise early this morning to beat the crowds to Chichen Itza, the most famous site on the Yucatan. The vast ruins here will stun even the most reluctant of young sightseers. Dominating the centre of the ancient city is the vast Temple of Kukulkan, the most renowned of the many picture postcard structures. Children will love being regaled by stories of human sacrifice and gore at the Skull Wall.
After a morning of sightseeing, enjoy a local lunch and cool off with a refreshing swim in the aquamarine waters of the nearby Yokdzonot cenote. From here continue to the small town of Izamal, famous for its characteristic yellow buildings.
---
Day 5 Izamal – Rural Hacienda
Spend the morning exploring the small town of Izamal and its surroundings. Perhaps take a horse-drawn cart ride along the cobbled streets, stopping to climb the Mayan pyramid right in the centre of town.
Later, drive into the countryside for three nights at a picturesque rural hacienda. The rich 'sisal barons' of colonial times lived in exquisite mansions in Merida, but also built grand country estates (haciendas) in the middle of their plantations. Although many of the haciendas are now dilapidated and overgrown, some have been converted into gorgeous boutique hotels. We will suggest a property according to your budget. Some are more modest whilst others are extravagantly luxurious, but all offer beautiful grounds and a glimpse of plantation life.
Read MoreRead Less
---
Day 6 Rural Hacienda
Today you may choose to just relax at your hacienda, or alternatively you can travel back in time on a tour of the sisal plantation at Sotuta de Peón. This is a working plantation, but all of the immaculately preserved machinery dates back to the colonial period. The kids will be fascinated to see how it all works. You can also take a ride on the traditional plantation transport, a simple wooden carriage on rails, pulled by a mule. This will take you to an underground cenote where you can swim.
---
Day 7 Uxmal or Celestun
A free day for you to take an excursion into the surrounding area.
One of our favourites is a visit to the superbly preserved Mayan ruins at Uxmal. These are on a par with Chichen Itza but because they are located so far from the coast (and the tourist hordes staying in Cancun) they get a small fraction of the number of visitors. Wander around the site with just a handful of other tourists. Older children will enjoy climbing up the precipitous ruins for superb views whilst younger visitors will happily spend hours playing hide and seek amongst the temples.
Nature lovers may wish to go further afield to Celestun. This is a quiet fishing village on the Gulf of Mexico. The area is renowned as the nesting spot for hundreds of pink flamingos, as well as cormorants, pelicans and crocodiles. Take a cruise on the lagoon and stop to walk through the mangroves. Here you can try to spot caiman and crocodiles (from the safety of a raised walkway!). Later, it's just a two minute drive to the coast, where we can recommend a superb seafood restaurant. The chef here serves possibly the best cerviche in Mexico (yes it's a grand boast, but wait till you try it), enjoyed after a dip in the sea.
Another option is to spend the day in Merida, Yucatan's capital city. Here you can find many impressive neo-classical mansions, a grand main plaza and Mexico's oldest cathedral. There is also a bustling local market where you can hone the haggling skills.
Return to your hacienda for the night.
---
Day 8 Loltun – Bacalar
Today you have a relatively long drive (around 4.5 hours) to Bacalar, on the east coast. En route, we suggest you stop off to explore the huge cave system of Loltun. This is one of the most extensive in Mexico. The caves are dramatically impressive and are home to pre-hispanic rock paintings as well as huge stalagmites and stalactites.
Bacalar itself is on the edge of the spectacular Lagoon of Seven Colours with picture perfect views.
---
Day 9 Bacalar
You have a full day to enjoy the lake at Bacalar. The depth of the water varies widely as you move across the lake. Where it is shallow the colour of the lake is a beautiful pure turquoise whereas elsewhere the depth drops hundreds of metres and the water turns black. You can take a boat ride out onto the lake, stopping to swim in some of the most picturesque spots. Alternatively explore the lake by kayak or SUP (stand-up paddle board).
---
Day 10 Sian Ka'an Biosphere – Tulum
This morning head north to Tulum. En route perhaps stop at the Sian Ka'an biosphere, a huge nature reserve that is home to a series of connected lagoons and endless mangroves. Take a boat ride across the lagoon before donning an upside down life-jacket (like a giant nappy) and floating through the mangroves. There is nothing but the sky above, a few flitting butterflies, and a gently floating river. Bliss!
Later continue to the laid-back, slightly hippy town of Tulum. Enjoy two nights in a small beach front hotel and soak up the Caribbean vibe.
---
Day 11 Tulum
This morning you can visit the impressive cliff-top Tulum ruins before spending a lazy afternoon in a hammock under a palm tree. Alternatively, indulge the children with a full day at the Xel-Ha Waterpark, an enormous outdoor tropical kids' paradise complete with lazy river, over-water zip-lines, rope course and water slide.
---
Day 12 Tulum – Playa del Carmen
Head north to the gorgeous beaches of Playa del Carmen. Perhaps stop en route at Akumal beach where you can take a guided snorkelling trip off the coast to search for colourful fish and turtles (sightings are almost guaranteed here). Alternatively take an exciting journey underground, to the Sac Actun cave complex. Here you can don snorkel and mask and swim through narrow channels, ducking low under stalactites and swimming between stalagmites. This is part of the longest underground river system in the world and a great adventure for more active families.
End the day in a beachfront hotel.
---
Days 13-14 Playa del Carmen
Two full days to relax and enjoy the beach or head to the excellent night market where you can stock up on last minute souvenirs.
---
Day 15 Cancun
Transfer to Cancun for your flight home.

Call us and we will be happy to provide you with a free-of-charge no obligation itinerary and quotation designed for you.
Unparalleled family travel experience
Specialist knowledge across three continents
Hand-picked local partners
Every holiday is tailor-made for you
100% financial protection
24hr emergency contact number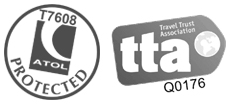 100% Financial
Protection
We are members of the Travel Trust Association, a trade association of Travel Agents, Tour Operators and Travel Organisers that operate trust accounts in order to provide financial protection for the consumer. Membership number Q0176.