If you are able to devote a fortnight to your holiday in Cuba, our 'Cuba in Two Weeks' itinerary could be just what you are looking for. Your time will fly by as you discover the gorgeous colonial heritage of Havana and Trinidad, ride bikes (or horses or horse-carts!) through the tobacco fields of Vinales, hike to the picturesque El Nicho waterfalls and curl your toes in the fine white sand of a Caribbean beach. You can choose whether to stay in hotels or casas (Cuban style B&Bs) and whether to self-drive or be accompanied by an English speaking chauffeur.
Highlights
  Classic car tour of Havana
  Sip a cocktail to a salsa beat
  Zip-line through the forest
  Bike ride in picturesque Vinales
  Snorkel on Iguana Island
  Relax on a blissful Caribbean beach
15 days from £1,250 pp
Plus international flights from £500
A self-drive 2-week holiday in Cuba for a family of four starts from £5,000 based on casa-style accommodation (excluding international flights).
Cuba in 2 weeks day-to-day itinerary
Day 1 Havana

Arrive at the airport where you will be met by a Stubborn Mule Travel representative and taken to your hotel. The rest of the day is free to explore this beautiful city. Follow the children along the cobbled streets of the immaculately restored centre and stop for dinner in a local restaurant.
---
Day 2 Havana
This morning the kids will be thrilled to head out on a classic car tour of Old Havana, the ideal way to take in the faded elegance of Havana's handsome suburbs. As you get closer to the heart of the old city, the streets are too narrow for cars and you will continue on foot, learning about the city's colourful history.
The afternoon is free for you to further explore on your own… perhaps head to the famous Coppelia's Ice Cream parlour for a double scoop of its famous strawberry and chocolate ice cream.
---
Day 3 Havana – Vinales
After breakfast you will either meet your chauffeur or pick up your hire car and drive deep into the countryside to Vinales, in the heart of some of Cuba's most picturesque scenery. The earth here is a rich red colour and the landscape is a sea of tobacco stretching from one horizon to the other, dotted with giant limestone cliffs that rise up sheer from the fields. This is a bucolic scene with horse drawn-carts rolling slowly past, thatched houses giving a glimpse of local life and friendly villages.
On the way perhaps stop to take a boat ride along the underground river that passes through the limestone cave at Cueva del Indio. The guides will delight in telling the children scary stories and legends.
---
Day 4 Vinales
Today you will head out to explore some of the surrounding countryside and valleys by bike or horse cart depending on the ages of your children. The route is beautiful, following quiet tracks through the fields with stunning views over the surrounding landscape. You will be able to stop to visit a tobacco farm where you can either see the crop in the field, or observe the leaves hung up for drying (depending on the time of year). You will meet a local tobacco farmer and see a demonstration of how to roll a perfect Cuban cigar. If you do not speak Spanish, your driver/guide will translate!
---
Day 5 Vinales
A free day to spend around Vinales – we can arrange to have your driver and vehicle at your disposal if you wish, so think about what you'd like to do. You can spend some time looking around the charming town with its pastel coloured buildings, perhaps make use of the hop-on/hop-off bus to see some of the sights, or spend some quiet time wandering around the botanical gardens trying to spot hummingbirds.
Those with older children might enjoy a horse-riding excursion with a picnic lunch and the chance to swim in a river. The horses are very meek and you do not need prior experience. It is also possible to go cycling in this area.
Read MoreRead Less
---
Day 6 Vinales – Las Terrazas
Drive to Las Terrazas in the heart of a UNESCO protected area (around 2hrs driving). Here there are undulating hills in every shade of green, groves of palm trees, orchids and hibiscus, steep mountain streams and rocky pools, hundreds of birds and butterflies and carefully tended fields of lush sugar cane.
This afternoon those with older children may enjoy going on an exciting zip line excursion through the forest canopy and across the village of Las Terrazas.
---
Day 7 Las Terrazas
A day to enjoy the area around Las Terrazas. Perhaps visit the San Juan waterfalls where you can take a dip in the pools and take a peaceful walk through the Soroa Orchid Garden. 
---
Day 8 Las Terrazas – Playa Larga
After breakfast visit a traditional coffee plantation where you can learn all about how this crop was managed in the past. The crumbling colonial mansions at the heart of the plantations are very evocative and it is easy to imagine how life might have been a hundred years ago.
In the afternoon you will drive to Playa Larga. This takes around 3-4 hours and you can ask your driver to take the back roads (rather than driving via Havana) to get a view of rural Cuba.

---
Day 9 Playa Larga – Trinidad
The day starts with a short drive to the attractive town of Cienfuegos. This is a lovely town situated in an enviable seaside location and is home to a wealth of beautiful old French buildings that were built by the settlers that arrived here in the early 19th Century. It is a UNESCO world heritage site and it is easy to see why, with beautiful pastel coloured palaces, whitewashed churches, swaying palm trees and a cooling sea breeze.
Later continue on to Trinidad for the night.
---
Day 10 Trinidad
You have a full day to explore Trinidad, again a UNESCO World Heritage site. It is possible to spend many happy hours just wandering at will and enjoying the gorgeous views on every street corner.
You could also take an excursion into the beautiful Escambray Mountains and Topes de Collante nature reserve. Here you can go hiking through paths in the reserve to the El Nicho waterfalls, a beautiful cascade deep in the jungle where you can take a swim.
In the evening, check out the vibrant atmosphere at the Casa de la Musica in the town centre; try your hand at dancing salsa or simply relaxing to the music with a mojito in your hand. 
---
Day 11 Trinidad
Another full day in and around Trinidad. We can arrange a full day boat trip to Cayo Iguana, an incredible island that is home to a large population of Cuban Iguana. It is also home to the most beautiful beaches and there is fabulous snorkelling off the coast here. Alternatively, we could arrange a day trip to Playa Ancon for a day on the beach or perhaps visit Valle de los Ingenios (Valley of the Sugar Mills), which is 12km from Trinidad. A fascinating place to visit, this is essentially the best preserved living museum of Cuban sugar production of the 18th and 19th century and includes the sites of 75 former cane sugar mills, plantation houses, barracks and other facilities.
---
Day 12 Trinidad – Santa Clara – Cayo Santa Maria
After breakfast you will head north to Santa Clara (about 2 hours), a vibrant city that sprang to fame when it was liberated by the Argentine guerrilla Che Guevara in 1958, marking the end of the Batista regime. You will have time to stop and explore the city and we can include a visit to the Che Guevara museum and the mausoleum where he is buried, and see the famous armoured train. You will later continue to Cayo Santa Maria, where you enjoy three wonderful nights on the beach.
---
Days 13-14 Cayo Santa Maria
Two full days to relax and enjoy the beach.
---
Day 15 Cayo Santa Maria – Havana
Around midday set off for the airport by private taxi, a drive of around 5 hours, to arrive in time for your flight home, or have a night in Havana before a morning flight.

Call us and we will be happy to provide you with a free-of-charge no obligation itinerary and quotation designed for you.
Unparalleled family travel experience
Specialist knowledge across three continents
Hand-picked local partners
Every holiday is tailor-made for you
100% financial protection
24hr emergency contact number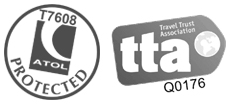 100% Financial
Protection
We are members of the Travel Trust Association, a trade association of Travel Agents, Tour Operators and Travel Organisers that operate trust accounts in order to provide financial protection for the consumer. Membership number Q0176.
Our ATOL number is T7608.