This example holiday ticks off Kenya's highlights including two fabulous days of game viewing in the Masai Mara. But there are also lots of activities to complement the game drives (bike rides, river swings, learning to track animals, bow and arrow making, cave exploring etc) and also some blissful days at the end to find a quiet spot on an Indian Ocean Beach. You will be accompanied on safari by a specialist wildlife driver-guide who will be expert in spotting the animals and telling the children all kinds of weird and wonderful stories about their habits. We can adapt the itinerary to your own family's particular requirements and can suggest accommodation to fit your budget.
Highlights
  Feed the giraffes at Langatta
  Search for the big-5 in the Masai Mara
  Go mountain biking in Hell's Gate
  Nature walk near Lake Naivasha
  River rafting in Laikipia
  Swing in a beach hammock
15 days from £2,875 pp
Plus international flights from £400
A two-week trip for a family of four including time on safari will usually start from around £11,500 excluding international flights, based on mid-range accommodation. Cheaper options may be available.
Highlights of Kenya day-to-day itinerary
Day 1 Nairobi

Arrive in Nairobi where you will be met by your guide and accompanied to your hotel. The rest of the day is free for you to relax.
---
Day 2 Nairobi – Masai Mara
In the morning visit Daphne Sheldrick's Elephant Orphanage. This was set up by renowned conservationist Daphne Sheldrick to look after elephants whose parents had died (usually having been killed by poachers), before reintroducing them to the wild. The elephants range in age from a few months to about three years and the children will love being able to get 'up close' and watch them playing and being fed.
You will also visit the Langatta Giraffe Centre, a sanctuary for the rare Rothschild Giraffe, where the children will be able to hand-feed some of the animals.
Later depart with a picnic lunch for the Masai Mara. The drive takes around 5 hours but there is the option to fly if you prefer.
---
Days 3-4 Masai Mara
You have two full days of game drives in the Masai Mara and (depending on where you are staying) one of the surrounding conservancies.
The Masai Mara is one of the finest game reserves in Africa, its rolling green plains and woodlands densely packed with a remarkable array of wildlife. All of the 'big 5' can be found here….make sure that the children keep their cameras at the ready. Lions are in abundance throughout the park and you may be lucky enough seeing a pride stalking their prey or perhaps a leopard retrieving its kill from the high branches of an acacia tree. Elephant, giraffe, zebra and gazelle dot the plains together with a wide range of smaller species. Rhino are more difficult to find but you may be lucky; game viewing here is a constant surprise and delight. The scenery is also magnificent with endless plains, picturesque acacia trees and the spectacular Siria escarpment looming to the west.
---
Day 5 Masai Mara – Lake Naivasha
This morning you will leave the Masai Mara behind en route for Lake Naivasha. This is the highest of the Rift Valley lakes, with clear blue waters leading to dense stands of thick papyrus and a backdrop of mountains. The views are gorgeous and the area also abounds with bird life.
In the afternoon take a boat ride to Crescent Island with excellent opportunities for spotting hippos and other animals that come to drink and wallow in the lake. Once you arrive on the island, you will take a short hike (around 1.5-2 hours). There are no day time predators here, which means that you can (safely!) walk very close to the animals. Children will love having both zebras and giraffes almost within reach.
---
Day 6 Lake Naivasha – Hell's Gate
This morning visit Hell's Gate National Park. The park is named for its pair of massive red-tinged cliffs that lead into dramatic scenery of steep cliffs, narrow gorges, bubbling geothermal pools and strange twisted rock formations. There are a wide range of birds and mammals in the park, including vultures, eagles, baboons, zebra and Thomson's gazelle.
You will take a bike ride in the park past troops of playful baboons and herds of zebra. The ride lasts around 2 hours and you will then be able to continue on foot to explore the gorges.
The afternoon is free to relax by the pool.
Read MoreRead Less
---
Day 7 Lake Naivasha – Laikipia
Today you will drive to Laikipia (around 4.5 hours). Laikipia is very different to the rest of Kenya, with miles and miles of unfenced and remote wilderness. The landscape is hugely varied which makes it very rewarding to explore as you can be following a narrow river valley one minute and then the next you turn the corner and are in thick acacia woodland or out on the plains.
When you arrive you will settle into camp and then perhaps head to the river for a swim.
---
Days 8-9 Laikipia
You have two full days to explore the area.
Your camp is situated in a beautiful location with stunning views of Mount Kenya. There are a wide range of activities available here which are tailored to your family, depending on what is of interest. These include walking safaris, tracking game on foot (and developing a detailed understanding of various forms of animal poo!), rock climbing, swimming, tubing, game drives and visiting local Samburu villages. The camp owners have their own children and really understand how to run a family-friendly camp. There is always something to do to keep the children occupied, but by the same token, when you want some down time there are plenty of places to just relax and enjoy the view.
---
Day 10 Laikipia – Beach
This morning you will either fly or drive back to Nairobi for a flight on to the coast. There are a wide variety of beach hotels to choose from so we will suggest one that will suit your family. They range from small boutique resorts on secluded swathes of sand to larger resorts that have several pools and plenty of activities to keep even the most restless teenagers happy.
---
Days 11-14 Beach
Four full days to enjoy the beautiful beaches of the Indian Ocean. It is time to take off your shoes and dig your toes in the sand. Find a hammock and relax with nothing to disturb you but the lapping of the waves, the swishing of the coconut palms and perhaps the kids. Or if you are feeling more active, take a snorkelling excursion or perhaps try a spot of windsurfing or kayaking.
---
Day 15 Beach – Mombasa
Transfer to the airport for a flight back to Nairobi to connect with your flight home.

Call us and we will be happy to provide you with a free-of-charge no obligation itinerary and quotation designed for you.
Unparalleled family travel experience
Specialist knowledge across three continents
Hand-picked local partners
Every holiday is tailor-made for you
100% financial protection
24hr emergency contact number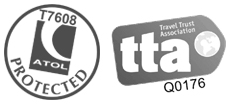 100% Financial
Protection
We are members of the Travel Trust Association, a trade association of Travel Agents, Tour Operators and Travel Organisers that operate trust accounts in order to provide financial protection for the consumer. Membership number Q0176.