Mongolia Family Adventure (2 weeks)
On a two-week tour you can tick off all of the highlights of central and southern Mongolia, as well as enjoy some less-well known areas too. In order to reduce driving times, we have included a flight from Ulaan Baatar to the south of the country, and then you spend the two weeks working your way back towards the capital, through the Gobi desert and central grasslands.
There will be some long drives, and the accommodation will be simple (with a mixture of wild camping and simple local gers (yurts) but you will experience some of Mongolia's most beautiful and remote landscapes.
Highlights
  Wild camp in little-known Khavstgait
  2 day camel trek in Gobi Desert
  Search for dinosaur eggs in Bayanzag
  Spectacular Khogno Khan mountains
  Enjoy a traditional Mongolian BBQ
  Rolling grasslands of Orkhon River
  Yak cart trek
15 days from £2,500 pp
Plus international flights from £950
A two-week holiday in Mongolia for a family of four usually costs from £10,000 plus international flights.
Mongolia Family Adventure (2 weeks) day-to-day itinerary
Day 1, Ulaan Baatar

When you arrive in Ulaan Baatar you will be met by a Stubborn Mule Travel representative and transferred to your hotel. The rest of the day is free to relax after the flight.
---
Day 2, Ulaan Baatar
This morning you will meet the trip assistant who will be with you throughout your time in Mongolia and she will take you out on an informal city walking tour.
Although you will visit the famous Buddhist Gandan Monastery, the main focus of the tour is less on sights and more on seeing how local people live. For example your guide will take you to the Nogoon Nuur community project, where a Mongolian philanthropist has created a space for the local population to congregate. In the summer there is a lake where you can take pedelos out; in the winter this ices over and is used as a skating rink. At either time of year, it is a hit with the kids!
---
Day 3, Ulaan Baatar – Yolyn Am – Bayandalai
This morning you will transfer to the airport for a flight to Dalanzagad. You will meet your 'crew' here, a Mongolian driver and trip assistant who will remain with you for the rest of the tour.
On arrival drive to Gobi Gurvan Saikhan National Park, Mongolia's largest. Lying at the northern edge of the Gobi desert, the park contains high ranges and steppes, home to the elusive snow leopard, the Gobi camel, the argali sheep and Siberian ibex. Your first destination is Yolyn Am, a narrow canyon through the rock that ends in a small glacier that can sometimes be seen even in high summer.
You will also visit the gorge of Dungene Am, the journey to which offers magnificent highland views. Look up and you may well see bearded vultures riding the thermals above the hills.
Continue on the Bayandalai for the night, where you will stay in a simple small private ger with a herding family. The location is spectacular, with the mountains behind and the wide open desert plains in front.
---
Day 4, Bayandalai – Khavstgait
This morning you have just a 2-3 hour drive to your destination, the small gorge of Khavstgait. Don't try to find it in a guidebook or on a map as you won't be able to! This is a beautiful area, an isolated valley with a stream running through it that the children can play in (although it's icy cold!). At sunset, climb up to a nearby viewpoint to see Lammergeiers (bearded vultures) soaring on the thermals and, if you can persuade the children to be very quiet, you may see a mountain ibex up on the ridge.
Spend the night wild camping.
---
Day 5, Khavstgait – Khongoryn Els
After you pack up camp, it is a 3-hour drive to Khongoryn Els, the dramatic sand-dunes that are perhaps the most picturesque section of the Gobi. The dunes are hugely impressive and we suggest that you climb one for sunset, for stunning views over the vast sea of sand.
Spend the night in a simple private ger in a small family-operated ger camp.
Read MoreRead Less
---
Day 6 Khongoryn Els Camel Trek
For many centuries up until the 1920s, the Gobi was traversed by camel caravans following the ancient trade route to Beijing. Today you will follow in the footsteps of those traditional merchants, taking to your (two-humped) camels for a camel trek into the desert.
You will spend about four hours on your camels today, breaking half way for a leisurely picnic lunch deep in the dunes. This really is a magical experience and well worth the effort; you leave the crowds behind and the sense of peace you experience amongst the dune landscapes is one that can be difficult to find at home!
Return to the same ger camp for a second night (although you can wild-camp in the desert if you prefer).
---
Day 7 Khongoryn Els – Bayanzag
Today you will drive (around 5 hours) to the ancient rock formations at Bayanzag, stopping in the small town of Bulgan en route. This is where 'Weeping Camel' was filmed and there is a lovely small eatery here where the kids might enjoy learning how to make vegetable and mutton pancakes.
Spend the afternoon exploring Bayanzag's Flaming Cliffs, an impressive series of ochre coloured craggy rocks that has proved a treasure trove of dinosaur fossils. This area is bleak but starkly beautiful.
You will spend the night in a simple private ger camp run by a retired herding couple.
---
Day 8 Bayanzag – Erdenedalai
After breakfast it is a 6-hour drive o the small rural community of Erdenedalai, in the middle of the Mongolian steppe. This is the home town for many of our drivers and trip assistants which means that you are assured of a warm welcome from the local community.
It is a beautiful region, far off the tourist track and sandwiched between the steppe and the desert. Nearly 6,000 herding families live in the area and you will spend your time here getting an insight in to the nomadic way of life. There are mountain bikes available if you want to take a (bumpy) ride out over the steppe.
You will stay in a private ger that is run as part of a cooperative with the community.
---
Day 9 Erdenedalai
A full day to explore the area.
Stay a second night in the same ger.
---
Day 10 Erdenedalai – Khogno Khan
After breakfast set off for an approximately 6-hour drive to the Khogno Khan Nature Reserve. This area is spectacular, an impressive granite mountain set in an area of secluded valleys, fresh water springs, open steppe and sand dunes.
This afternoon is free to relax and enjoy the views or perhaps climb up to a viewpoint for sunset.
Overnight wild camping.
---
Day 11 Khogno Khan
This morning take a 3-4 hour hike to Erdene Khambiin Khiid – a small working monastery set within the protective foothills of Khogno Khan Mountain. You can also follow a beautiful birch bordered path leading to the ruins of the 17th century Uvgon Khiid monastery, which offers one of the most beautiful panoramas in the region. Your trip assistant will prepare a picnic lunch for you to take with you.
Note that there is also an option for a shorter hike or you can take a horse or camel ride if you prefer.
Return to camp for a second night wild camping.
---
Day 12 Khogno Khan – Erdene Zuu – Orkhon River Valley
Today you will drive (around 2 hours) to Kharkhorin and the temples of Erdene Zuu. The area was once the base of fabled Chinggis (Genghis) Khan and the capital of the Mongol Empire although Erdene Zuu was first built a couple of centuries after Chingis Khan's death, it remained a focal point of Mongolian culture.
Continuing on, drive (around 20 minutes) to the Orkhon River Valley, one of our favourite parts of Mongolia. This is exactly what you will have pictured in your mind when imagining Mongolia, with endless rolling grasslands dotted with occasional gers and meandering rivers.
In the evening take part in a traditional Mongolian celebration with a Mongolian barbeque. Enjoy sheep or goat meat cooked in a pot with hot stones on an open fire… (vegetarian option available!).
Overnight in a simple private ger next to a herding family.
---
Day 13 Orkhon Yak Cart Trek
An exciting day today as you explore the grasslands on foot and by yak cart! Yak carts are a traditional means of transport in Mongolia and are still used today to gather firewood and water. Your route will take you out of a narrow valley and onto the rolling grasslands, with superb views along the way. You can spend some of the day on foot, and at other times sit on the cart, watching the world roll (slowly) by. You will also find a scenic spot for a picnic lunch.
Spend a second night in a private ger.
---
Day 14 Orkhon River Valley – Ulaan Baatar
It's a final long day of driving today (around 8 hours), as you head back to Ulaan Baatar for your final night.
---
Day 15 Ulaan Baatar
Transfer to the airport for your flight home.

Call us and we will be happy to provide you with a free-of-charge no obligation itinerary and quotation designed for you.
Unparalleled family travel experience
Specialist knowledge across three continents
Hand-picked local partners
Every holiday is tailor-made for you
100% financial protection
24hr emergency contact number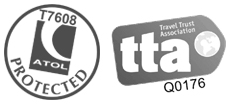 100% Financial
Protection
We are members of the Travel Trust Association, a trade association of Travel Agents, Tour Operators and Travel Organisers that operate trust accounts in order to provide financial protection for the consumer. Membership number Q0176.