Highlights of Namibia (3-weeks)
As the name suggests, this itinerary is designed for families with three weeks to explore Namibia. It combines the main highlights (the wildlife in Etosha, vast sand dunes in Sossusvlei and the seaside town of Swakopmund) with some lesser known scenic gems. These include the beautiful mountain scenery of the Waterberg and Damaraland and the remote landscape of the Erongo hills. We've also included a couple of nights on a working ranch in the Naukluft.
You can either stay in lodges or we can arrange for you to hire a camper van (with pop-up roof tents) or camping equipment.
Highlights
  See cheetah at the AfriCat charity
  Exciting game drives in Etosha
  Wilderness camp in Erongo Mtns
  Kayaking around Swakopmund
  Climb sand dunes as Sossusvlei
  Overnight on a working ranch
21 days from £4,000 pp
Plus international flights from £900
A self-drive 3-week holiday in Namibia for a family of four usually costs a minimum of £16,000 based on lodges, less if you camp.
Highlights of Namibia (3-weeks) day-to-day itinerary
Day 1 Windhoek

On arrival in Windhoek you will be met by a representative and transferred to your hotel. The rest of the day is free to relax.
Situated in the central highlands of Namibia, Windhoek is spread over a series of valleys and hills. It's a multicultural place, with pastel-coloured colonial buildings sitting alongside shiny office blocks. Enticing pavement cafes spill out into the street and roadside stalls sell colourful curios and wooden carvings.
---
Day 2 Okonjima
This morning you will pick up your rental vehicle. Head north out of the city to Okonjima, home to the AfriCat Foundation. This small charity is dedicated to the conservation of wild cats, particularly leopard and cheetah. They provide a home to previously orphaned or zoo-kept animals and train them to hunt. Eventually the animals are released back into the wild.
This afternoon the children will enjoy being able to visit the foundation and observe the AfriCat programme at work.
---
Day 3 Okonjima
You have a relaxing morning to explore the area. The setting at Okonjima is beautiful, with many self-guided walking trails and an enticing pool.
In the afternoon join a guided trip into the bush where you will track the reserve's leopards and should enjoy superb sightings.
---
Day 4 Waterberg Mountains
Today you will head to the stunning Waterberg Mountains. This mountain plateau offers magnificent hiking plus rare wildlife such as sable and buffalo as well as white and black rhino. This evening perhaps join a guided game drive.
---
Day 5 Waterberg Mountains
You have a full day to enjoy the area.
Perhaps rise early for a dawn bushman walk across the plateau. Your guide will teach you about the local flora and fauna as you climb up onto the plateau for superb views across the plains of the Kalahari. Alternatively older children may enjoy rhino tracking or you could take a self-guided hike along one of the many picturesque nature trails. These are all spectacular and there are options to suit all ages and fitness levels.
Read MoreRead Less
---
Day 6 Etosha National Park
After a relaxing morning, continue north to Etosha National Park, the jewel in Namibia's wildlife crown. This is one of Africa's largest and most diverse wilderness areas. The park is packed with large mammals including lion, elephant, leopard, rhino, giraffe and zebra and the game viewing is superb.
Etosha's defining feature is the Etosha Pan, a shallow depression about 6,133 sq km in size. Classified as a saline desert, the expansive white 'place of dry water' is an unusual setting for game. On some days the pan is a shimmering sheet of mirages on which the animals appear to be floating on air.
This afternoon, time permitting, take your first safari in the park.
---
Day 7 Etosha National Park
A full day of game viewing in Etosha.
As soon as you enter the park you will be mesmerised by the haunting saltpans. These are so large they can be seen from the moon and are dotted with camel thorn and Mopani trees. Head to areas of thicker vegetation for elephant sightings and the chance to spot the endangered black rhino and leopard. Lions can be found throughout, hiding in thickets waiting for prey or slinking through the grasslands.
Despite the massive size of Etosha, only the southern edge of the pan is accessible to visitors. There are over 30 watering holes where you can wait to see what comes down the water to drink. With 114 different animal species and more than 300 bird species it should be worth the wait!
---
Day 8 Western Etosha
A full day of safari as you head across Etosha National Park, from east to west. Take your time, enjoying the game drive along the way, and stopping at one of the numerous waterholes.
---
Day 9 Damaraland
After breakfast, you will drive south into the ruggedly beautiful landscapes of Damaraland.
This area is incredibly scenic with wide open plains and spectacular rock formations. It is one of the least populated places on earth, with endless vistas across the stark plains, ancient valleys and distant brooding mountains. There are many things to do here including finding remote desert rock paintings and tracking the population of desert-adapted elephant and rhino.
---
Day 10 Damaraland
A full day to enjoy the magnificent scenery of this area. In recent years, the local residents of Damaraland have banded together to form a Community Wildlife Conservancy. This helps to protect their land from poachers. As a result this is one of the last places in southern Africa where game still roams freely as it has for thousands of years. Depending on where you are staying you may like to spend your day on self-guided or guided walking trails, game drives, rhino or elephant tracking or cultural visits.
---
Day 11 Erongo Mountains
Head further south to the Erongo Mountains, on the southern edge of Damaraland.
This afternoon take a guided excursion to the Boulder Forest, characterised by spectacular rock formations and luscious vegetation. Hidden in the steep mountain slopes are semi-precious stones like tourmaline, aquamarine and mountain crystal. Local miners work the area, hoping for 'the big find'. The kids will enjoy joining them and hoping to get lucky!
You will spend the night in a lodge at the base of the Hohenstein, the highest peak of the Erongo Mountains. In the evening, spectacular sunsets above the desert plain bathe the mountain in fantastic red light. Towards the west, the view over the impressive scenery extends as far as the Spitzkoppe peak, a prominent relief from the plain about 30 km away.
---
Day 12 Erongo Mountains
After a delicious breakfast, you will drive to Etembe (in your own vehicle). The route takes you along one of the most scenic routes in the country past Erongo Mountain and through the Erongo Mountain Rhino Sanctuary Trust.
You will be spending the night in a wilderness camp, situated in a historical gathering place of the Bushmen. The location is spectacular, between the peaks of the Erongo Mountain Range and the Omaruru Riverbed.
After a short rest with coffee and cake, you will be hike to the famous bushmen paintings, which were declared a National Monument more than 50 years ago.
Tonight you will enjoy a traditional braai (bbq) in the spectacular setting of the camp, amidst gigantic rock boulders.
---
Day 13 Swakopmund
After a hearty breakfast, head for the coast, and the seaside town of Swakopmund. With palm-lined streets and seaside promenades, this is Namibia's most popular holiday destination. It is also its adventure capital. There is a huge range of activities from sand boarding and quad-biking to skydiving and camel riding. The town is also famous for its bakeries. Why not indulge the kids (and parents?) with a stop at Café Anton for traditional German 'kuchen'?
---
Day 14 Swakopmund & Walvis Bay
A full day to explore Swakopmund and take part in various adventure activities.
Perhaps head to the rolling sand dunes just outside the town. Here you can enjoy a bit of dune-bashing in a 4WD or dune-climbing on foot. Alternatively you can visit the pelican-filled beaches and flamingo-covered salt flats of Pelican Point. Here you can kayak out from the bay to a seal colony. The kids will love watching the playful seals that will nibble your paddle and perhaps try to catch a ride.
Another favourite for the kids is the catamaran cruise out into picturesque Walvis Bay. The children will be entranced by the shipwreck that you pass. There is also a lighthouse, oyster platforms, seals and an abundance of marine and bird life.
---
Day 15 Sossusvlei
A scenic drive awaits you as you head south to Sossusvlei, home to Namibia's vast sand sea. Perhaps take a detour along the way, to see the truly extraordinary scenery of the Welwitschia Plains and Moon Landscape.
The ochre sand dunes at Sossusvlei rise to an astonishing 320m and create an unforgettable and dramatic wilderness in the heart of the world's oldest desert. The white vleis (clay pans) contrast sharply against the red sand and vast blue sky.
One of these pans, referred to as Dead Pan, is a large ghostly expanse of dried white clay. The eerie landscape here is punctuated by skeletons of ancient camel-thorn trees. These died more than 500 years ago when the flow of the Tsauchab River was interrupted by the formation of the vast sand dunes.
---
Day 16 Sossusvlei
A full day to explore the dunes. Perhaps head there early for sunrise across the desert or leave it until late afternoon and enjoy the sunset. Where possible we will arrange a lodge or campsite with the pool. This means that you can spend the hottest part of the day cooling off. You could also take a magnificent hot air balloon ride over the desert, visit Sesriem canyon or go on a guided nature walk.
---
Day 17 Naukluft Mountains
Head east to the little visited but spectacular Naukluft Mountains. You will spend two nights in a family owned B&B on a working farm and ranch. The friendly welcome, home cooked food and pool all make for a fantastic family-friendly stay.
---
Day 18 Naukluft Mountains
Today we recommend taking on one of the fantastic trails around Bullsport. You can do this on a self-guided hike, mountain bike or guided horseback excursion.
Highly recommended is the Quiver Tree Valley trail which is absolutely spectacular. The shorter version takes around 3 hours of walking but there are numerous places to stop for a picnic lunch or a dip in one of the natural pools. En-route you will likely see mountain zebra, baboons, klipspringer and more.
---
Day 19 Kalahari
After breakfast, set off for the Kalahari. The scenery here is stunning, a large semi-arid sandy savannah draped over a gently rolling sand sea and dotted with acacia trees. The Kalahari is the last bastion of the San people, who still follow a traditional lifestyle in remote pockets of desert. The area is also home to wide-ranging wildlife including gemsbok, impala, jackals and cheetah.
This afternoon take part in a scenic afternoon game drive, for panoramic views across the Kalahari Dunes.
---
Day 20 Kalahari
Perhaps rise early to watch the sun come up over the desert. The rest of the day is free to explore. Perhaps take a further game drive, join a bushman for a walk in the desert or head out on e-bikes. There are also many self-guided trails that you can follow. The views throughout are beautiful, with endless vistas over the red sandy desert, dotted with camel-thorn trees.
---
Day 21 Windhoek
Drive back to the airport for your flight home.

Call us and we will be happy to provide you with a free-of-charge no obligation itinerary and quotation designed for you.
Unparalleled family travel experience
Specialist knowledge across three continents
Hand-picked local partners
Every holiday is tailor-made for you
100% financial protection
24hr emergency contact number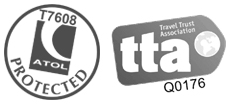 100% Financial
Protection
We are members of the Travel Trust Association, a trade association of Travel Agents, Tour Operators and Travel Organisers that operate trust accounts in order to provide financial protection for the consumer. Membership number Q0176.